With my first very ebook, I made about $1,500 in 30 days and I wrote it in a weekend! I was honestly quite surprised with the results because I had no idea how to write an ebook and it was fairly easy to do. I learned a few things about digital products in that process and have used that to make money with ebooks every month.
I'm often asked about writing ebooks and how I create passive income selling them. My answer is always simple. To write an ebook that sells you have to choose the right topic to write the ebook about, build a purchase ready customer base, get the information out of your head and onto the paper, and know where to sell your ebook to deliver it to your audience seamlessly.
If you're a creator looking to monetize your content, writing and publishing an ebook can be lucrative. However, it takes more than just putting words on paper to make a profit. You need the right strategy to write ebook that audiences want and have a plan to generate income regularly.
How to Write an Ebook
how to make an ebook and sell it online step by step
Writing ebooks can be a great way to monetize your online business because it allows you to easily provide value to your customers. In this post, we'll explore the steps you need to take to turn your words into cash and create an ebook that makes money.
1. Choose your Topic
The first thing to understand about writing an ebook is that getting the topic right is very important. The topic will be the thing that brings in the audience of potential buyers. Your topic needs popular enough to have demand. People should be seeking it out.
In order for your ebook to make sales it has to solve one clear problem. You don't have to put everything you know about a topic in one ebook. Answer the question your audience has thoroughly and keep it moving.
That is why teaching books do so well. Most people buys books because they want knowledge and they want to learn something. Three topics that do very well are finances, relationships, and wellness. However you can still have success with ebooks that do not fall into those categories.
2. Focus on your Expertise
Next, you should choose a topic by assessing your own skills, talents, and expertise. This allows you to write your ebook from a place of experience and gives your information more credibility.
If you are not sure what you should write about, ask your friends and family members what they think your strengths are. Or ask yourself what they come to you for advice on.
Other things to ask yourself to find a good topic:
Do you have extensive knowledge in something you can share?
Is there a question that your friends or clients ask you over and over again?
Do you have years of experience in an industry you can share about?
Have you gone through something in your life and came out victorious?
Are you learning something new that you can document your journey?
This is a great way to determine your topic and how write ebook. People will buy your ebook for the knowledge of the topic and your personal experience.
3. Do your Research
The next thing you want to do is research. You don't just jump up and write an ebook on something because you think it's a good idea. You want to know for sure that your people want what you're writing because it makes no sense to waste time creating something that nobody wants to buy.
The first step in your research is to do a basic search on Google. Search the topic of your ebook and see what comes up. What are the most popular blog posts and websites for the topic? Read through these and see what is talked about.
You can do the same thing on Youtube. Find the top videos and the top creators around your topic.
Go to the comments of these videos and posts and read the feedback from the audience. What are they talking about most? What questions are people asking?
This is how you get into the mind of your potential buyers. this is insight on what they really want to know. There's no need for you to guess. All of this research is giving you a better idea of what you should be adding in your ebook.
Another great research tool is answerthepublic.com. Just type in your topic and it will give you loads of questions that people are asking.
If you'd like more resources and proven strategies for choosing the right topic and knowing exactly what your audience wants check out my course – eBook Bootcamp.
I go in depth on exactly how to find the topic that's right for your audience.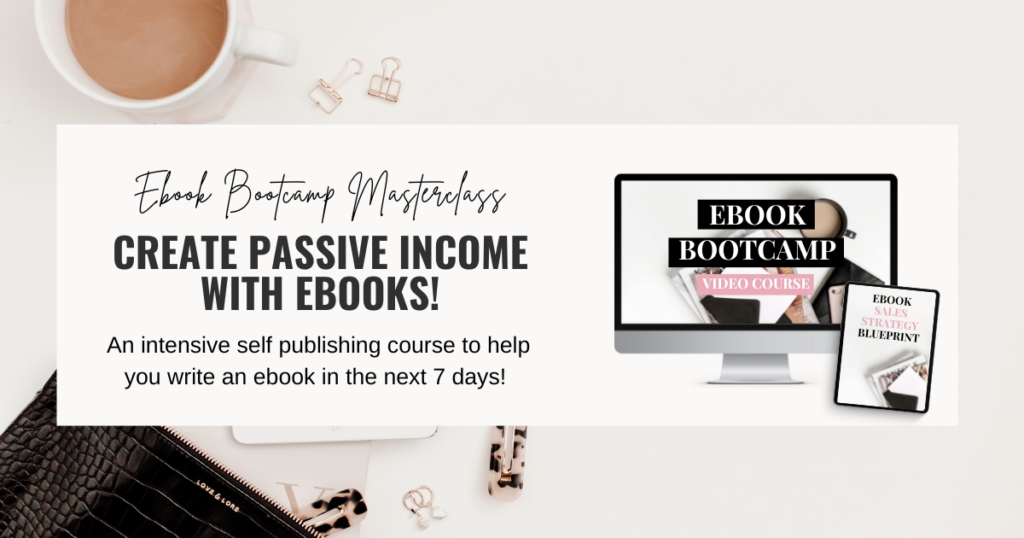 RECOMMENDED: How to Start a Successful Youtube Channel Step by Step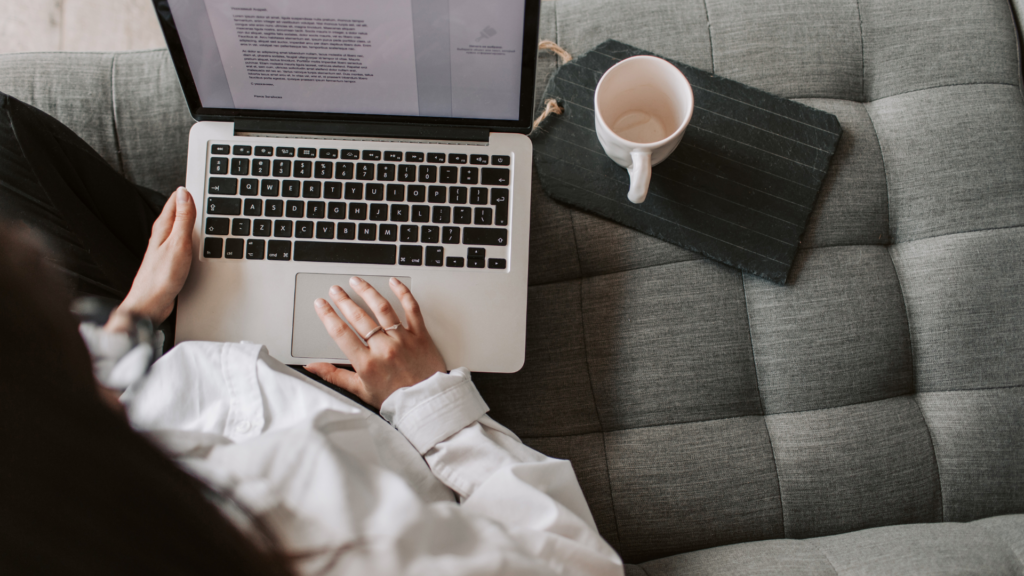 4. Ask your Audience
Once you do this surface level research you want to ask your audience specifically what they want. If you have a newer audience and they're not really responding yet, try asking simple yes or no questions or those that can be easily answered.
For example you can say ask:
When it comes to this topic, do you want to know more about A or B?
Do you like x when it comes to this topic?
Be direct and make it easy for them to respond. This can be done on many different social media platforms. You can do it on Instagram using photo captions, on Youtube community posts, with Pinterest question stickers.
An amazing way to get more in depth research on your topic is to go live with your audience. You can get unmatched information going live with your people. Remember there are real people on the other side of the camera. If you're trying to build an audience of genuine supporters you're going to have to talk to them.
So go live around the topic you're considering writing the ebook on and you may be surprised with the feedback you'll get.
5. Create an Outline
Once you've done your research and taken extensive notes on the most common questions, concerns, and talking points, it's time to outline the ebook. This is how you're going to keep your info organized so that it reads well to the person reading it. Make sure you include the most important questions people have around your topic. Go as deep as you need to go to clearly answer the one question you're trying to answer. Again, you are not trying to put everything you know into one ebook.
You don't want it to be too long. You want the reader to finish it. In my opinion you should make it a shorter read. There is no exact length it has to be. It needs to be as long as it needs to be to answer the question and as short as it can be to get your point across. That's where the outline comes in handy.
Outline very specifically everything that you are going to put in the ebook. Outline the headings, subheadings, and set it up exactly how you want to write it. The research and the outline should take longer than writing the ebook.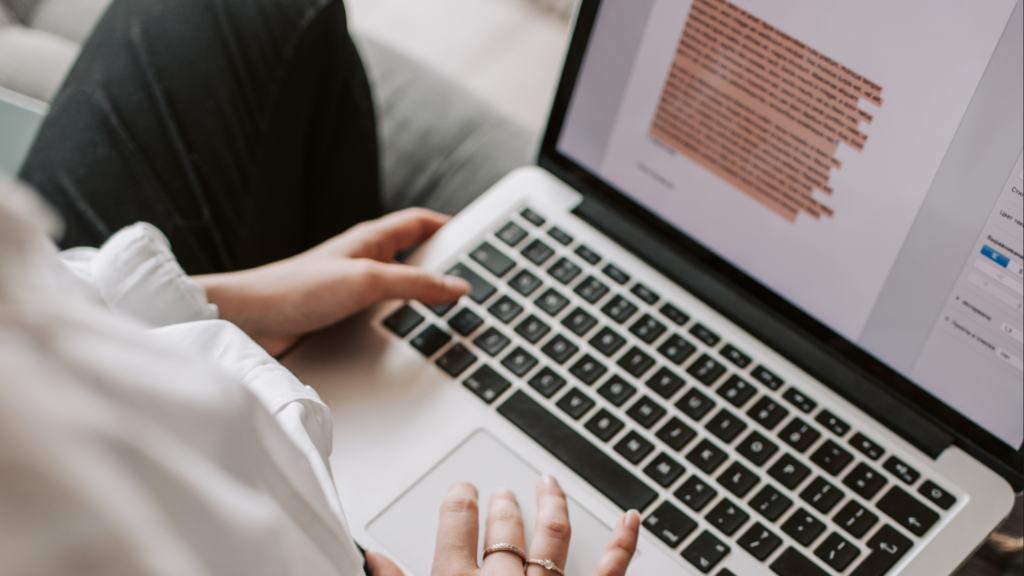 6. Write the Ebook
Now it's time to write the ebook, and I know you're probably thinking this will be the hardest part, but I have the solution. All you're going to do is whip out your cell phone or laptop and use voice to text. You're simply going to talk about the topic that you are so knowledgeable and passionate about and let the device type it for you. On any Mac product there is a voice to text option. And if you don't have a Mac product Google Sheets has this feature. You can also use an app like Otter.
Just talk out your content. By just talking, you should have pages and pages of content to turn into an ebook.
Realistically, you can accomplish this entire process in less than a week.
If you've doing a ton of research, watching videos, reading blog post and you're still no closer to writing your ebook, consider enrollling in the eBook Bootcamp and getting my exact strategy for writing a bestselling ebook and getting sales on autopilot!
In this course I teach you:
How to get your ebook idea out of your head and onto the paper with ease.
How to launch your ebook to a group of purchase ready customers.
How to make sales on autopilot and generate recurring revenue monthly.
This course will provide you with the simple system I used to create my ebook and make $1500 my first month selling it.
The eBook Bootcamp is broken up into 7 sections with step-by-step video tutorials that break down everything into easy to follow instructions to get your book done!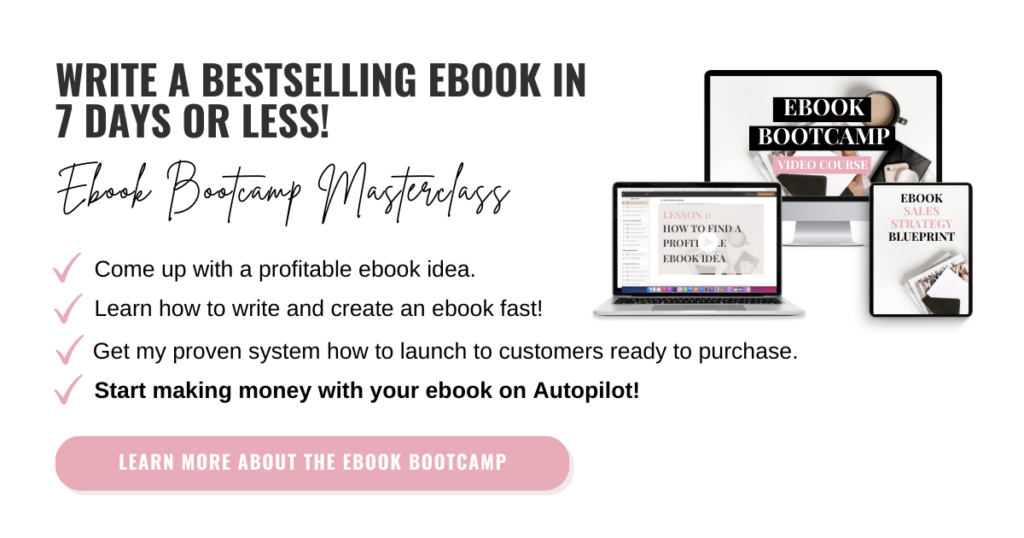 7. Edit & Format the Ebook
Now it's time to edit the document. You'll want to fix grammar, spelling, and add anything that was missed in the draft. Make sure everything is polished.
After editing, you're going format your document into an ebook.
You can do this in Canva. Canva is a free graphic design software that is great for this. I love Canva and I use it for everything.
You can start by looking up an ebook template then take the information you've written and transfer it over into one of the Canva templates.
If you want to make it even simpler, you can take the document that you spoke out and leave it exactly like that. You don't need a template. All you'd need is a cover page which could be made in Canva as well.
When you're done you'll have a beautifully made ebook.
All that's left is uploading your document to an ecommerce platform to make sales. There are may options that work great for doing so.
Now, the only thing left to do is rake in those sales. You'll need to have a system in place to get people over to your sales page to make a purchase. I go in depth on sales strategy in the eBook Bootcamp.
Pin this to your Pinterest Boards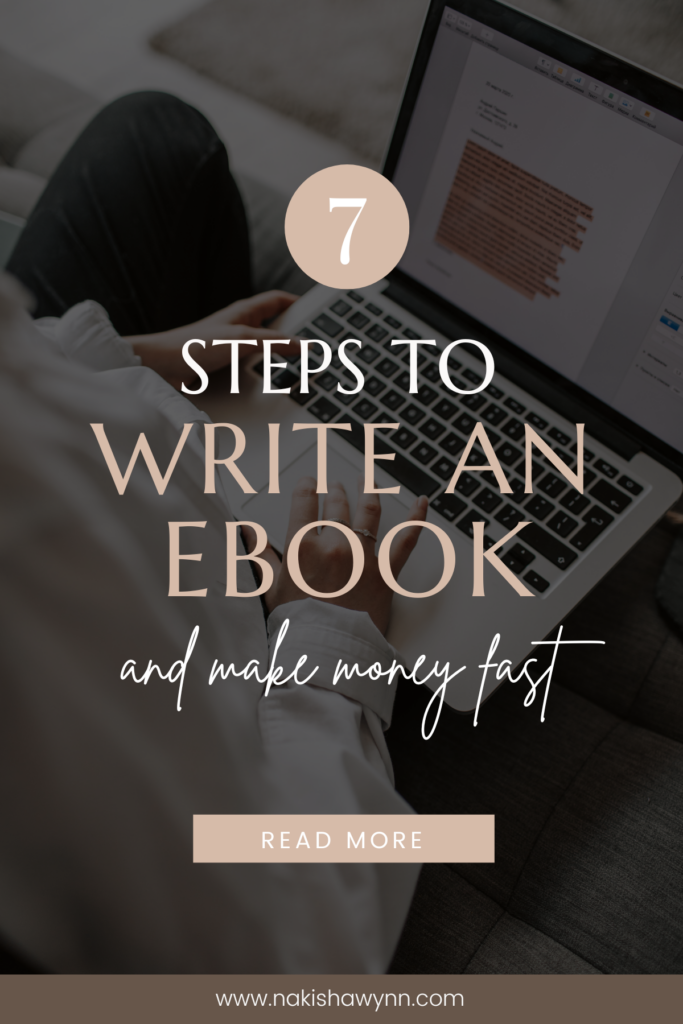 How to Write an Ebook