This tips for tailgating with kids post is written in partnership with Buca di Beppo. All thoughts and opinions are my own.
There's nothing I enjoy more than getting together with my favorite people to watch my favorite pastime of football. I love the energy and adrenaline the sport brings to otherwise boring moments. While enjoying time over food and cold beverages can be an amazing time for adults its not always as exciting for kids. Tailgating with kids can be easy if you plan well.
I'm sharing a few tips to help your next tailgating party be just as fun for your little ones as it is for you.
5 EASY TIPS FOR TAILGATING WITH KIDS
1. Preparation is imperative
When you are getting ready for tailgating with kids you have to start preparing pretty early. There are a lot of small details and you want to make sure you don't forget anything. Its no fun getting to your location and realizing you forgot the ice (yep I've done it).
A few days before your party make a list of all the things you need to make your party a success. Start gathering all of your items and put them in one spot so that you are certain not to forget them. Be sure to pack plenty of water and extra moist towelettes. With dirt being everywhere they can be used for cleanup of the kids and of your space.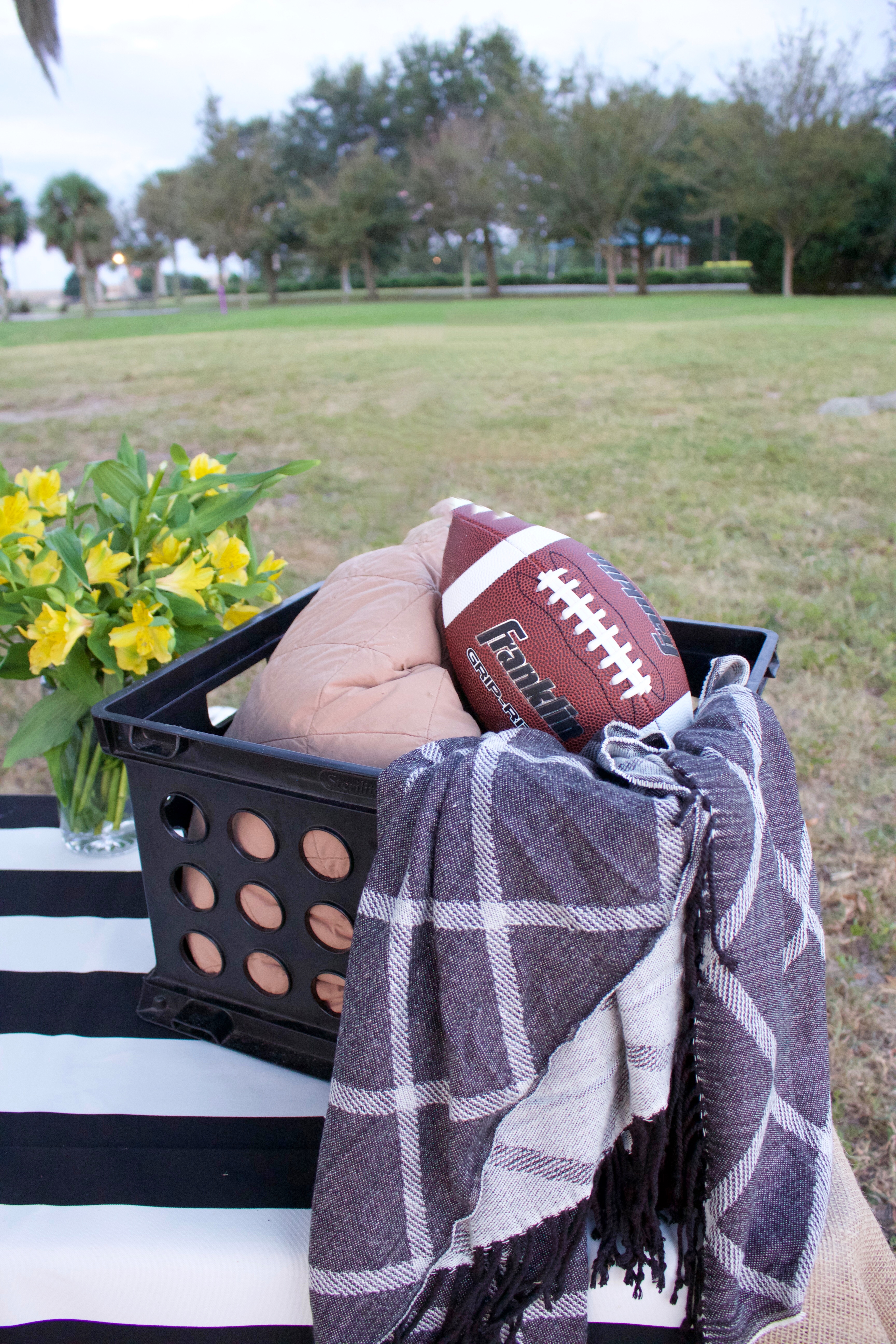 2. Choose a good location
Choose a spot that will be comfortable and large enough for the kids to spread out and enjoy themselves. One thing about tailgating is it can get crowded. But when you have kids present you want to make sure that you have enough space to keep the kids contained and visible. You may have to be a little away from the action to get a great spot. But you will be glad you did.
Being in an area that's a little less crowded gives you the opportunity to create the vibe you want in your space. I find that stimulating the senses works well for creating an inviting atmosphere. Cover your table with a chic tablecloth, add some fresh flowers, and burn a insect repelling candle (especially in the evening) to add a chic vibe to your party.
Check out this video to see how my decor set the stage our sunset event:

3. Cater the food
Catering the food will be an absolute lifesaver. There are already so many things to do when getting ready for your tailgating party, cooking shouldn't have to be one of them. Catering the food will save you the time and headache of trying to do it all yourself. I catered the food for our family tailgating party from Buca di Beppo. It was single handed the best decision I made in planning this. I did not have to lift a finger. They even load the car for you when you pick it up.
The food comes nicely packed and prepared in convenient to go containers ready to be served. Buca di Beppo provides all of the condiments, utensils, and dinnerware. Though I chose to put the food in my own dishes to continue the chic fall vibe I was going for.
Another thing you don't have to worry about is having enough. They give amazing portion sizes. There will be so much food, you will have to save some for later. I was impressed. I literally had to do nothing but pack the kids and go.
Our menu included: chicken parmesan, baked ziti, meatball subs, caesar salad, fresh fruit, lemonade, sweet tea, brownies, and chocolate chip cookies.
Checkout the full tailgating packages from Buca di Beppo here.
Everything was amazing! The kids enjoyed it. The adults enjoyed it. It was an all around hit! Cater your next tailgating party with Buca Di Beppo for a tasty hassle free meal.
4. Have activities for the kids
Be sure to bring along some extra balls and toys for the kids to entertain themselves while at the party. Usually kids can keep busy for a while with simply a ball and some friends. I chose to bring some dolls for the girls and a couple of balls for the boys to run off some of their energy.
The girls actually enjoyed playing football much more than they did the dolls. I guess the dolls did not have the same appeal as they do at home when you are out in a huge open field with space and opportunity. Make certain you take advantage of that. Keep them busy and active so they don't get bored.
5. Crank up the jams
Play some good music to set the vibe of the surrounding and get everyone in the mood to have a good time. I find that creating a playlist before hand works well so that you are not having to be the host and DJ.
You could even reach out to your guests in advance and ask for music suggestions so that everyone has a little something to get moving to. Line dance music works really well at getting the kids involved and teaching them coordinated steps to mimic. Our family fave is the cha cha slide. The kids absolutely love it! It's sure to get everyone out of their seats.
Have you hosted a tailgating party with kids?
Let me know what you think of these easy tips below.