I know you've heard the phrase, "We all have the same 24 hours in a day". And we do, but it can be hard to make the most of those hours, especially as a busy mom. If you're anything like me, you have a lot going on with family, managing a household, working from home, building an online business, focusing on self care and all the other things. And yes, It's a lot! But trust me, it can be done. The key is to use time management tools to stay organized, prioritize your tasks, and strategically implement your daily plan. These are the techniques I use to get it all done and utilize my 24 hours like a boss!
Time Management Tools That Help Me Do It All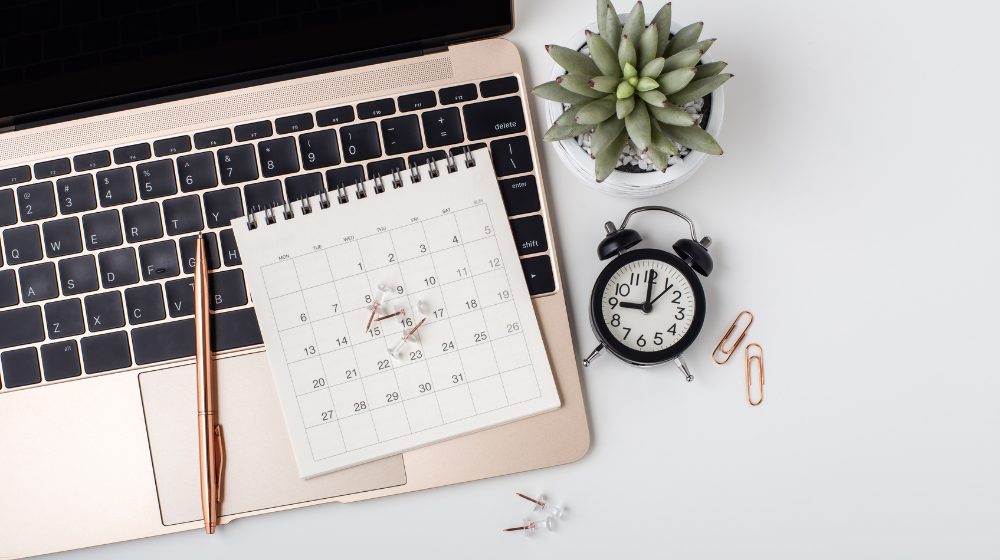 Managing your time is about efficiently and effectively planning for what you have to do. It's when there's no plan in place that things go awry. Through the use of time management tools and techniques, you can improve your work, your focus, and your confidence as a business owner.
Then, with the right productivity systems in place, you can reach your goals faster. Which will allow you to focus on the things that are most important to you, such as spending time with family and doing the things that make you happy.
Apart from managing your business, time management tools allow you to put yourself first.
Time Management Apps You Should Try
The first thing you should do is identify the time management apps and systems that work for you. These will assist you with keeping your projects, to do lists and ideas organized so that you can operate at your highest efficiency. If you work from home like me, it can be tricky to maintain separation of work and life. Here are my favorite time management apps that I use in my life and business to conquer each day.
Trello Project Management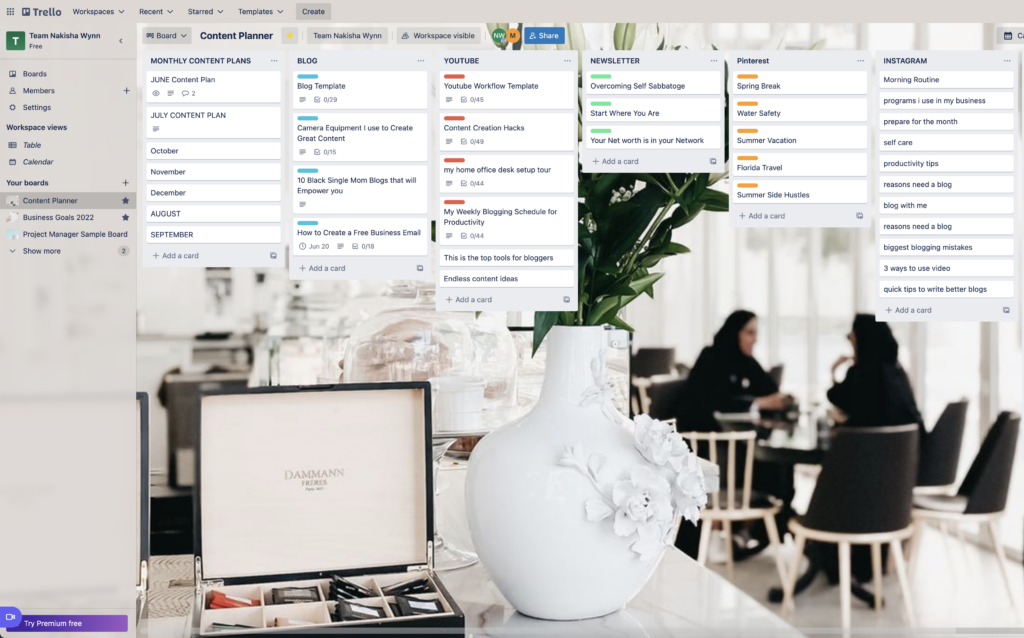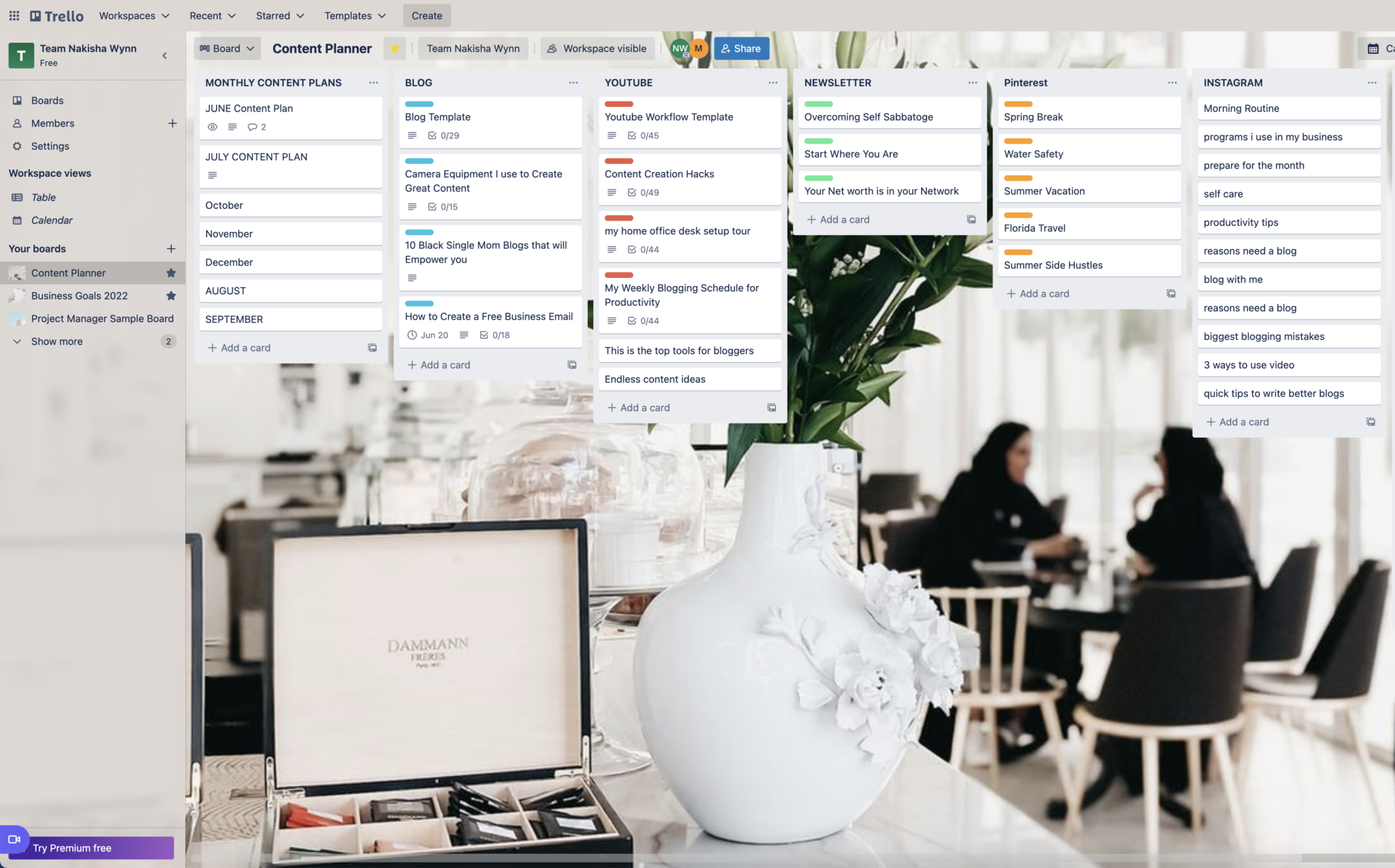 Trello is a free project management tool that can be used on desktop or a mobile device. It allows you to work on multiple projects at a time and is perfect for collaboration. It uses a Kanban workflow method that displays tasks as cards that can be assigned to various boards.
I use Trello to plan out the projects I want to complete in my business, managing content, and to communicate with freelancers that I work with. With the Kanban cards you can see all of the projects, who is working on them and the status of that workflow.
Trello keeps my entire business organized and managed in one place.
Calendly
Calendly is a scheduling platform that makes connecting with people easy. It is used to schedule appointments, meetings, and events. And is meant to eliminate the back and forth when trying to schedule a meeting with someone.
This is probably the most clutch system I use in my business. Connected with Google calendar, Calendly allows me to make money with ease. I use it to schedule coaching sessions and book appointments with clients. It's a completely hands off process for me and allows me to use the time I would be using going back in forth in email to be productive in other areas of my business.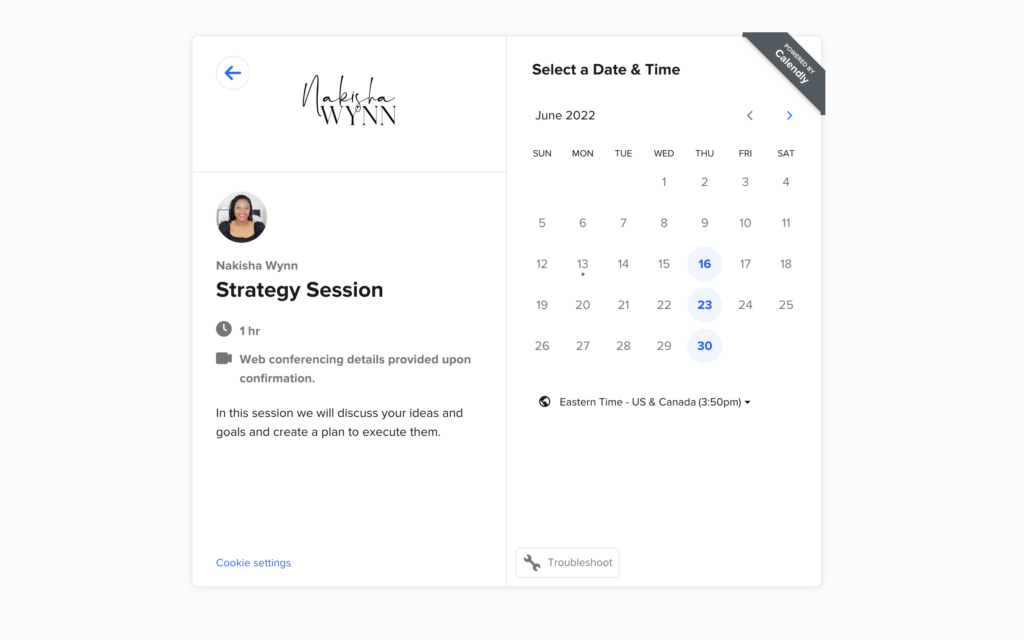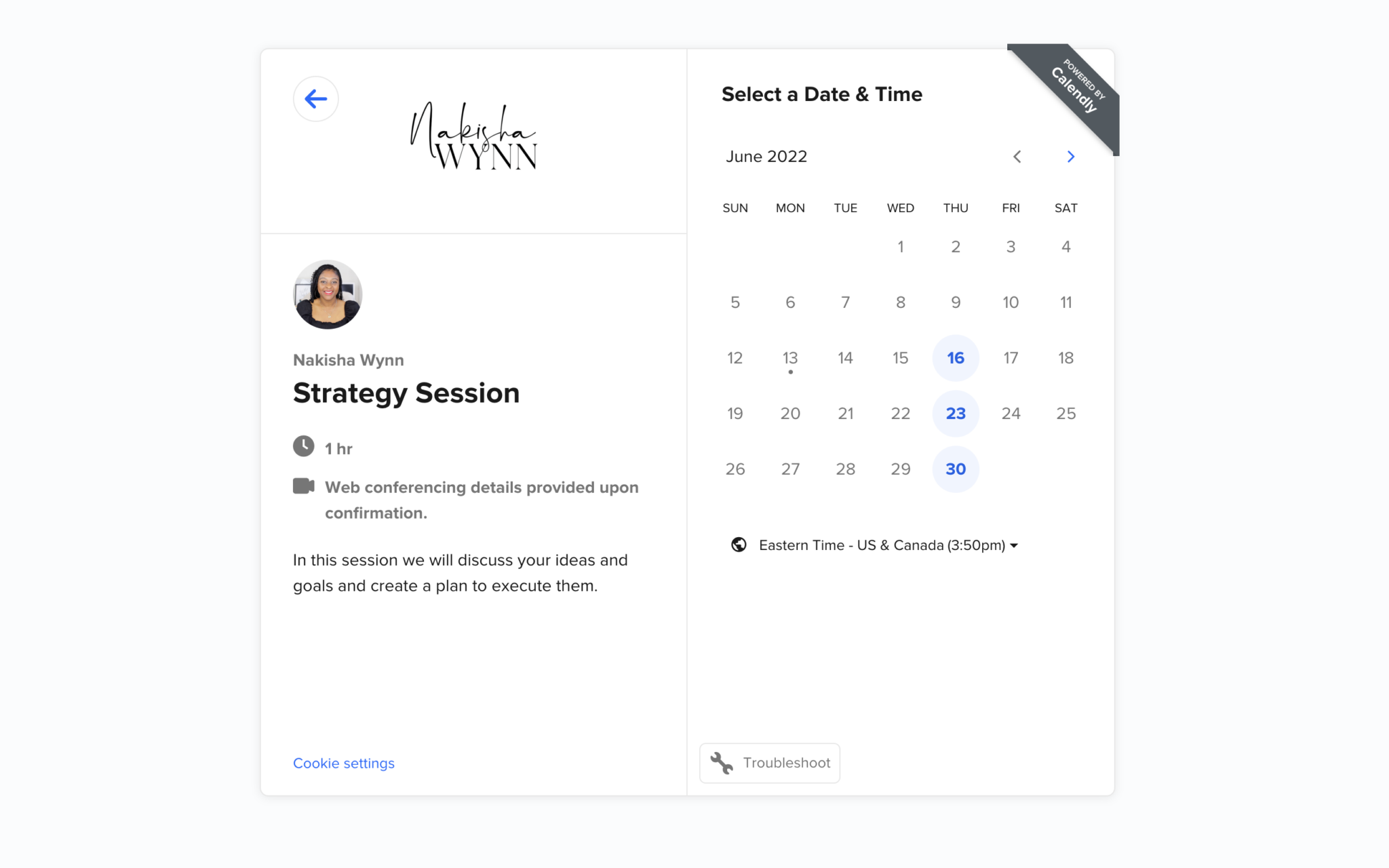 Potential clients can simply click on my Work with me Page, choose the service that they are interested in, and be taken to my calendar which shows my pre determined availability.
From there they can choose the day and the time that works best for them, schedule their session, and make the payment directly within the platform. The process is seamless.
Benefits of using Calendly:
Extremely user friendly, can setup a calendar in less than 5 minutes.
Integrates seamlessly with G Suite and multiple other platforms.
Automatically creates Zoom meeting for scheduled appointment.
Sends meeting reminder notifications.
Calendar embeds easily into websites.
Offers a free plan that is packed with features.
Click here and try Calendly Teams plan for FREE for 14 days!
Google Calendar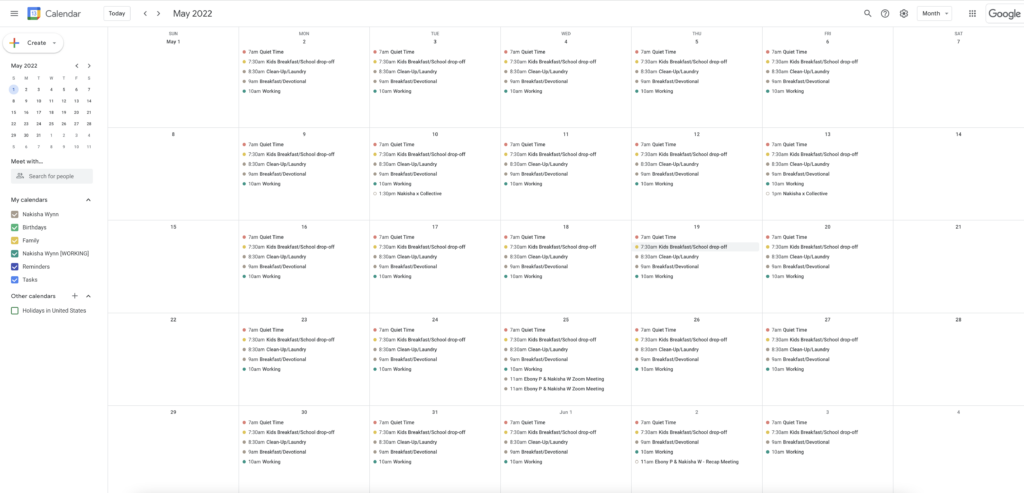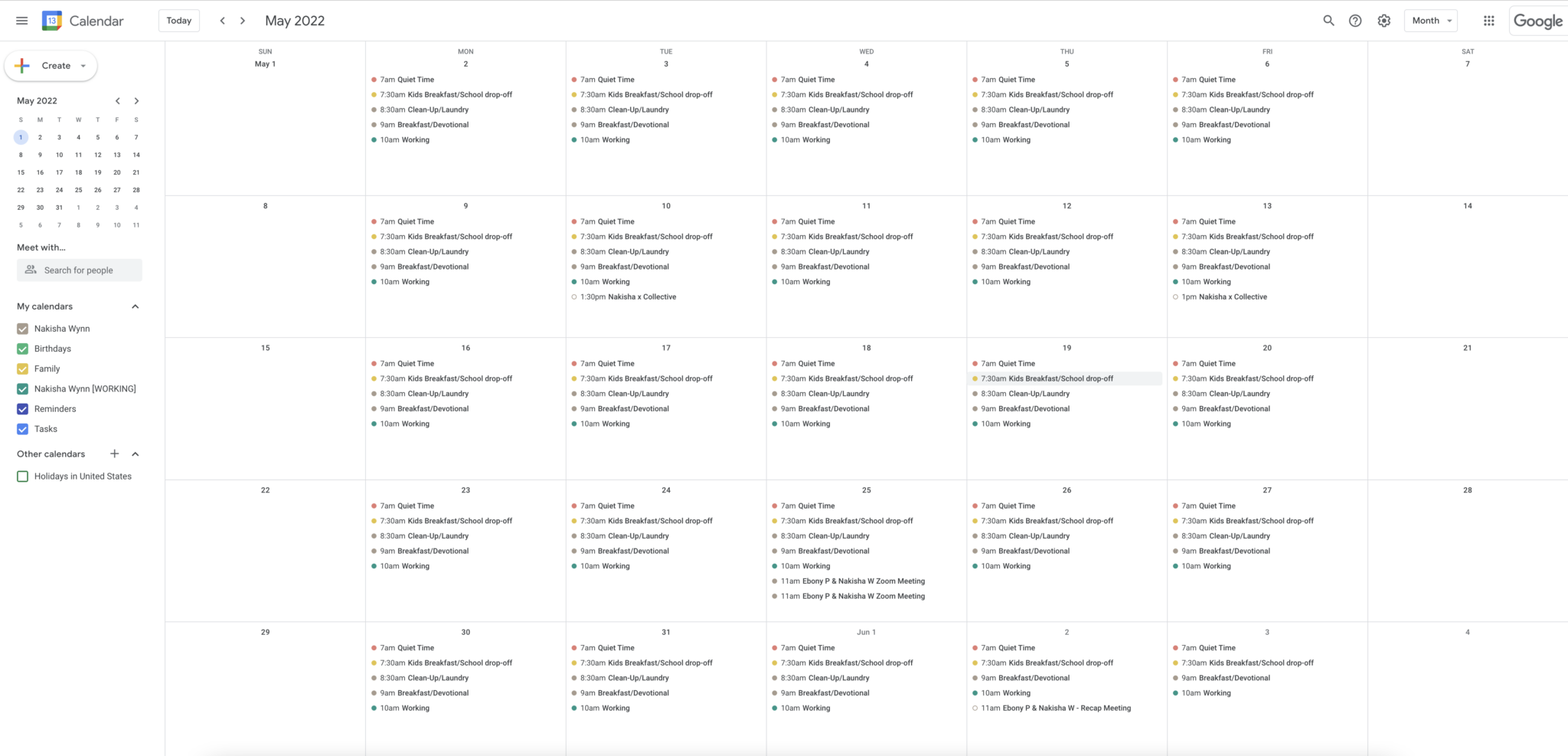 Google Calendar is a part of the G Suite and offers easy event scheduling that makes planning a breeze. Google Calendar is the time management tool that I couldn't run my business without. I use it to schedule meetings, plan my days and keep work life balance. It's always accessible on phone and can be easily changed and updated as need be.
To use Google calendar, you will need an active Gmail account.
Google Calendar is also great for time blocking. This is when you divide your day into small segments or "blocks" to complete specific tasks or to-dos. Google Calendar is the perfect time management tool for this. You can color code your tasks, and set up multiple calendar views for work, business, and family.
Focus Keeper
Focus Keeper is an app that helps you stay productive and avoid burnout through the use of the Pomodoro Technique. Using this method, Focus Keeper allows you to keep track of your goals, the number of hours you spent working, and you can work towards productivity streaks. It's also free to download for IOS and can be used on your desktop.
Notes
The last time management tool I use to get more done is the Notes App. It doesn't get any simpler than that. I use Notes for just about anything I need to document. If I get a content idea, need to make a grocery list, or even plan my business tasks for the week, I put it in my Notes app. It's easy to use and convenient.
I love that it has an option to pin notes to the top of the app for fast access to important information. You can also separate your notes into folders, and scan documents to create PDFs fast. It's the perfect little word processing program.
But, there are many time management tools you can use to keep yourself on track, just start with the one that works best for you.
Time Management Techniques that work
The Power of Focus
You can have all the time management tools you want, but if you don't have focus, you won't achieve anything. That is why you must create a routine to help you stay focused when working. Some ways you can help yourself stay focused are working at the same time every day or eliminating distractions while you work, such as putting your phone away.
Another way you can generate more focus is by adding a sensory experience in your work environment. An example of this can be lighting a specific candle every time you work or putting on a specific lotion. By doing this you will train your brain to associate productivity and focus with those scents.
Pomodoro technique
The Pomodoro Technique is a time management method that was developed in the late 1980s, and it is still used today. The Pomodoro Technique centers on breaking your tasks into 25-minute intervals followed by short breaks that are usually 10-15 minutes. The goal is to complete four 25-minute sessions.You can get a lot done in 25 minutes and the Pomodoro Technique is a great way to boost your productivity.
Time Management Strategies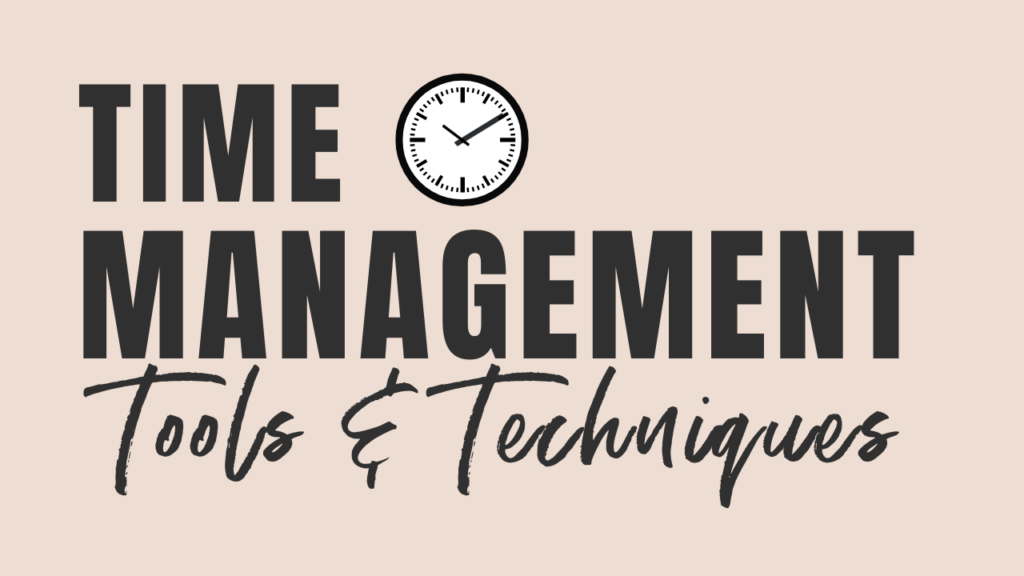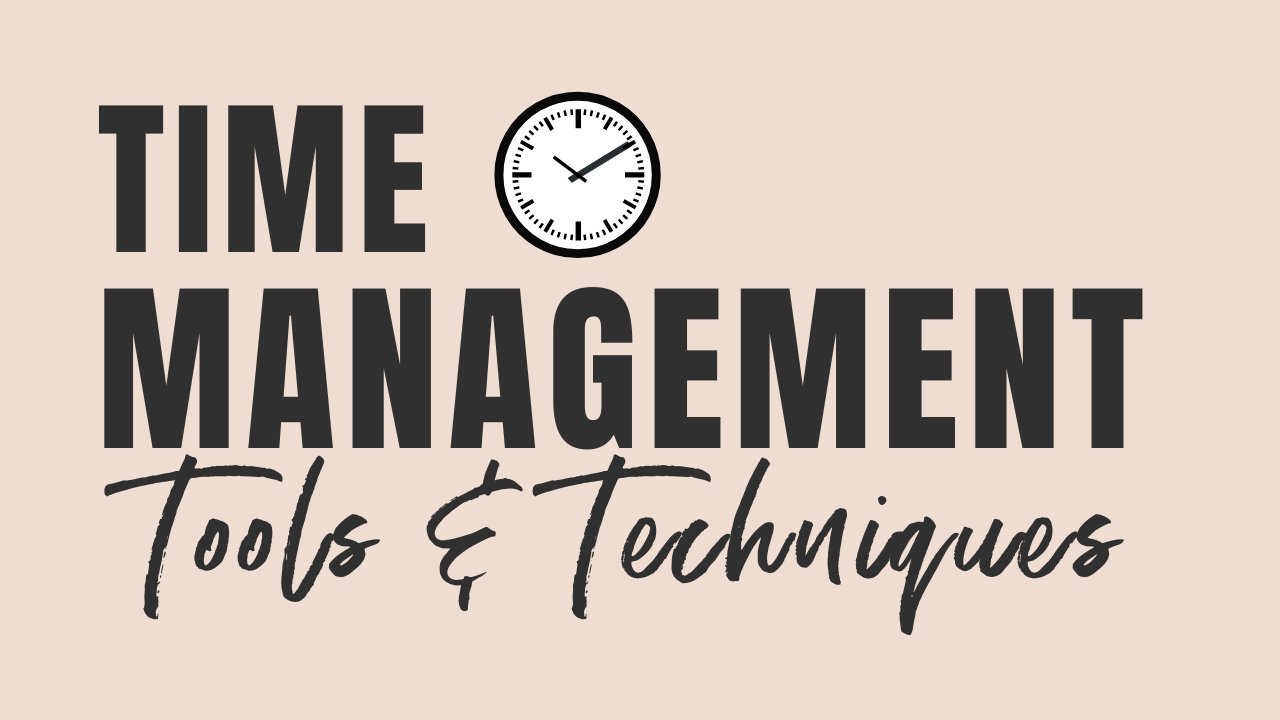 Plan your month in advance
Once you have your time management tools and techniques in place, it's time to set up time management strategies. The first strategy is to plan a month in advance. Planning ahead is a great way to boost your productivity. By planning ahead, you are setting your future self up for success in your personal and professional life.
Planning ahead can look like putting all of your important dates into Google Calendar. That way you always know what is coming up in your schedule and you can get everything done on time.
Create a weekly schedule
Once you have your month planned, then you can break larger projects into smaller tasks that can be completed during the week. During the week you could use Trello to keep track of your business's workflow on different projects.
Use a daily to do list
The last strategy you can use in your time management system is creating daily To Do Lists. This is where the notes app can come in handy. The notes app has a checklist function that is perfect for keeping track of simple tasks such as chores and errands.
Time Management Tips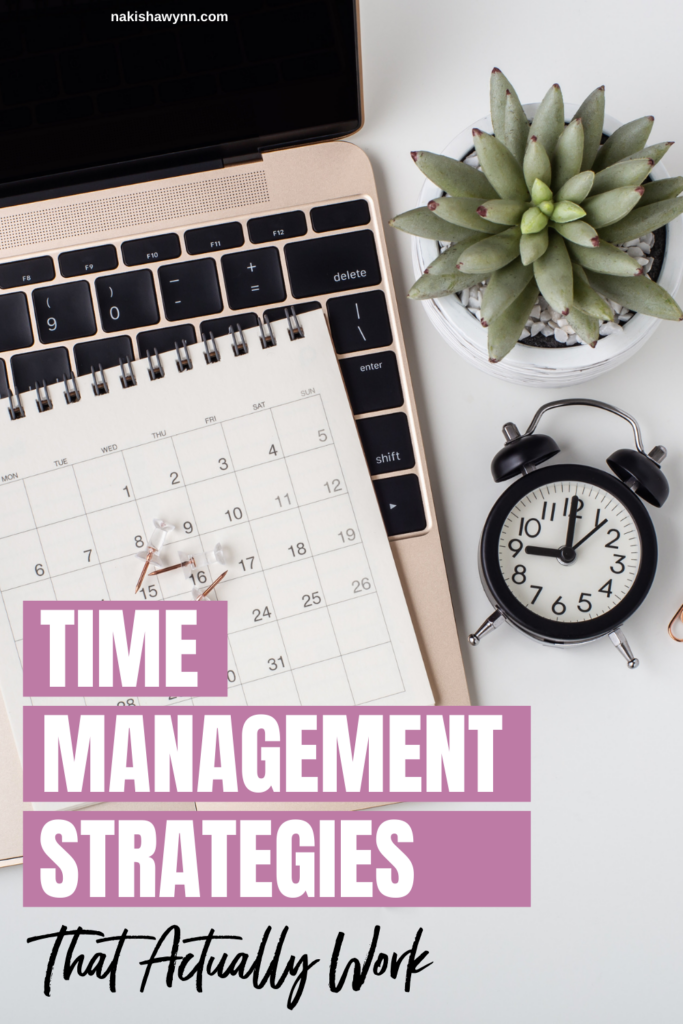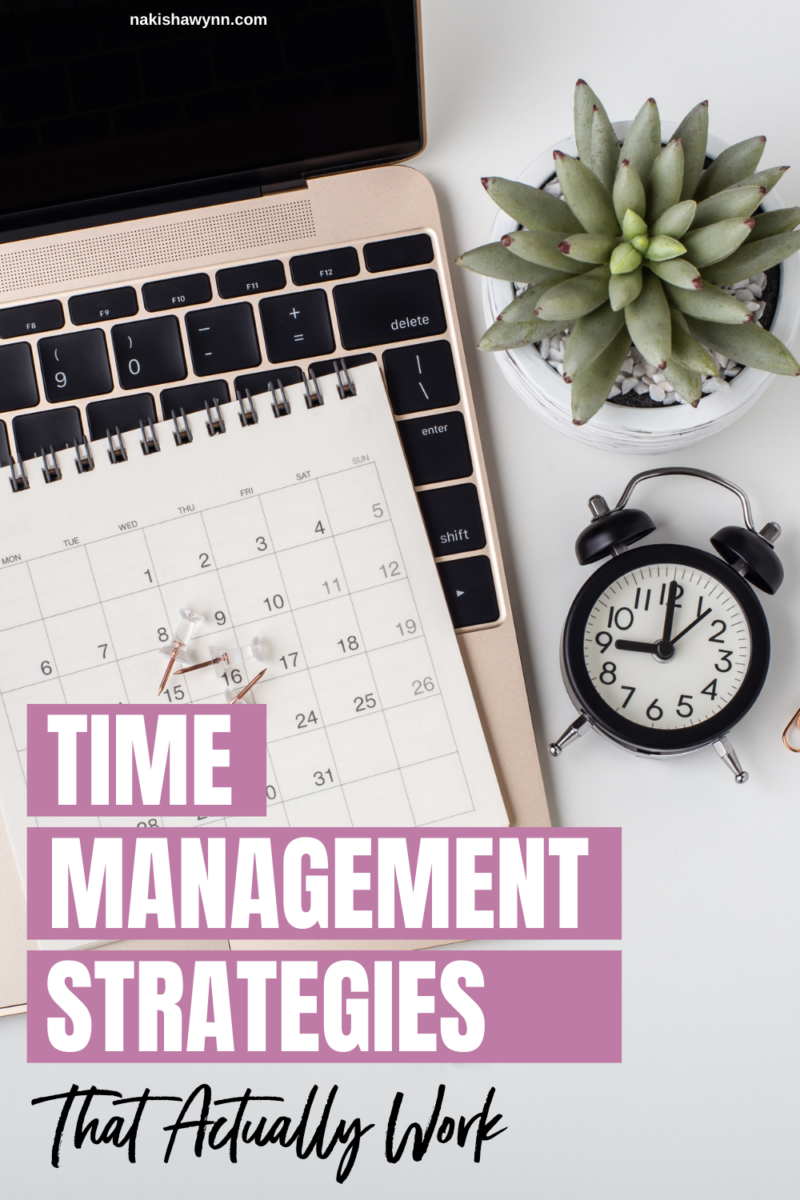 Implement systems
Productivity systems are guidelines and practices that help you get work done. An example of a system could be your process of getting a blog post published on your website, or your process of creating content for social media. Everything in your business should have a system set in place. This will make creating easier. Also, these systems can be handed off to others if you decide to hire employees.
Establish Routines and Stick to them
Creating a routine is a proven method for successful time management. By creating a "work routine" it allows your brain to relax because you won't have to think. Routines give us structure and stability which allows more room for creativity which produces better work.
Do deep work during high energy times
Not everyone is productive at 5am in the morning. Social media has glorified waking up early as the secret sauce to being productive. And though that may be true for some people, some of us are night owls and that's okay. If you're feeling energized at 11pm, get up and pump out some high-quality work. Profit off of your high energy moments, no matter the time of day.
Assign a time limit to each task
Similar to the Pomodoro Technique, assigning a time limit to your tasks can help you stay present when you're working. That could look like setting a 5-minute timer to clean your room or load the dishwasher. Subconsciously, the timer lights a fire under you to finish you before time runs out.
Prioritize Ruthlessly
Don't let anything stand in between you and your goals. If you say you're going to get up and work at 8am in the morning, you have to honor that commitment. Prioritizing yourself and your business can be the difference between $5 and $500, so put yourself first.
Learn to Delegate
We can't do everything on our own and that can be a hard pill to swallow as a business owner. However, learning to delegate can make you more productive. When you delegate tasks to others, you are able to put your all into the things that you love to do in your business, such as creating content.
OTHER POST YOU SHOULD READ: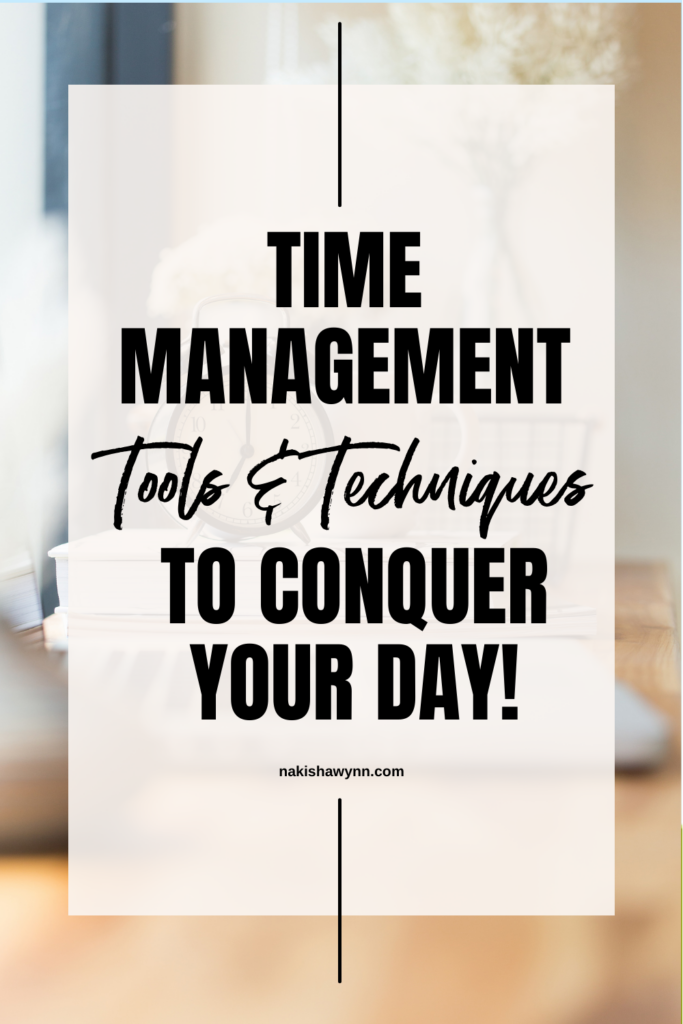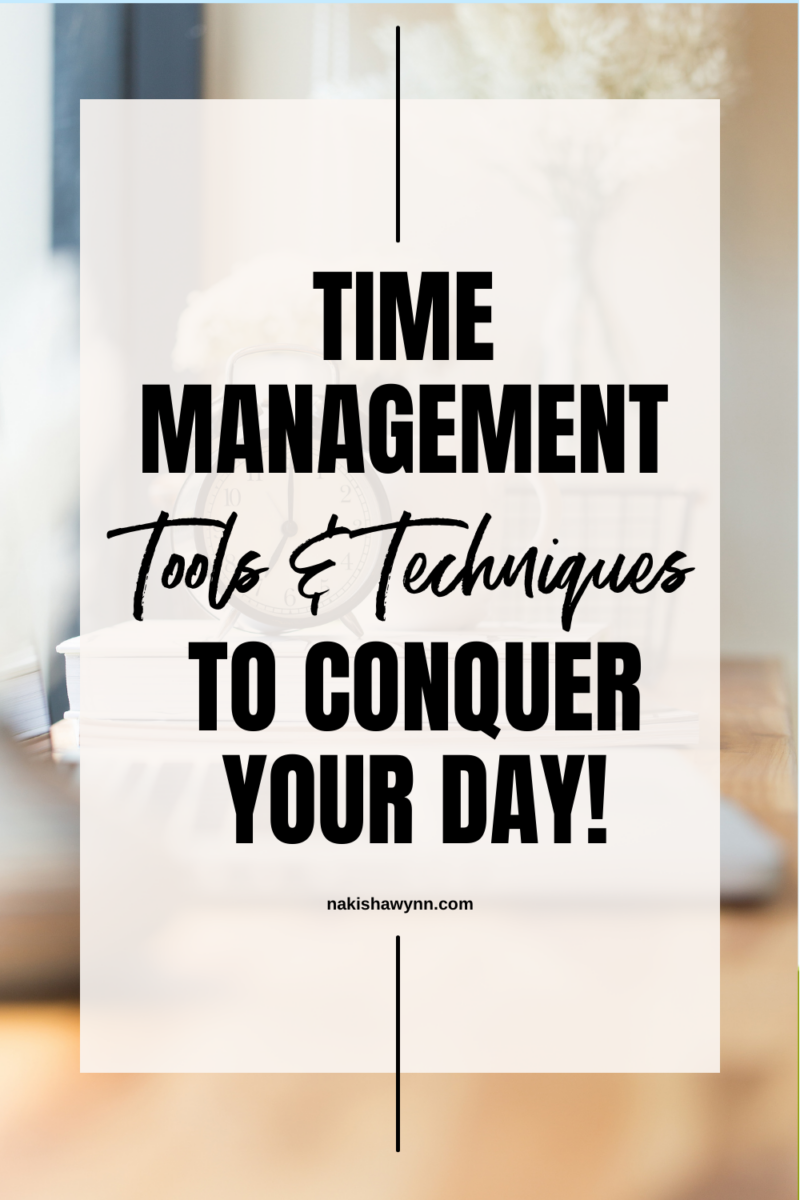 Time Management Tools & Techniques you Need to Conquer your Day