The number of women working stay at home mom jobs has increased exponentially. The reason, as you may expect, a result of the global pandemic. Covid-19 has affected the entire country in ways never before conceived. From schools and daycare facilities shutting down in the early weeks of the pandemic, to layoffs and furloughs coupled with the everyday stresses of worrying about the health of friends and family members and devastating loss, it's been a hard and difficult road.
Equally devastating and eye-opening is the fact that in the Fall of 2021, approximately 865,000 women left the workforce in the United States; a figure four times greater than that of men who left the workforce. Women have been left to bear the brunt of caregiving during the pandemic. For single moms, especially, left with little to no support with schools and daycares closed, the pandemic leaves lingering effects.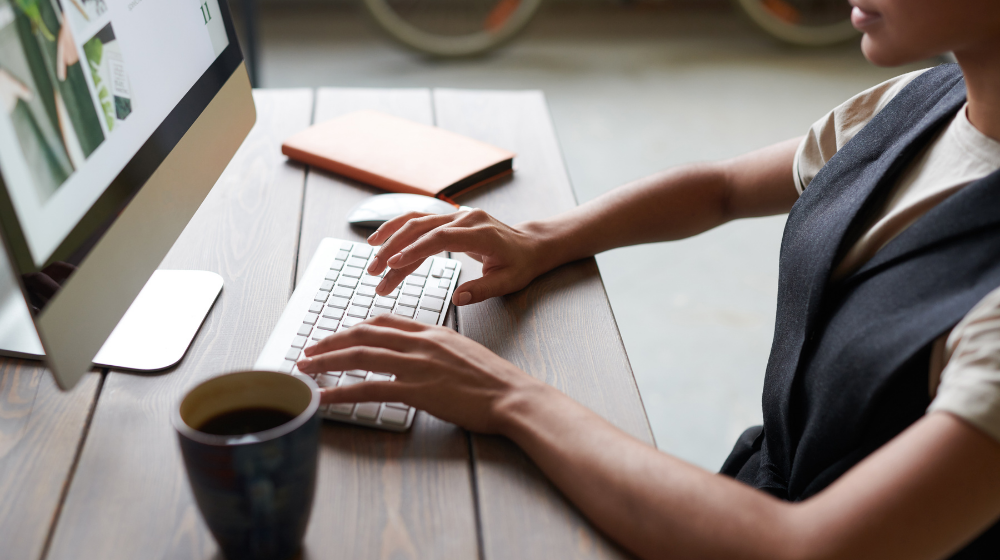 Despite these challenges, there are bright spots on the horizon in terms of entrepreneurship. In December 2021, over 1.5 million business applications were filed; most by women. That number is up 82 percent from the third quarter of 2019. Women are finding it a sink or swim situation and they've recognized the need to take ownership of their employment. The last year has seen a surge in women-owned home-based businesses. Many women are searching for the best stay at home mom jobs for 2021 and beyond. This list should offer a starting point for moms who currently work from home and wish to expand their horizons or those who work outside the home looking for ways they can be at home for their families while still earning an income.
Best Stay at Home Mom Jobs for 2021
Writing is One of the Most Popular Stay at Home Mom Jobs
If you're one of those people for which writing comes easily, a career as a freelance writer may be the best stay at home mom job for you. There are a variety of instances in which a writers' skills are needed, writing blog posts, website copy, social media posts, newsletters are just the tip of the iceberg.
Become a Virtual Assistant
A virtual assistant has become a catch-all term for anyone who works remotely performing a variety of duties from administrative, financial, and marketing. If you have experience in an office setting or have a background in communications, business, or any sought-after specialty skill, you can set up shop as a virtual assistant. All that is required is an online presence, the tools necessary to complete the work, and a way to market your services.
Put your graphic design skills to use
Graphic design skills are in demand online, as more and more people start their own businesses and need websites, logos, and marketing materials. If you have an eye for design, consider creating custom graphics for other home-based businesses or established brick-and-mortar companies. Online entrepreneurship is a fast-growing business segment and as such, there is a definite need for graphic designers.
Become a Social Media Marketing Professional
These days most businesses with an online presence must show up on social media. If they want to grow their numbers and increase their bottom line, it's almost a requirement.  Businesses are slowly beginning to realize this; if the uptick in influencer marketing is any indication.
While you may not be ready to become an influencer, you can help businesses promote their own content. A social media marketer may run online communities, post content to Instagram, Facebook, and Twitter, or helping the company create YouTube videos.
Provide Search Engine Optimization (SEO) Services
If you enjoy problem-solving and have a solid grasp of digital marketing, consider providing SEO services. Businesses, bloggers, and anyone with an online presence are seeking better results on Google. You can conduct research to help clients determine which keywords and phrases their site will rank for. You then provide them with detailed SEO analysis and reports.
Your clients will take this information and use it to create content that aligns with your reporting results. A background in digital marketing with a strong grasp of how Google works is key for this role. It's also something you could take time to learn fairly easily if you have an interest.
Other Ways to Make Money as a Stay at Home Mom
The above-referenced roles are not an exhaustive list of the best stay at home mom jobs.  There are countless ways to make money from home. Depending on your background, experience, expertise, and even hobbies, you can likely find a way to earn an income around your talents.
For those with a keen eye for fashion or love of clothes and style, consider sites like Poshmark, Mercari, and eBay. Individuals resell clothing and other goods online at a profit. If you have handiwork skills or are crafty or can create printables, you can sell those types of items on Etsy.
Selling your intellectual property is yet another way to make money from home. If you have experience in the corporate world in a specialized field or can teach something to others, it's easy enough to create an ebook or online course sharing your skills.
With an increase in homeschooling as a result of the global pandemic, many sites like Outschool and Bravewriter are looking for teachers, instructors, and learning coaches to help facilitate online classes. If you've always wanted to teach, this could be your chance to do so virtually and positively impact the lives of children.
Times are changing
Over the next few years, the business landscape will change drastically, as we've seen, it already has. Many industries have recognized the value of remote work. We can now hopefully expect more work from home opportunities with larger corporations. In the meantime, venturing out on your own, while daunting, is a great way to earn a living while being at home for your family. This past year has been a challenge.  Despite the challenges, heartache, and strife, a new mindset is slowly creeping into the collective. Women who previously were receiving the short end of the stick, have once again proven that they are strong, resourceful, and taking control over their lives.
Other Stay at Home Mom Job Posts to Check Out:
5 Ways to Find a Worm at Home Job
Productivity Power Tips for Busy Work at Home Jobs
Essentials you Need to Work at Home with Kids
15 Side Hustle Ideas for Moms