What to Expect as Disney World Reopens
As Disney World reopens following its closure due to the coronavirus pandemic, guests will be wondering what to expect. The Magic Kingdom and Animal Kingdom will reopen from July 11, followed by EPCOT and Disney Hollywood Studios on July 15. Here's what to expect at Disney World when it reopens.
Reservations
One of the biggest changes you'll experience is the new Reservation System. All guests will need to make an advance reservation to enter the theme park.
Face Masks
Visitors to the Florida theme parks will then encounter a number of guest safety precautions and procedures. Social distancing will be enforced, and all cast members and guests will be expected to wear face masks.
Face covering should be worn by all guests aged 2 and over. Masks must be worn at all times, except for dining, swimming and designated mask relaxation areas. All face coverings must be made with at least two layers of breathable materials, fully cover the nose and mouth and be secured by ear loops or head ties.
Bandanas or neck gaiters are not allowed. There are no exceptions or alternatives for people with medical reasons.
Social Distancing
The capacity of the park has been reduced considerably to enable social distancing and there are signs to help guests move responsibly through the park maintaining distance.
Floor markings will indicate the required 6 feet distance in ride queues, restaurants and retail outlets. Physical barriers will be present where possible. There are now plexiglass barriers in ride queues and vehicles, retail and dining locations to protect guests and employees where physical distancing cannot be maintained.
YOU MAY ALSO LIKE:
How to Plan a Trip to Disney on a Budget
How to do Disney with Little Kids
Fall Disney Vacation Tips you Must Know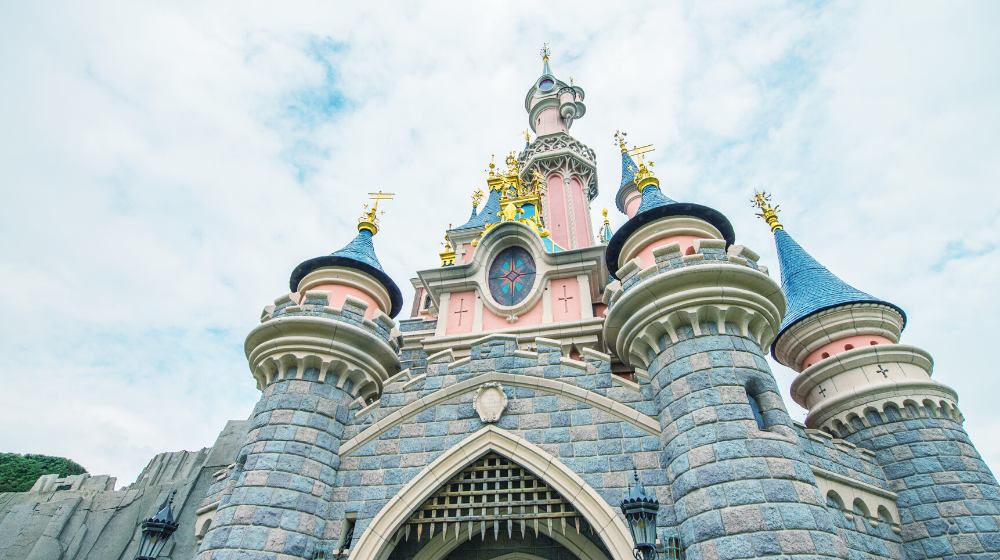 Sanitization
Disney has increased cleaning and disinfection measures. Cast members will be sanitizing the ride vehicles, tables and other high-touch surfaces frequently. Hand sanitizer dispensers and hand-washing stations are located throughout the park.
Cast Members
Cast members will undergo daily temperature checks and health screenings, and all guests will be subject to a temperature check before entering the property. Cast members have received extra training so they are equipped to help and advise guests in the best ways possible.
Health Checks
All guests will be required to undergo temperature screenings. Anyone displaying a temperature of 100.4 Fahrenheit or above will be directed to an additional location for rescreening and assistance. If a second screening reads at 100.4F (or above), the individual and their party will not be allowed entry.
By entering the site all guests are confirming that they do not have any COVID-19 symptoms as identified by the Centers for Disease Control and Prevention. These include but are not limited to fever or chills, cough, shortness of breath or difficulty breathing, fatigue, muscle or body aches, and a new loss of taste or smell.
Guests must not be under any self-quarantine orders, nor have been in contact with someone with confirmed or suspected COVID-19 symptoms without completing the required 14-day quarantine.
Guests who cannot confirm all of these criteria must not enter Disney World Resort.
Cashless Transactions
Once on site, guests will be expected to use cashless payment methods for transactions if possible. Payment can be made via Magic Bands, Apple Pay and Google Pay at restaurants and retail shops.
Restaurant capacity has been significantly reduced. However mobile ordering at restaurants has been expanded and is highly encouraged to minimize cast member and guest interactions.
Entertainment
Parades, night-time shows, fireworks and meet-and-greets with Disney characters will not resume immediately. But Disney characters will roam the parks and there will be cavalcades and other opportunities to see favorite characters.
All pre-booked dining reservations, experiences and FastPass+ reservations have been canceled through the end of the year.
Ride Availability
Most rides are open at all sites although some rides may have modifications, such as ride vehicle barriers between parties. Over at EPCOT, Spaceship Earth will be available as its refurbishment plans are temporarily on hold.
We are all excited to be able to get back to Disney World, but it may not be quite the same park and holiday experience we know and love. There will still be plenty of magic and sparkle around every corner though, and lots of our favorite characters. I hope this article has given you some idea of what to expect on your Disney World visit this year.
What to Expect as Disney World Reopens