So today we celebrated my baby boy's birthday. Yep cue the tears because I can't believe I already have a seven year old. I know it sounds cliche but it seems like the time flew by. Anyway, this little one loves dinosaurs and I decided to take him to T-Rex Cafe Disney Springs and Animal Kingdom's Dino Land. We had gone a few years ago when he was just 3 years old and he never forgot it. He would always talk about the time we went so when it came time to decided what he wanted for his birthday he chose T-Rex.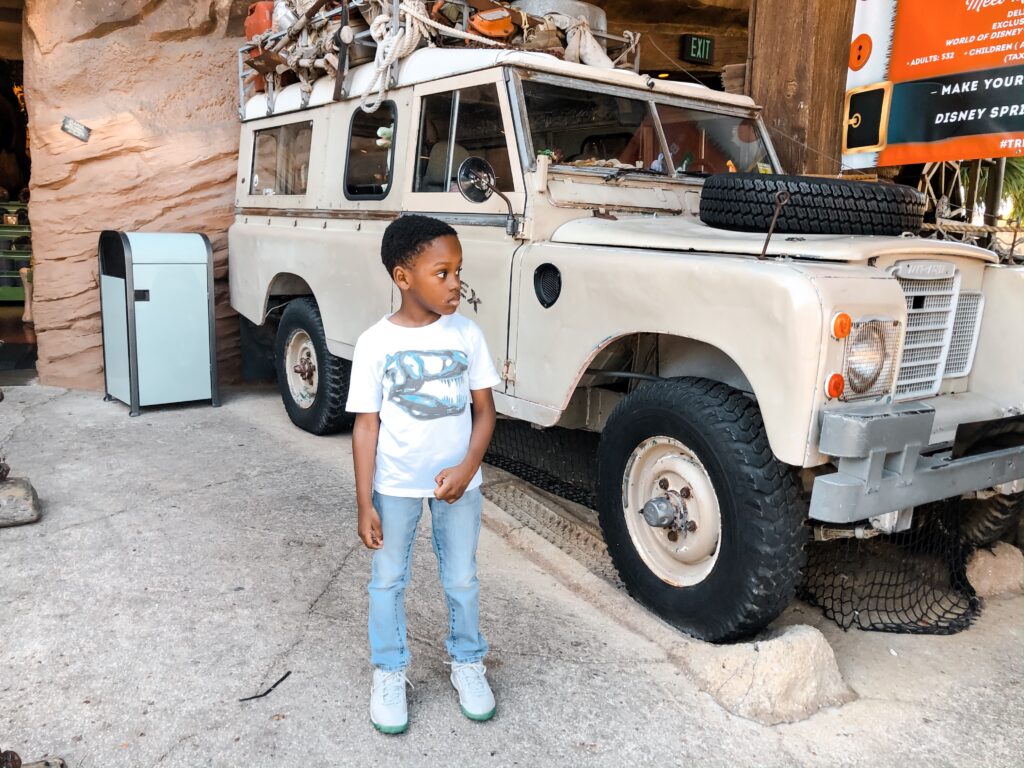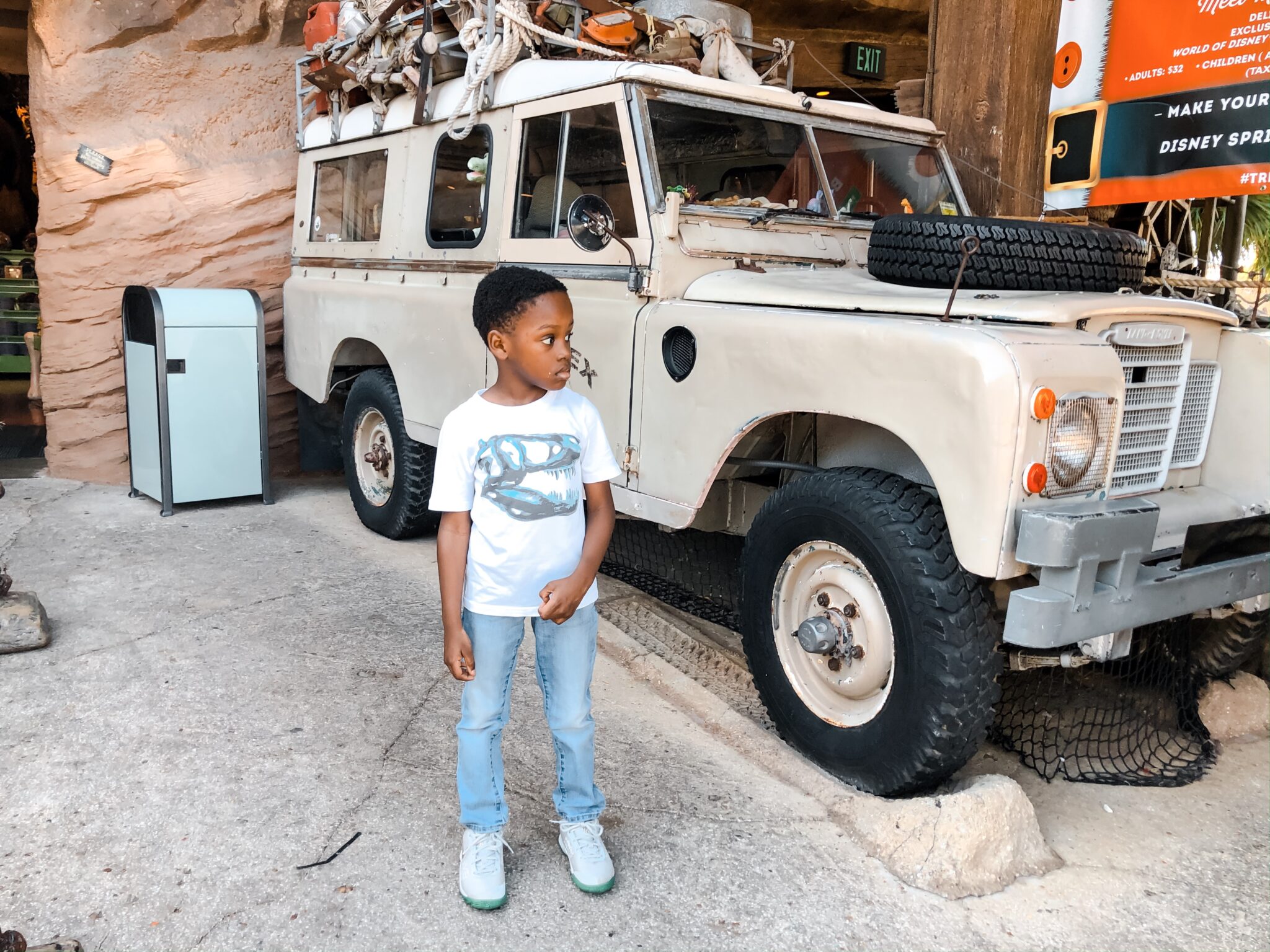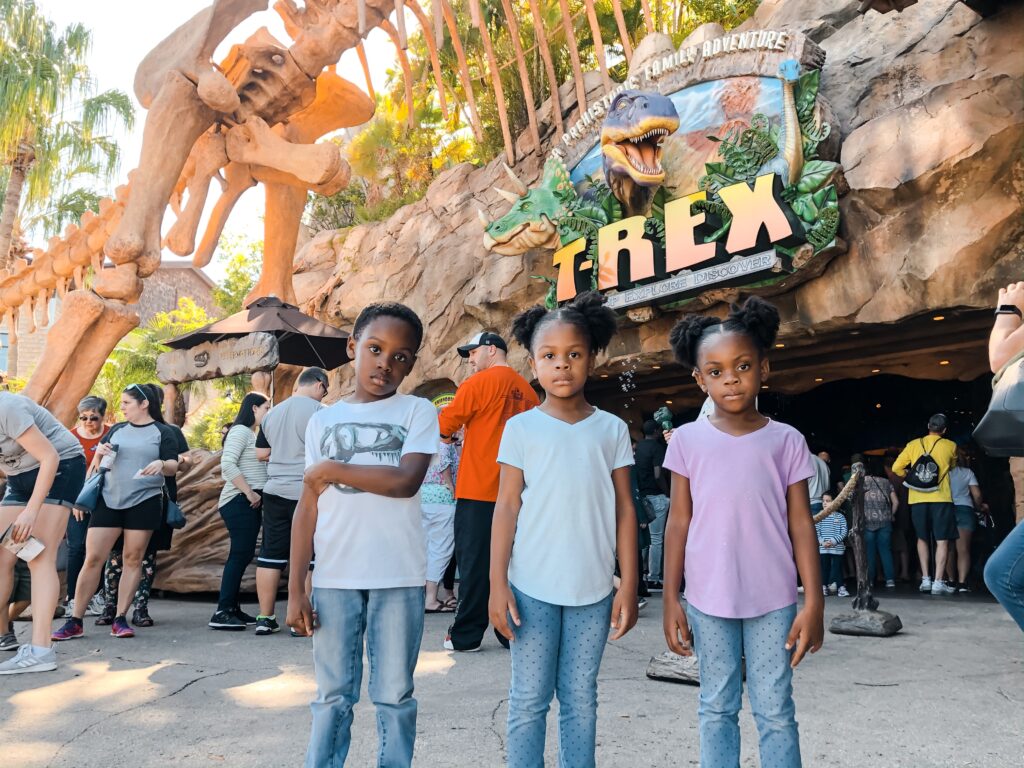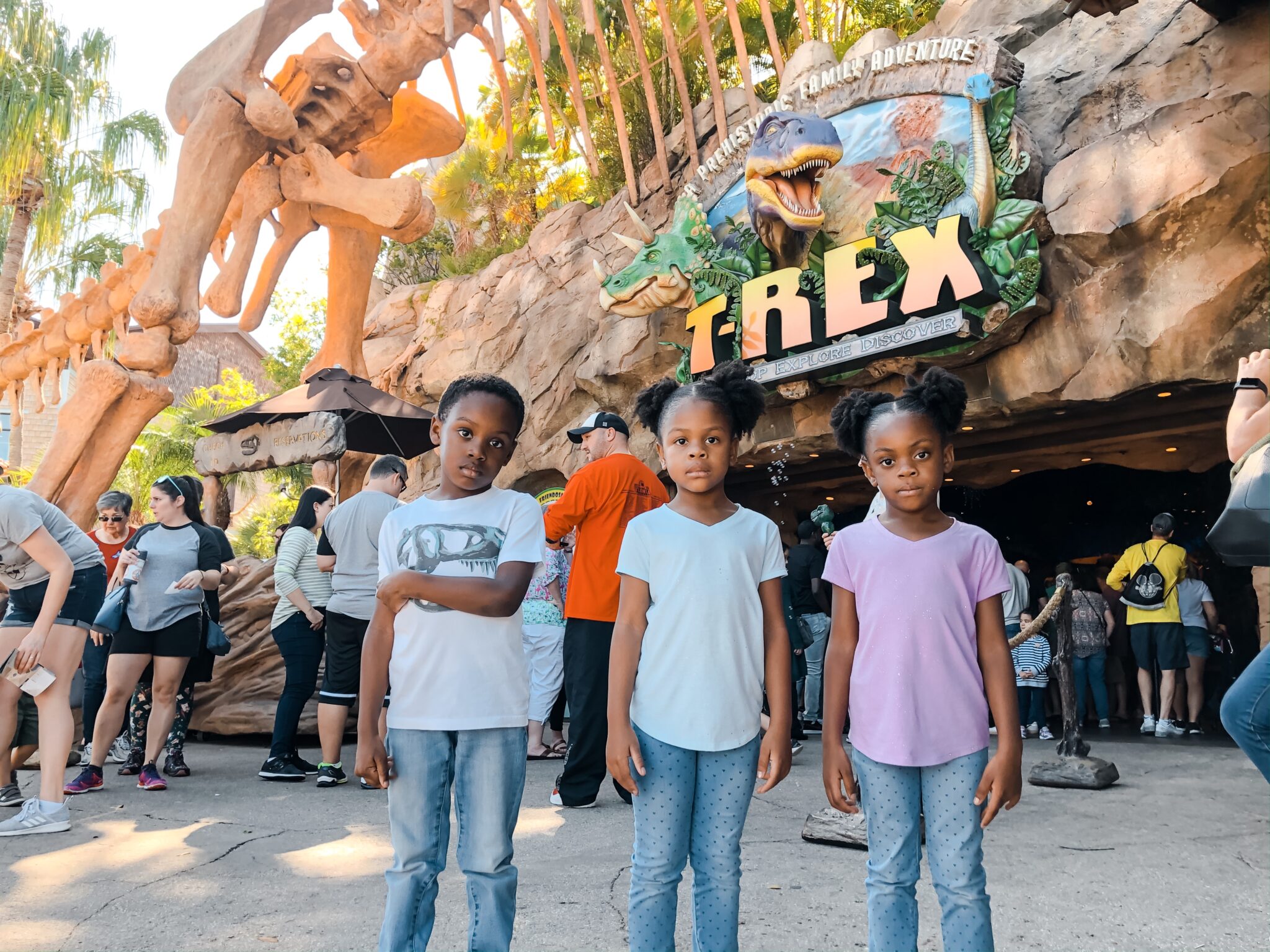 T-Rex Cafe Disney Springs
T-Rex Cafe is a located in Disney Springs in Orlando Florida. It's an interactive full service restaurant that features life sized animated dinosaurs, simulated meteor showers and an octopus bar with moving tentacles and jellyfish.
T-Rex Cafe Reservations
With the popularity of this restaurant the wait times can be long. Especially when coming during peak seasons. One way to combat that wait time is to make a reservation. T-Rex Cafe reservations can be made on the Disney website here. If you find that you are unable to get a reservation due to the restaurant being booked try calling instead. I was able to get a reservation at the exact time I needed just a few days prior by doing this. When we arrived we did have to wait about 20 minutes to be seated but the walk in time to be seated was up to an hour.
Dining Entertainment
One things that makes T-Rex different and so amazing for kids is the entertainment aspect of the restaurant. There are animatronic dinosaurs, a moving octopus bar, meter showers, etc. In the coral reef area that we were sitting, the large fish tanks with all types of exotic fish was a hit with my littles ones. They were even asking Siri fun facts about each of them lol. But the highlight of the restaurant visit was the meteor showers. Every few minutes the lights are dimmed and T-Rex himself starts moving, roaring and getting the other animals going. This was so exciting for all of the kids in the restaurant. They would all start cheering and making the T-Rex sound, it was the cutest thing to watch.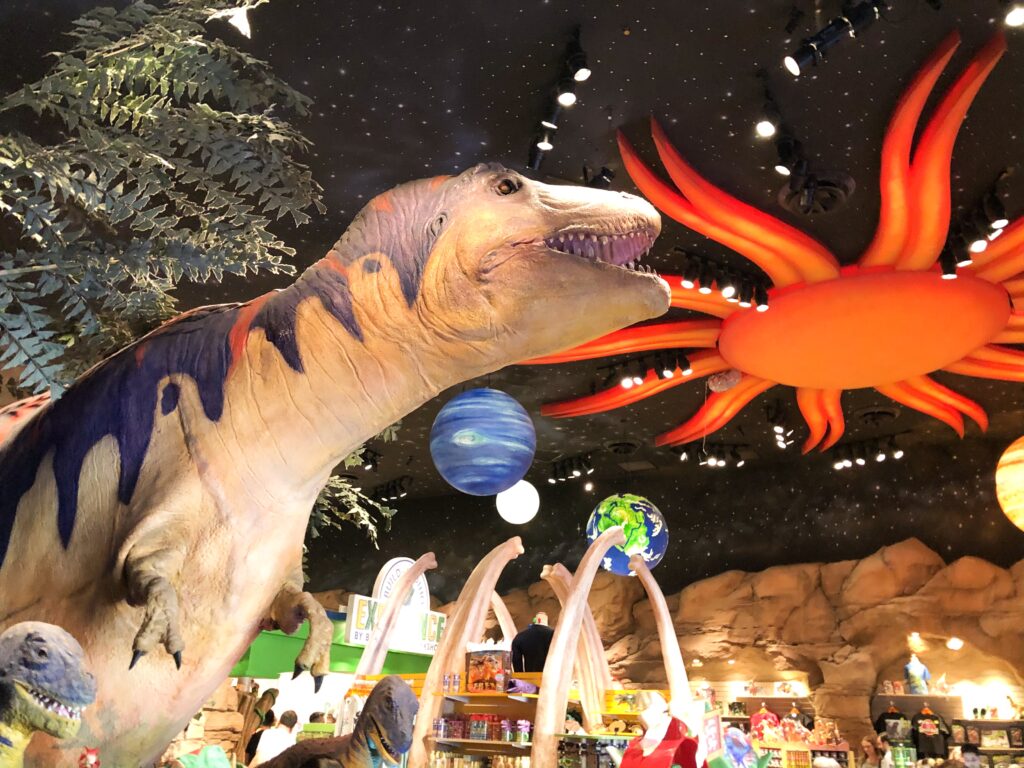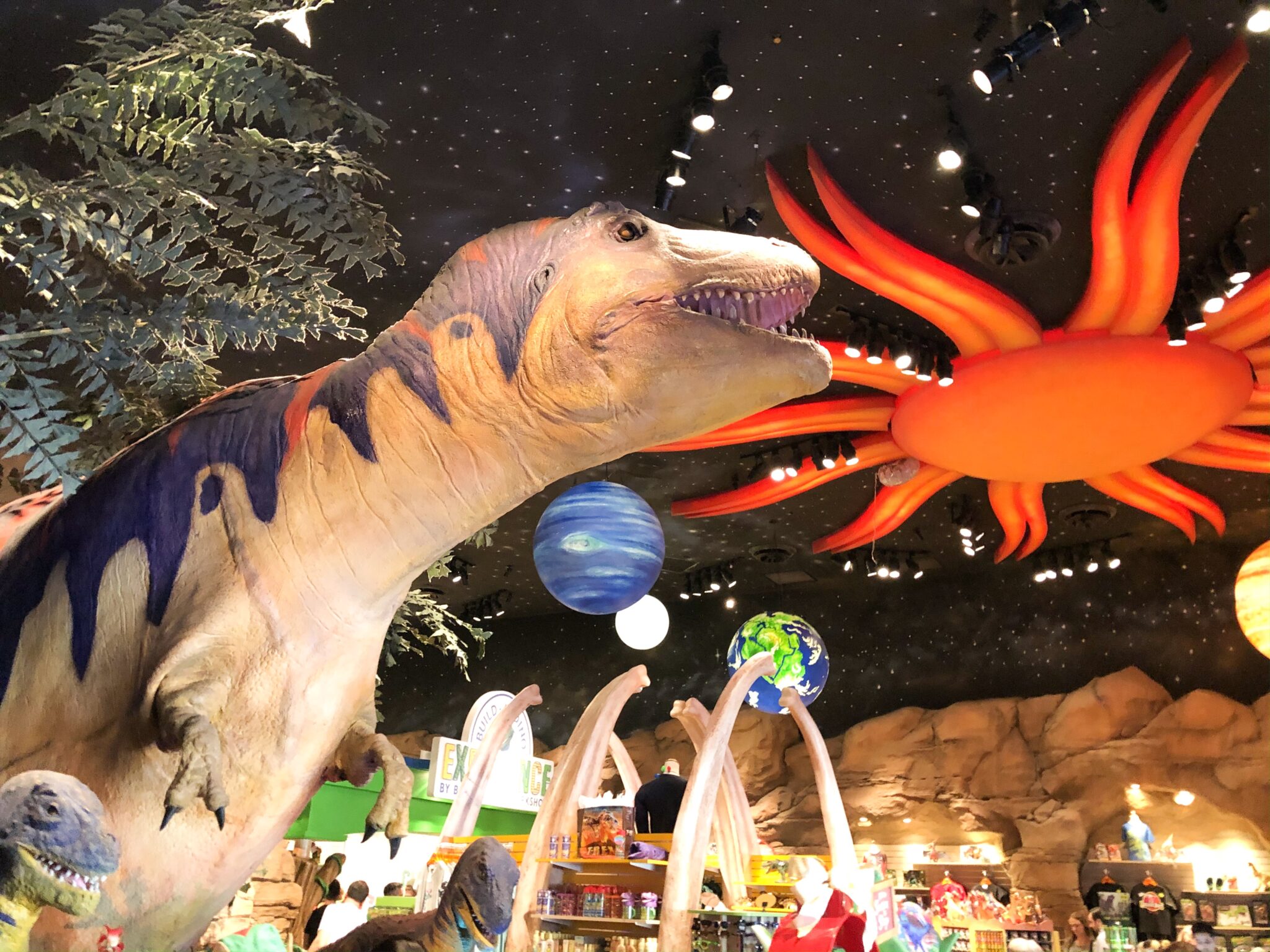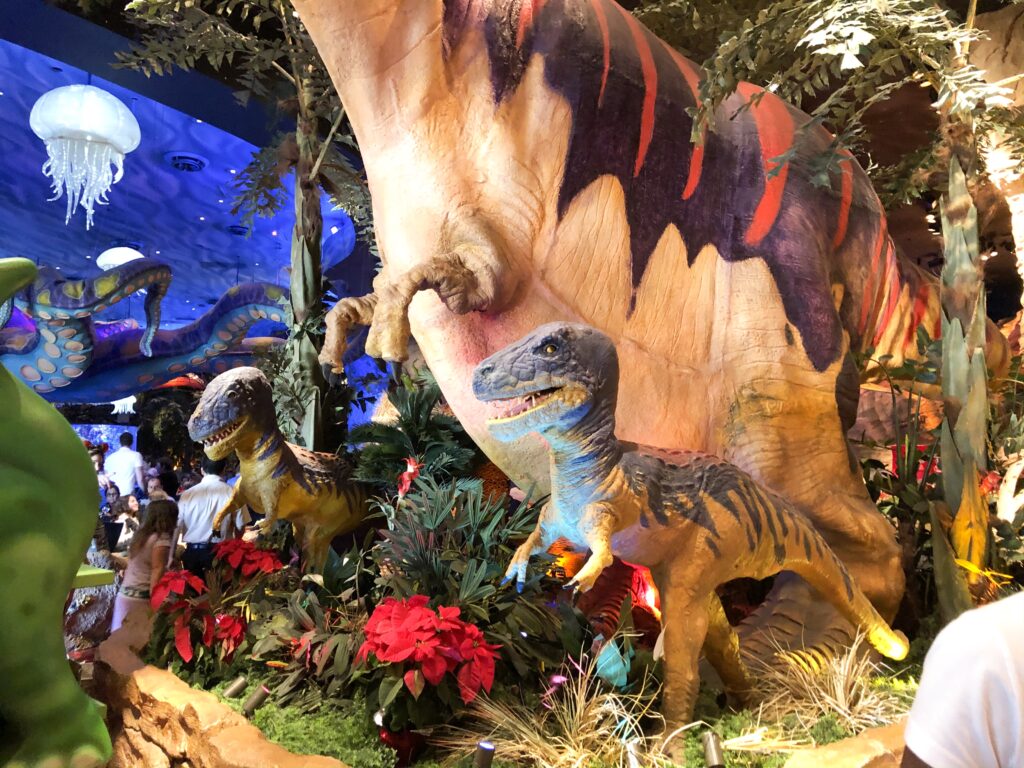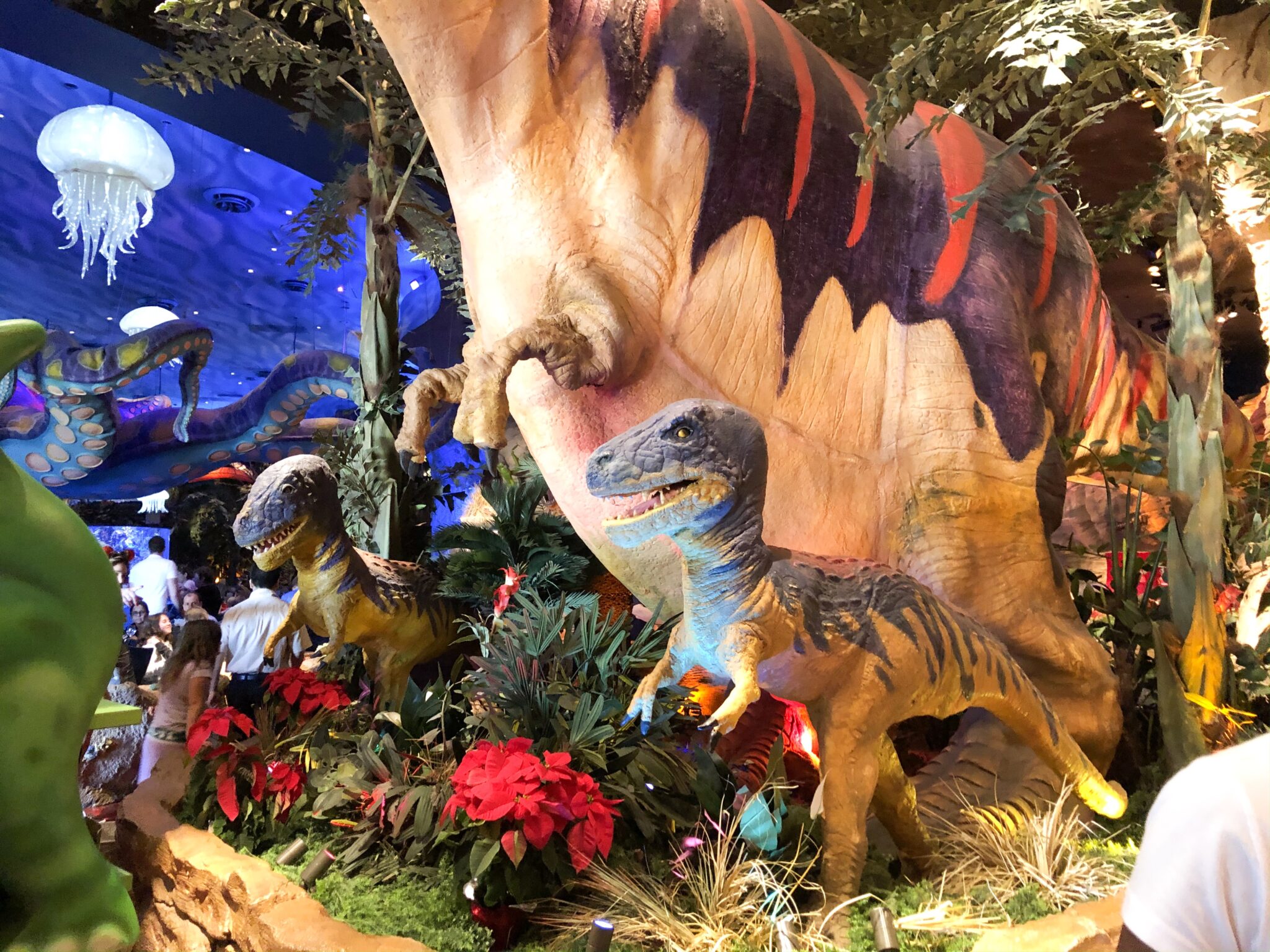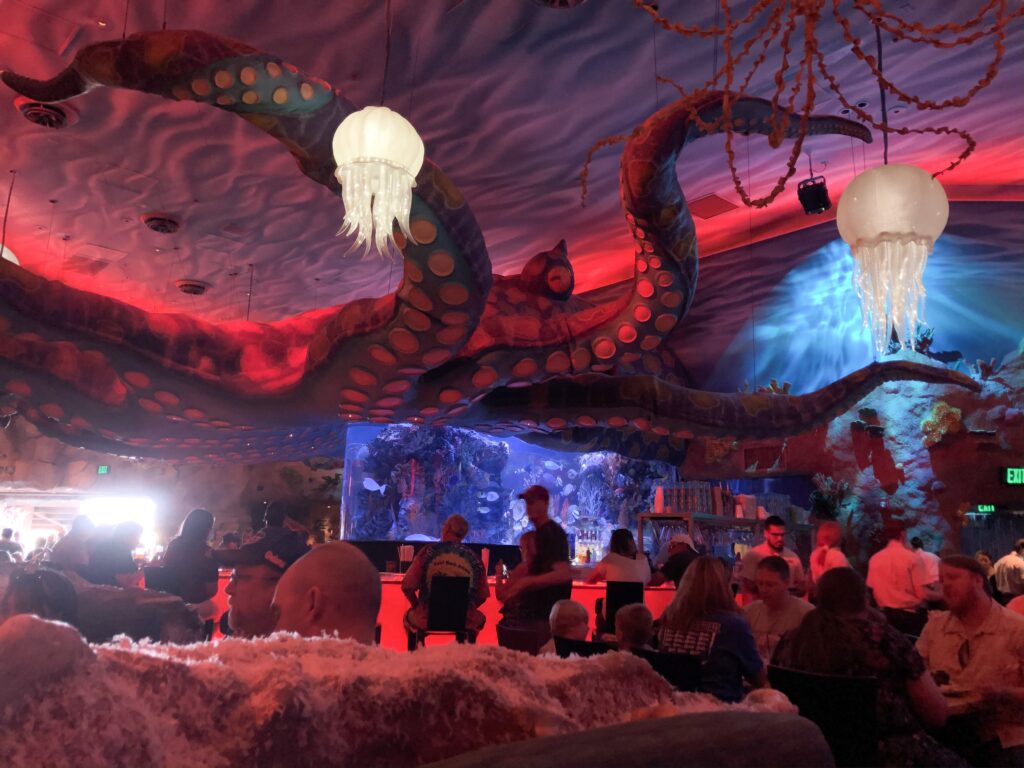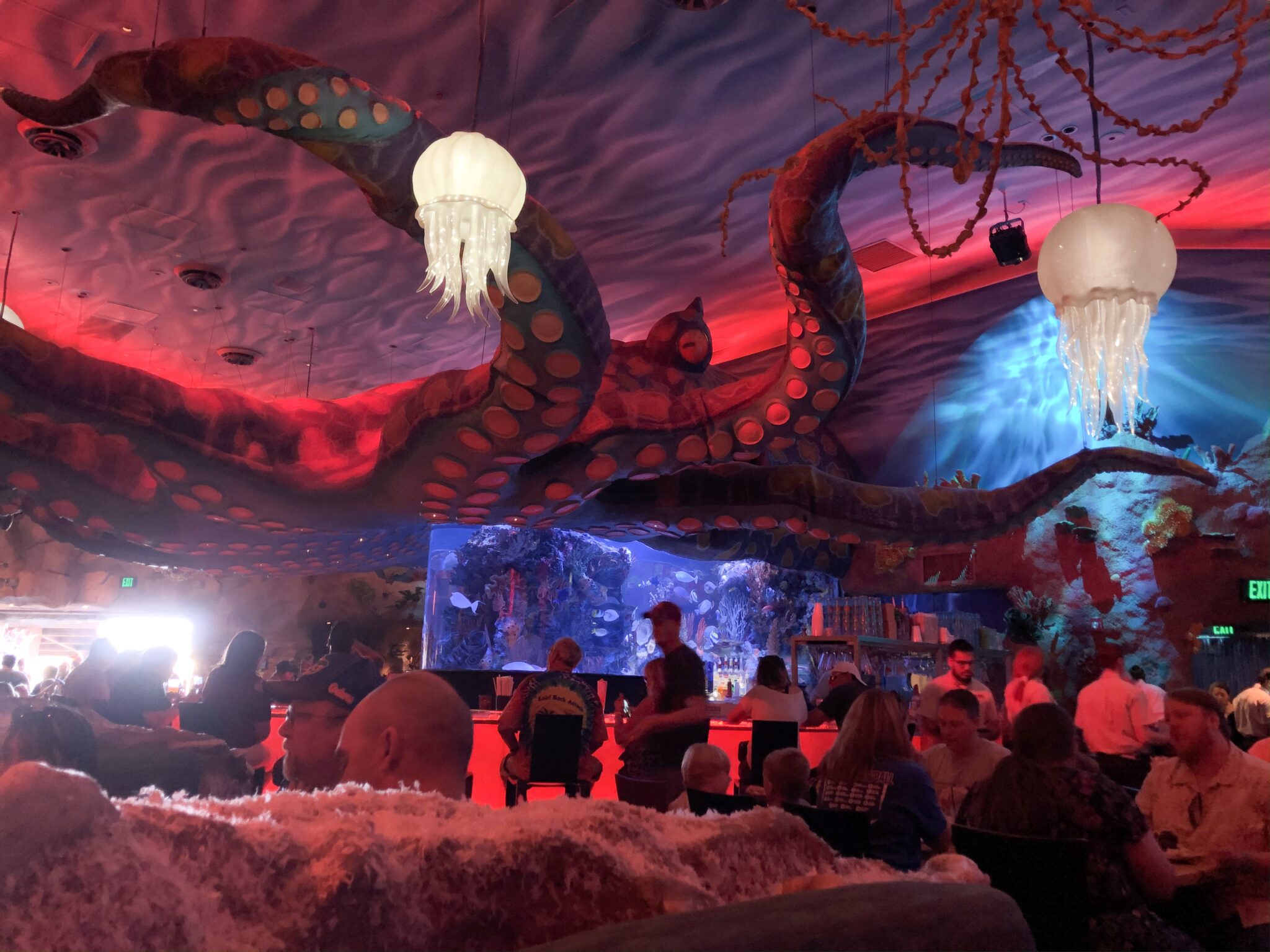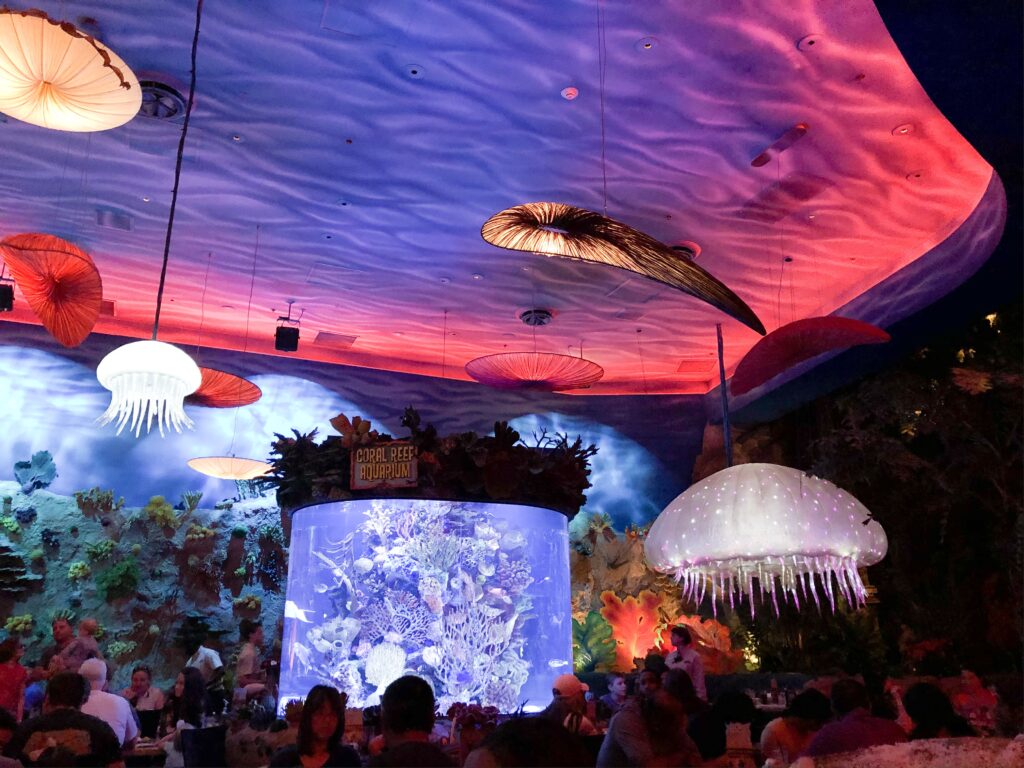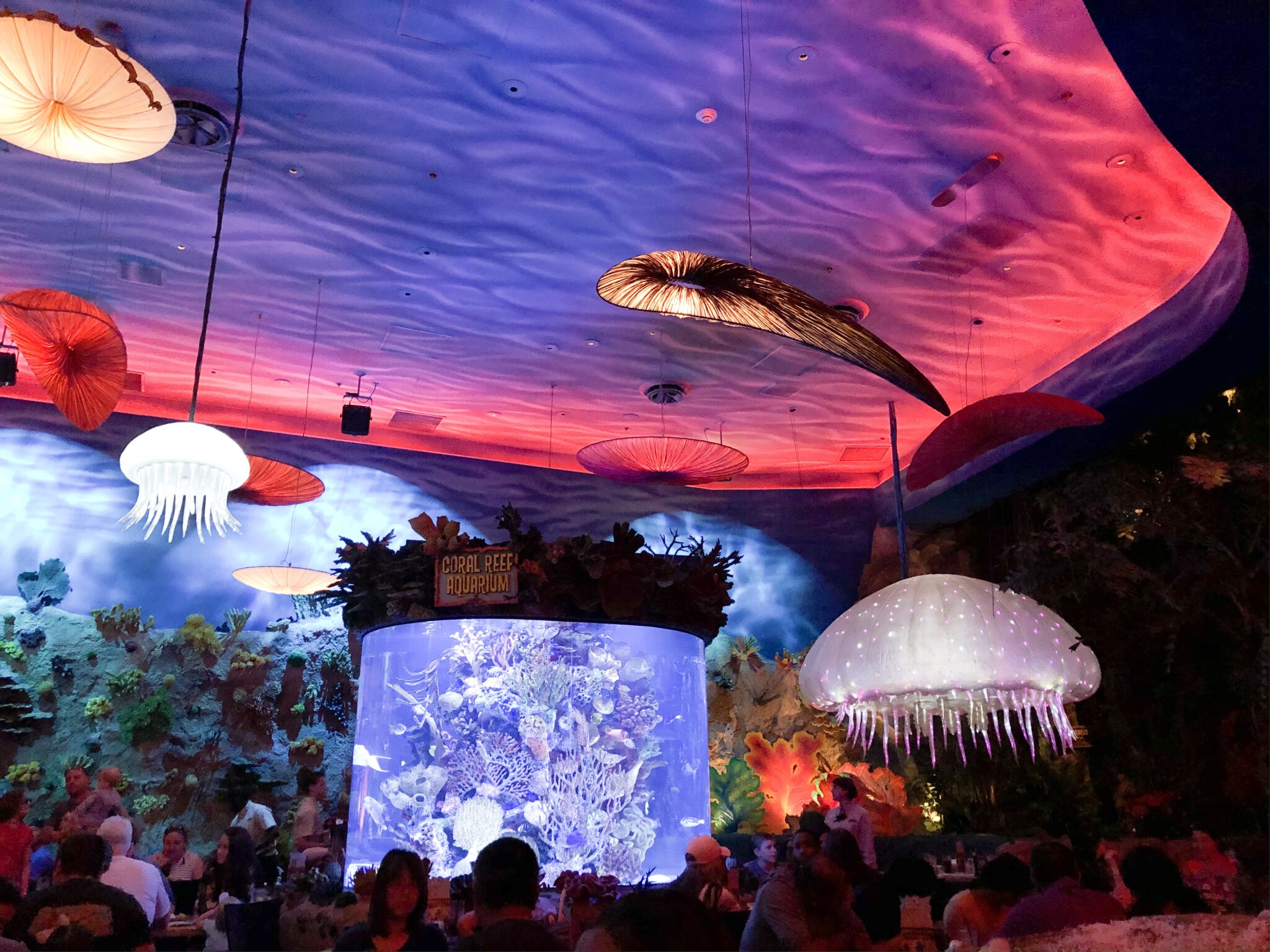 Amazing Food Options
First of all let me say this… I loved how many options they have on the kids menu. There are nine options for kids to choose. That gives the kids more than enough choices to make sure they are satisfied. Each entree is served with two side items and a reusable cup. Now the theme of this restaurant is prehistoric and the food is no exception. The serving sizes were massive in my opinion. My sister and oldest son both ordered burgers that were so big they had to cut them in four to eat. My mother's chicken sandwich was 4 layers and the kids sliders were the size of a regular burger. I'm not saying this is a bad thing, it was just unexpected. My pasta (which was amazing by the way) was a regular portion size though, with exception to the bread it was served with.
T-Rex Cafe Menu
Again the portion sizes are huge and make it perfect for sharing meals. This is a great way to eat on a budget here because the prices are a bit high. The burgers and sandwiches were around $17-$19 and the other entrees were around $20-$24. Most dishes that contained seafood was a bit higher. The Island chicken and shrimp pasta that I ordered was $26. The good thing is though the kids meals were only $9.95 for children 9 and under which I found to be a really decent deal considering what they got. The reusable cup to take home was also a nice touch.
Paleo Digging Zone
Even though my kids were no interested in digging, there is a Discovery Dig fossil sandpit area just outside the gift shop. The kids can go in and pan for gems and stones with provided tools and diggers. It's a perfect little area for toddlers too.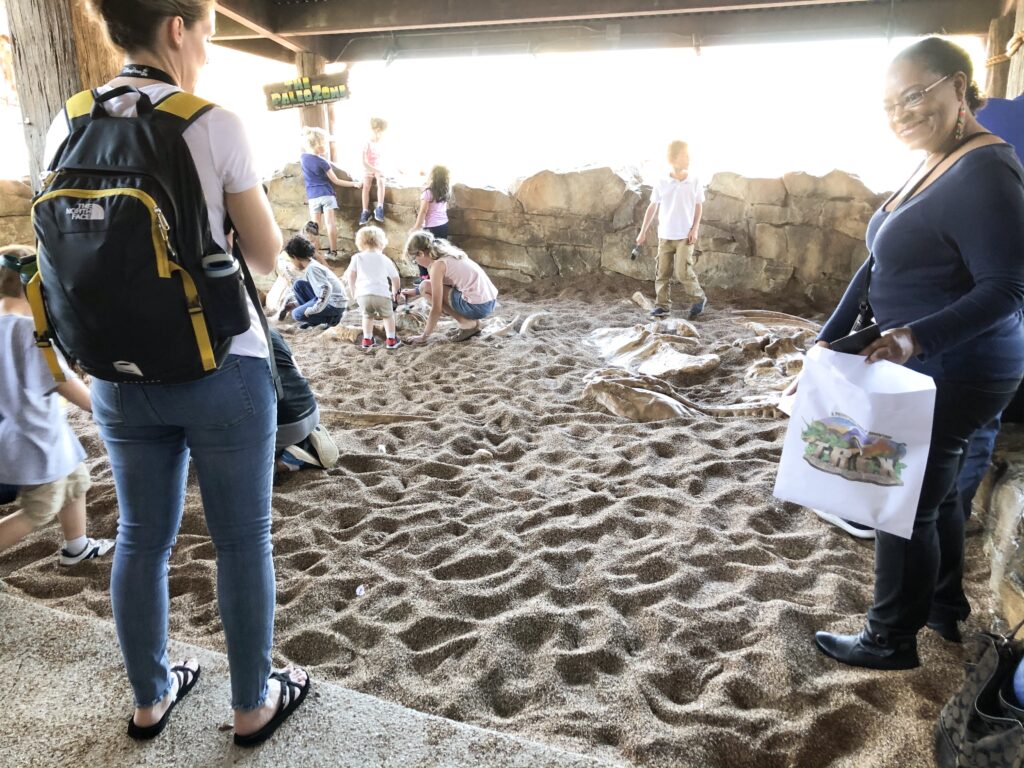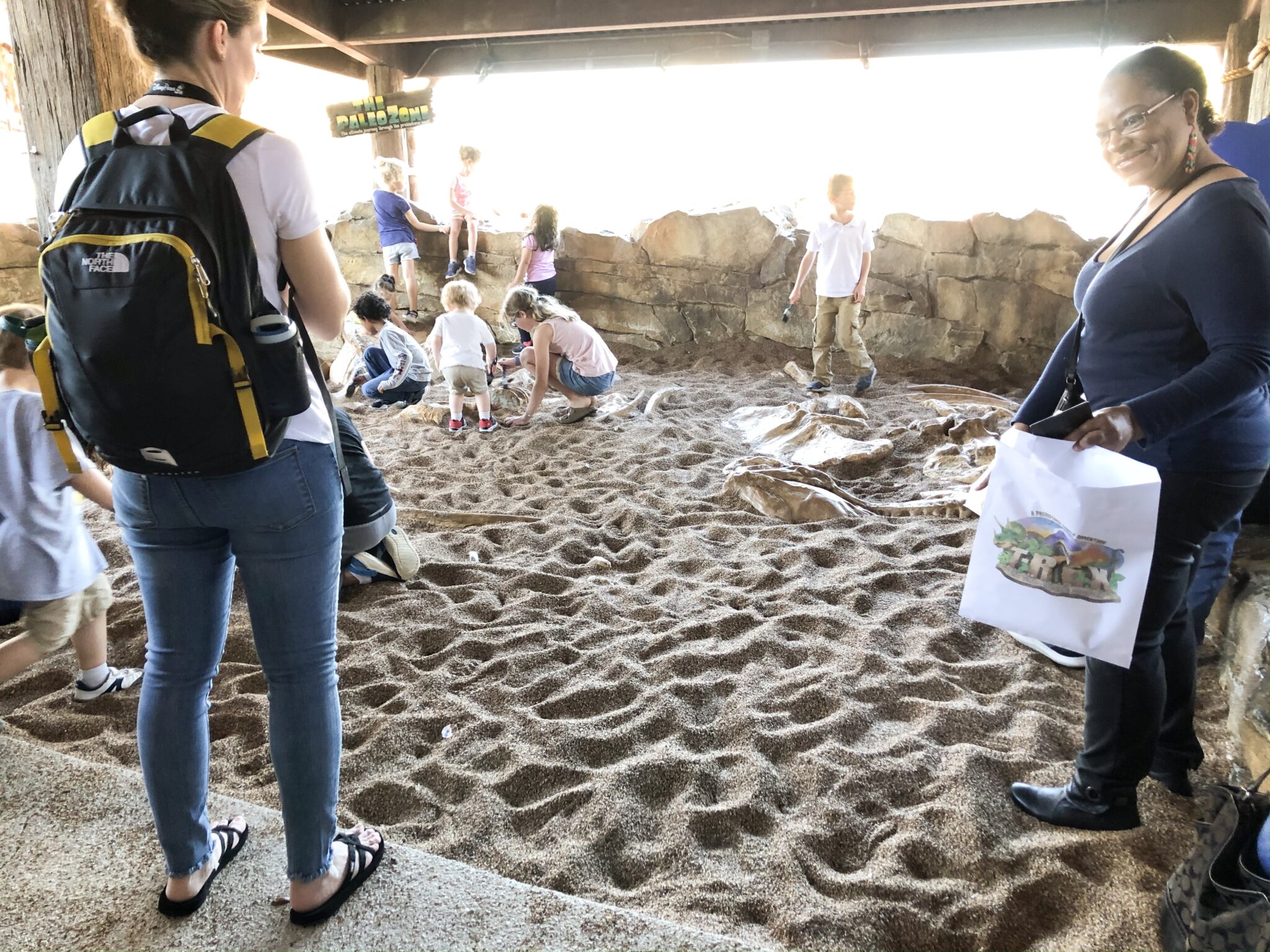 Build a Dino
Inside the restaurant there is a Build a Dino Experience by Build a Bear Workshop. The kids can go in and build their perfect little dinosaur complete with clothing and accessories. This is the perfect souvenir for a child that loves stuffed animals. It not only is a cool new toy but something to commemorate the T-Rex cafe experience when coming to visit Disney Spring from out of town.
Cool Gifts and Souvenirs
If stuffed animals are not your thing there is other dino related souvenirs, toys and apparel inside the Dino Store. My son was in complete dino bliss in here. He got a dinosaur bubble blower and a dinosaur bracelet with his name on it.
Overall our birthday celebration and T-REx Cafe was amazing and we can't wait to do it again. If you have a child that is into dinosaurs they will absolutely love it here!
ALSO READ: 7 Things You Must Do on Your First Visit to Animal Kingdom Disney World