This weekend was my seven year old's birthday and he wanted to celebrate at Animal Kingdom Disney World. This was our first visit to the park so I wanted to get the most out of our day. His friend had told him about all the amazing things in the park so of course he was super excited to get going. I just wanted to know what things we HAD to do and what things we could actually skip. I wanted to finish early so that we could head over to Magic Kingdom to see the holiday decorations, parade and A Frozen Holiday Wish.
Download the MyDisney Experience App & Secure Your Fast Passes
Having been to Disney Parkes before I never understood how the Fast Pass option worked now did I download the MyDisney Experience app. This time I did. It changed our experience! As soon as you book your trip you should create a My Disney Experience account and choose your 3 Fast Passes. I recommend scheduling your Fast Passes for the most popular rides at Animal Kingdom if you can. As of now that includes: Avatar Flight of Passage, Na'vi River Journey, Kilimanjaro Safaris, and Expedition Everest.
You may also want to consider scheduling your Fast Passes between the hours of 11am and 2pm which is the busiest time of the day at the park. This gives you an opportunity to arrive at park opening and take advantage of the short wait times. You will also have the chance to use your 3 Fast Passes early in the day so you can book additional passes once you've used them all.
This is where the MyDisney Experience app comes in handy. Once you have used you first FastPass you can go into the app and look for earlier time slots for your next Fast Pass. If an earlier time is available, move your time up. Once you have done this for all three passes you can then check the app for more open Fast Passes for the day. On this trip I was able to use a total of 7 Fast passes for the day. My son and I barely waited in any lines at all because we had Fast Passes for everything we wanted to do.
Schedule Your Day in Advance
One of the best things I did on this trip to Animal Kingdom Disney World was plan our day in advance. I usually wouldn't have done that. I typically just arrive and go with the flow. But I realized we wouldn't get to do that much and spent most of our time just waiting in lines or just trying to figure out what we wanted to do next. The biggest hack I can give you is to plan your day before you arrive. The reason I even decided to do so was because we wanted to do 2 parks that day. We started the day at Animal Kingdom and ended the day at Magic Kingdom.
Get to Pandora Early
One of the most popular areas of Animal Kingdom right now is Pandora – The World of Avatar. It is newly opened and it is a hit!! Just like everything else at Disney lol. From the Pandora Rangers to Avatar Flight of Passage and Navi River Journey it is a nature lover's dream. If you want to experience Pandora try your best to get a Fast Pass for the rides or get there early. Most people entering the park at open will be headed straight to Pandora, so be prepared for the crowd.
Now if you aren't picky about going to Pandora I would say skip it! That's what we did. My son wanted to see the animals on the safari so that's what we chose to do first. We were able to bypass the crowd and be at the Africa area of the park when they dropped the ropes for entry. We ended up being in one of the first vehicle that went our for the day.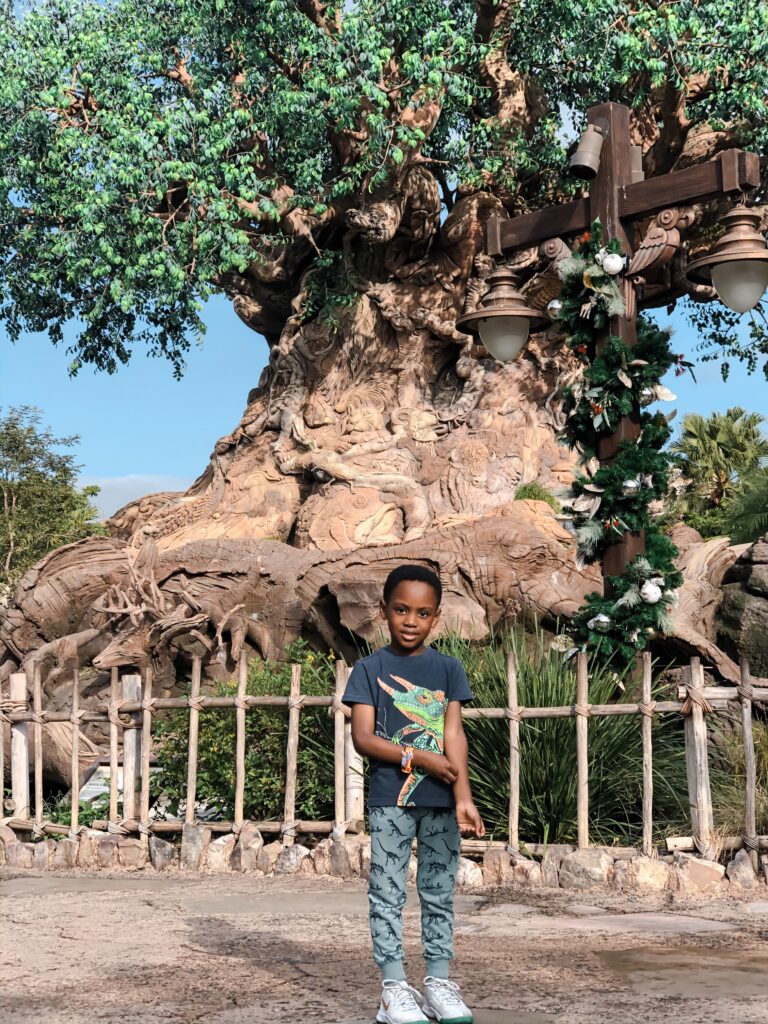 Take a Tree of Life Photo
Did you really visit Animal Kingdom if you don't get a photo in front of the Tree of Life? Ha ha! I'm not really sure you did. Take the picture and show me that it's real. One of the best and most iconic photos at Animal Kingdom happens right in front of the magnificent tree. It is the center of the park and the first thing you see upon entry. It is captivating. It has so many thing carved into the trunk and it is so fun to stand there and let the kids point out all the things they kind find inside the tree. As you can see here my son came to the park in his themed attire ready to take on the day. As soon as he saw the tree he was ready for his photo. This from a little one who's not a fan of a camera.
Experience Kilimanjaro Safaris
Hands down this was my son's favorite part of the day. We started our morning on the Kilimanjaro Safari and he loved it. He was smiling so hard when he saw the open aired vehicle we were going to be riding in. He was lucky enough to be sitting right at the end of the row so he had a first hand view of everything. It was early so the animals were up and active and getting their food for the day. The keepers were out on the savannah putting out food and maintaining the habitats. It was amazing. We had a rhinoceros walk right next to our vehicle. My son literally could have put his hand out and touched him.
One thing I loved about the safari, is that it felt so real. Honestly when we arrived at the lions, it literally looked just like pride rock from the Lion King. Obviously Disney does a great job at bringing things to life and getting every little detail right when it comes to that. One of my dream vacations has always been to go to Africa and experience a real life safari so this gave me the opportunity to see exactly what it would be like. This ride is a must especially if you are bringing kids. They will love it!
See Festival of the Lion King
If you have ever loved the Lion King, been into African attire, or loved the vibes of cultural sounds, you have to see the Festival of the Lion King! Listen I could have sat through this 3 more times on our visit. I was impressed. For me this was the highlight of my day. Obviously I'm a 80's baby and I love all things Disney and especially Lion King. I mean who doesn't love a good come back kid story….Simba did that! But this show was entertaining and captivating to say the least. There were singers, dancers, acrobatic tumblers, and fire twirlers. I mean there was just so much to see.
It was just out right engaging. They got the crowd involved, brought kids out on stage and sang songs that everyone in the room knew. If you are visiting Animal Kingdom Disney World the Festival of the Lion King is a must see!
Visit Dinoland
Lastly, if you have a Dinosaur loving kid like mine, they will love Dinoland. The entire theme of my son's 7th birthday was about dinosaurs. He received the Transformers Dinobot Grimlock for his gift, had dinner at T-Rex Cafe Disney Springs and we had to conclude the party with this visit to Dinoland in Animal Kingdom Disney World. We visited Dinoland second after Africa when we were there. Our first destination was the ride Dinosaur. We were greeted with this amazing T-Rex skeleton called Dino Sue before we entered. The entrance to Dinosaur is so cool and my son was so excited. Once we got on the ride he was not a fan. It is a dark ride that takes you on a lot of twists and turns with wind blowing and dinosaurs roaring. My son had his eyes closed the entire time. If your little one is sensitive to the dark keep that in mind.
When we left Dinosaur we enjoyed the other rides in the area. We did TriceraTop Spin, Primeval Whirl, and Donald's Dino bash. His favorite part was the Boneyard. It's a dinosaur inspired play area within Dinoland. He had a blast!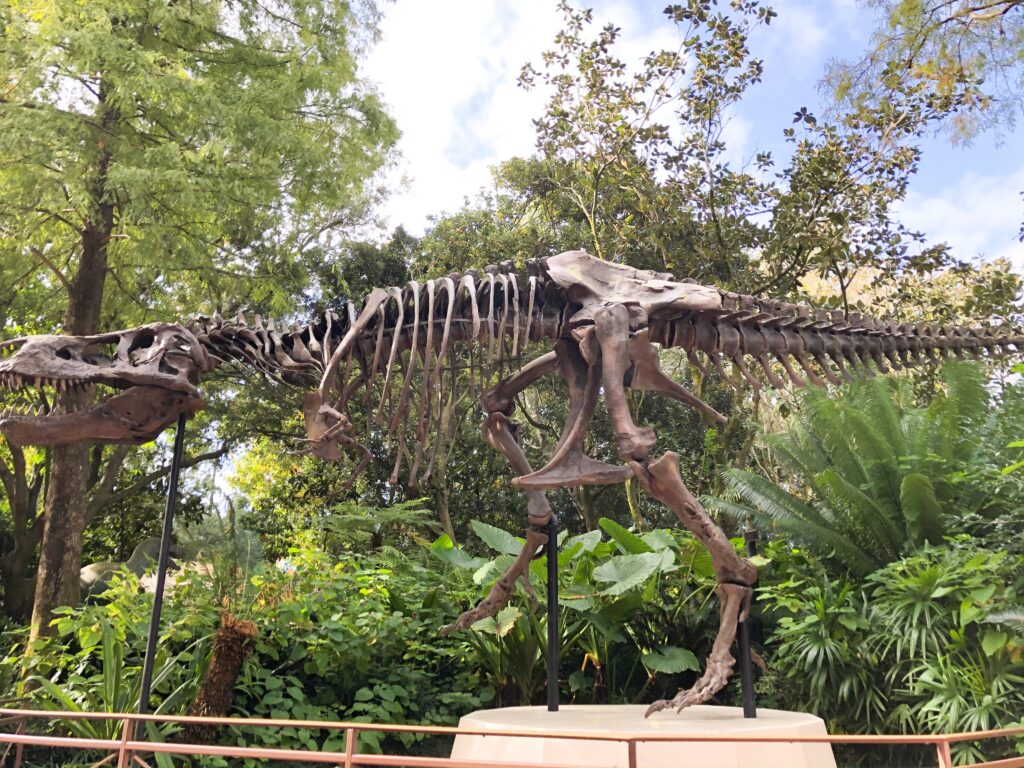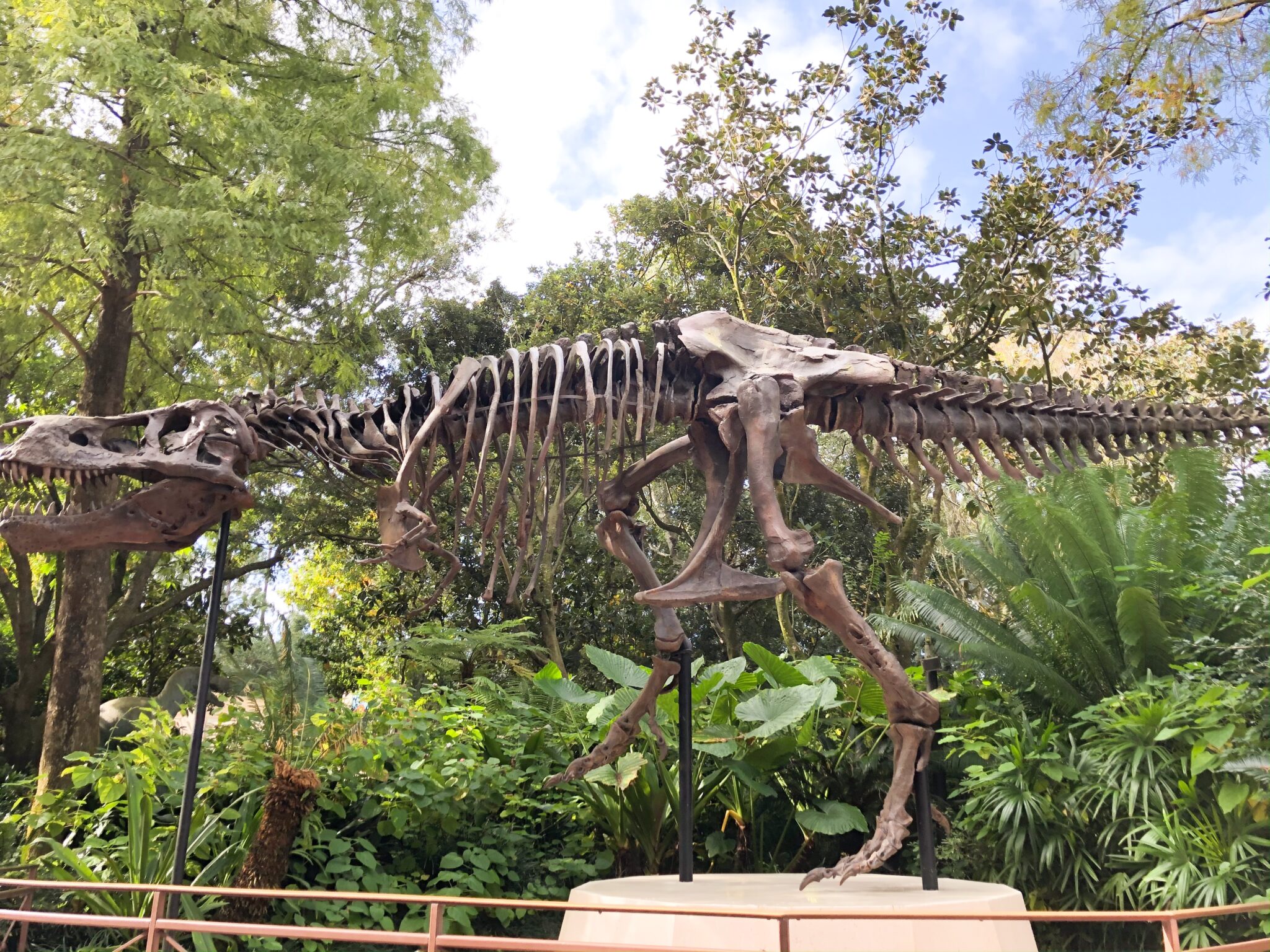 Animal Kingdom Disney World