Starting a blog is a great way to share your experiences, expertise, and ideas with the world. You may be the person that friends and family reach out to on a given topic. They may message you asking questions and before you know it, you've spent 30 minutes helping them learn something new or figure out how to do something. If this has been your experience in the past, you've likely thought that you should capitalize on your experience and just start a blog already. This free value packed post contains affiliate links. I could make a small commission (at no additional cost to you) on your purchases or signups through my links.
You may have experiences you'd like to share around a specific topic and you've thought that if you just had a blog to communicate through, you could reach so many more people with your message. Whether your goal is to inspire, educate or move people to action, starting a blog may just be the perfect route for you. Blogging is not just a creative outlet for you to share your life with the world. With practice, consistency, experience and the right tools, it can become another source of income.
Yes, you truly can make money blogging, it won't happen overnight but this series will offer you the background, tools, and resources to assist you in starting a money-making blog. Or, if you're not looking for additional income and just want to start blogging for the creative aspect of it, this series will teach how to start a blog.  

What are You going to Blog About?
So, you've decided that starting a blog is for you. Now, what should you blog about? As mentioned above, there's likely a reason why you want to start blogging. You may be a talented home cook and want to share your recipes but you're not sure how to start a blog. You may enjoy kayaking with your family and want to share your experiences.
It seems cliché, but it's important to figure out what you want to write about before you jump in, if you haven't already got it locked down. Before you start your blog, consider what you're passionate about, what fires you up. What do you enjoy talking about, what do other people come to you with questions about? How can you help serve others with what you know, your life experiences or your personal journey? Figure out what it is you really love to do, talk about, teach people and make that the subject of your blog.
In doing so, however, you also want to consider whether blogging about your hobbies or interests is something you can sustain for a long period of time. Should you lose interest in the topic at hand, writing about it is going to be a chore, just another thing you have to do, and you're not going to want to do the work to make your blog successful. This is why you should have a clear goal in mind before throwing your hat into the blogging ring.

Who are You're Trying to Reach With Your Blog
While it is possible to cover several topics and become a lifestyle blogger, you still want a through-line or main theme for your blog. If your through-line is hiking and you blog about places to hike, hiking boots and where to find hiking gear, you may think you can't blog about food or your favorite recipe. But, by using your through-line as the backbone of your blog, you'll find you can write about recipes for foods and snacks you can take with you while backpacking or hearty meals to eat before you head out on a 3-hour hike.
When deciding what to blog about, take your interests into consideration and ensure that you really love your blog topic but don't forget about your prospective readers. Figuring out your ideal audience is paramount to creating a successful blog. You'll want to determine who your reader is, what they do for a living, what their fears and pain points are and what they're looking for. Sometimes it helps to give your ideal reader a name and create an entire profile for them. This way, as you create content, you're answering any questions, fears or concerns this one person has. Write specifically to that one person and you'll reach countless others just like them. 
First let's consider the steps you'll need to take to get started and then we will walk through blog setup together!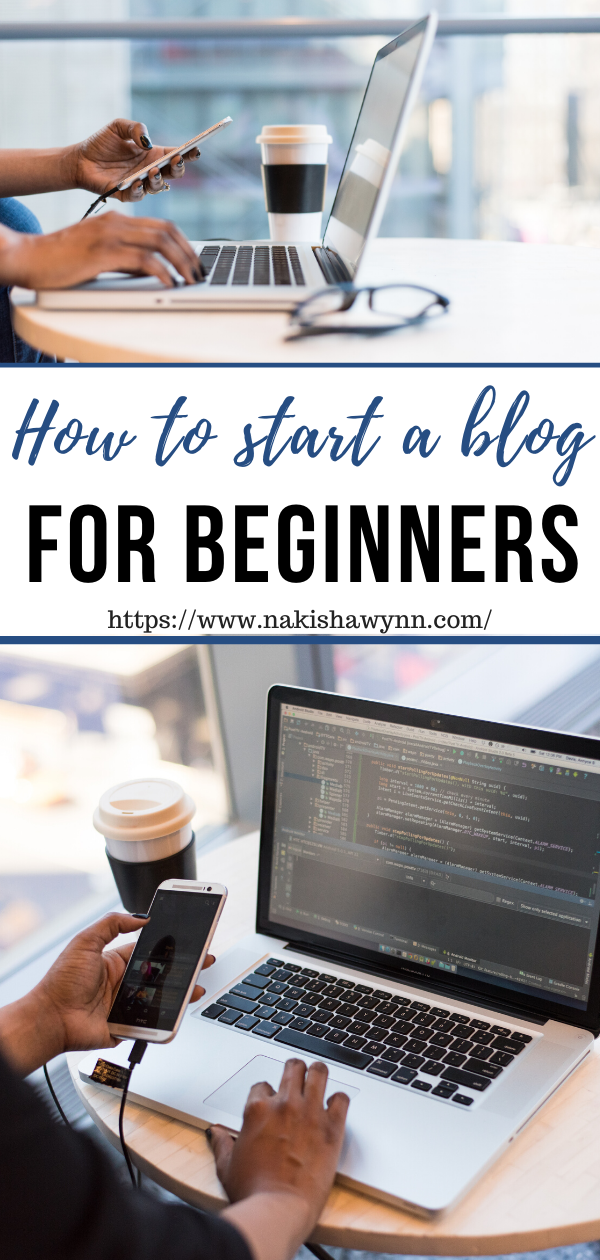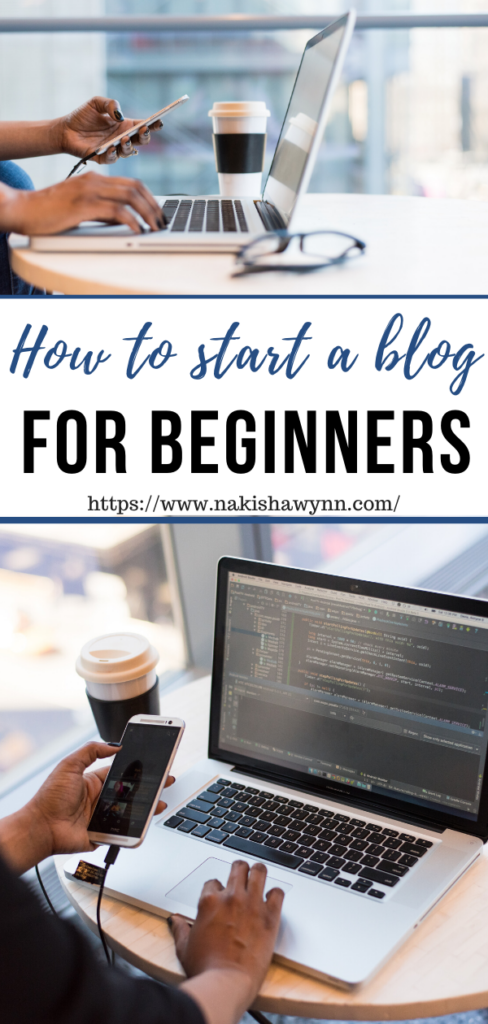 ---
Step 1: Choosing a Free or Paid Blogging Platform
Depending on your goals, you may consider going with a free blogging platform. If you're not interested in eventually earning an income from your blog, using a free platform may work best for you. Reasons a blogger would go this route could be that they simply want to use their blog as a personal diary. Platforms like Wix and Squarespace are popular free options. They allow you a quick and easy set-up so you can begin blogging right away.
Note: There are two versions of WordPress, one free and one paid. The free one is called WordPress.com and it is important to note that there is a difference as it can be confusing (more on that below in the hosted vs. self-hosted section)
If your end-goal however, is to create a money-making blog, you'll want to invest time and energy from the beginning, into a self-hosted blog to allow you the freedom to earn income and advertise as you please.

---
Step 2: Register Your Domain Name
Choosing a domain name for your blog is probably the most fun part of starting a blog. When deciding on a name for your blog you'll want to ensure that it is easy to spell, conveys what you're trying to get across and is relatively short and to the point.
There's nothing worse than hearing about a blog and going to check it out only to realize the most logical spelling of it has been replaced with a quirky spelling with the number 2 in place of the word 'to'. You want to create brand recognition and ensure your blog name is crystal clear, so it is important to be as concise as possible.
Additionally, a long domain name can be difficult to incorporate into social media platforms (more on that in a second) So, go for the shortest possible URL that works best for your blog in the most concise way possible.
Ensure Your Domain Name is Available Across Social Media
While you're brainstorming blog names, it helps to check social media platforms (if you don't already have them set up) to make sure your domain name is available. You don't necessarily have to use the exact domain name of your blog across social media, you may not even want to do that. But if you want uniformity across all platforms, do your research and make sure what you want is available on Twitter, Facebook, and Instagram.
Now that you've got your domain name chosen, it's time to buy it! You can search for a domain name and purchase it, at the Bluehost.
Note: If you've chosen to go the free blogging platform route, you may not necessarily need to purchase a domain name. The site will create one for you, it will be generic based on the blog title you entered when you set it up, but it will include the company (Wix/Squarespace) name in the URL.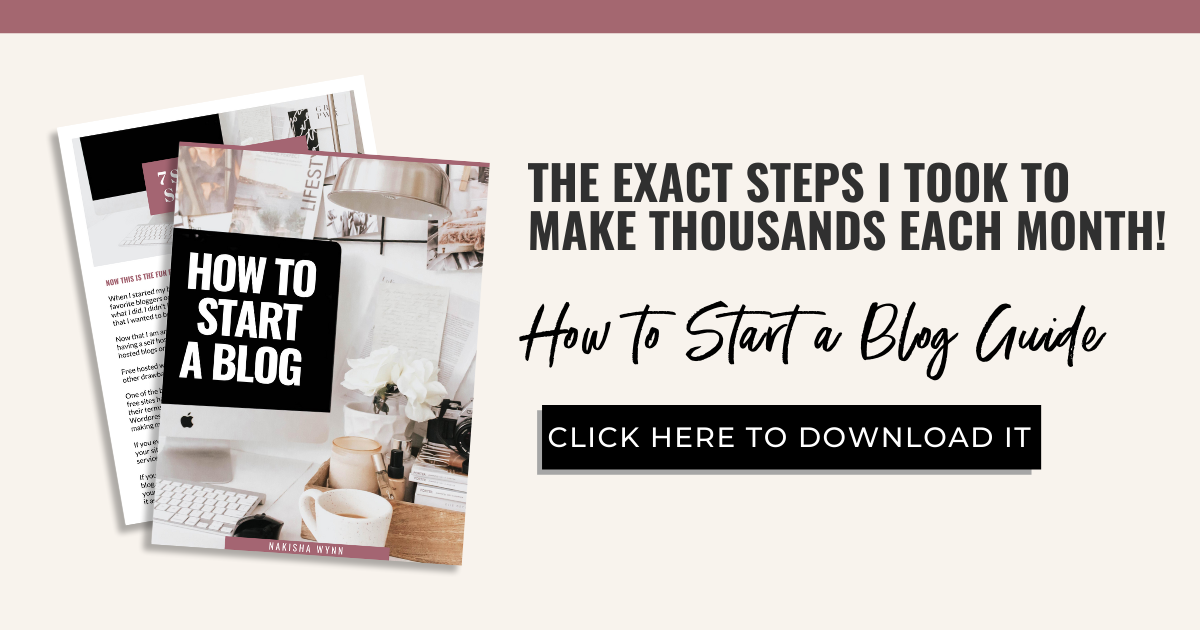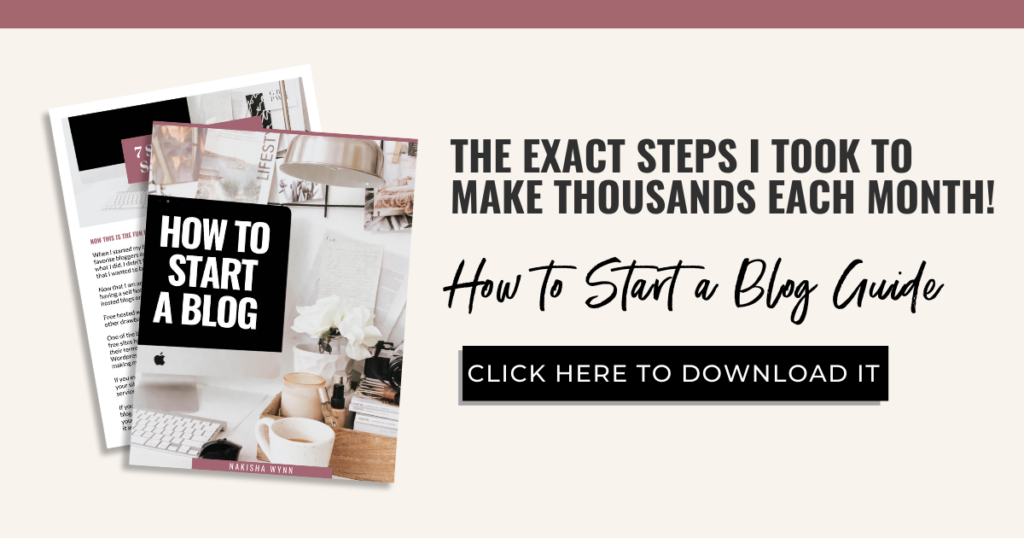 Step 3: Purchase Blog Hosting
Choosing Hosted vs Self-Hosted Blog
As noted above, blogging platforms like Wix, Squarespace, and WordPress.com are free. They're called a Hosted website. A Self-Hosted website allows you to store your website on a space that you purchase from the hosting company. An easy way to think about it is, the hosted website is like renting a home from a landlord and a self-hosted website is like owning your own home.
With a Hosted website, your blog lives on the site server. You can move in your furniture and decorate the way you wish while the landlord takes care of cutting the grass and painting the outside. You also don't have the freedom to knock down walls or add new appliances. You'll have a hard time monetizing your blog or creating an email list and growing your audience. Also, you don't own your content on a hosted site. If Wix or Squarespace go out of business, there goes all of your hard work, down the drain. The hosting company has complete control over YOUR work of genius.
With a Self-Hosted Site, you create your blog and through a hosting company store the site on space you purchased from them. This gives you full control, you own the content and the actual site. Not only will you have more control, but you'll also have more space and storage. This allows you to monetize your site and gives you the freedom to add extras that may not be available with a hosted site.
The Benefits of Hosting Your Blog on Bluehost
Bluehost has proven to be one of the most reliable options available for self-hosted blogs. We're all busy and often the only time we can find to work on our passion projects is late at night or in the early morning. Bluehost offers 24-hour support, seven days a week. This ensures that you're never without someone in your corner to help you along the way. Support in the blogging world is key. If you have questions on how to start your blog installation, there's always help available. They offer an online chat option, regular webinars, a customer service number if you're more of a phone person and countless articles and resources on their site to help you find what you're looking for. If you opt for Bluehost, you can even bundle in a domain name into your purchase for added cost savings.

Ready to start your own blog? Getting started on Bluehost is easy and fast!
Here's how to setup hosting with Bluehost: Start by clicking here to go to Bluehost (Link will open in another window so that you can continue to use the step by step directions here.)
Getting Started with Bluehost
First, click the green "Get Started" button.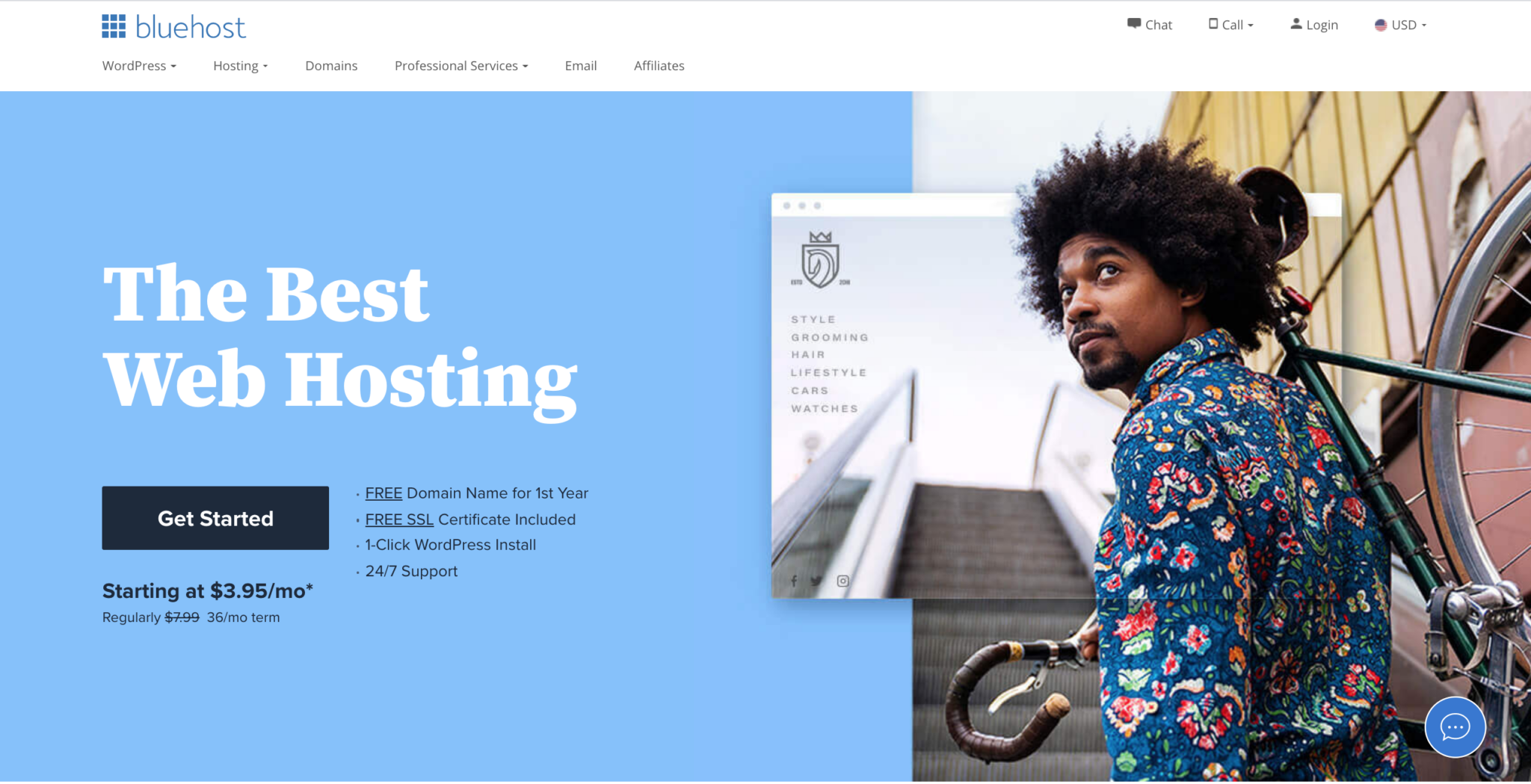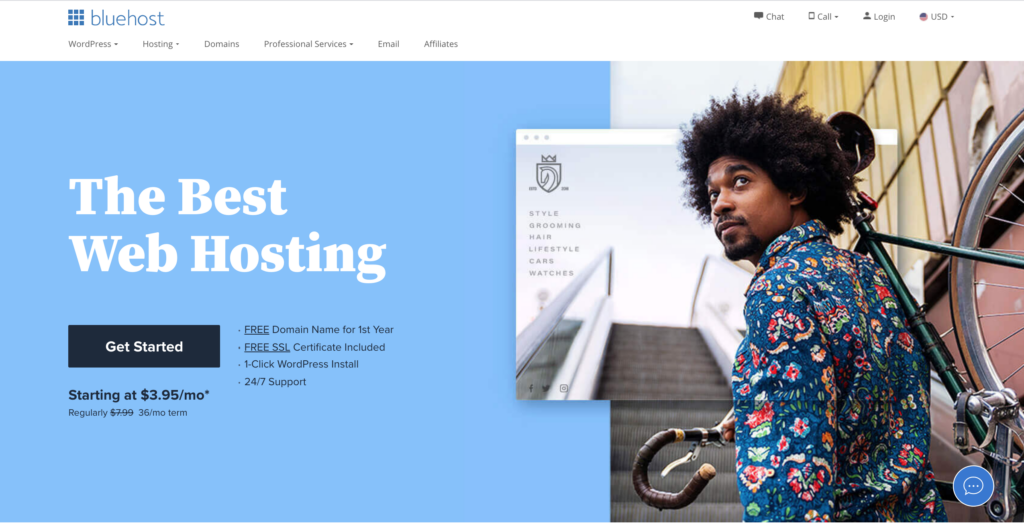 2. Select your plan. If you are just starting you can choose the "Basic" plan for $2.95 a month until you need more. You can always upgrade later to a plan that will accommodate your blog as it grows. Click select and the "Sign Up Now" page will appear.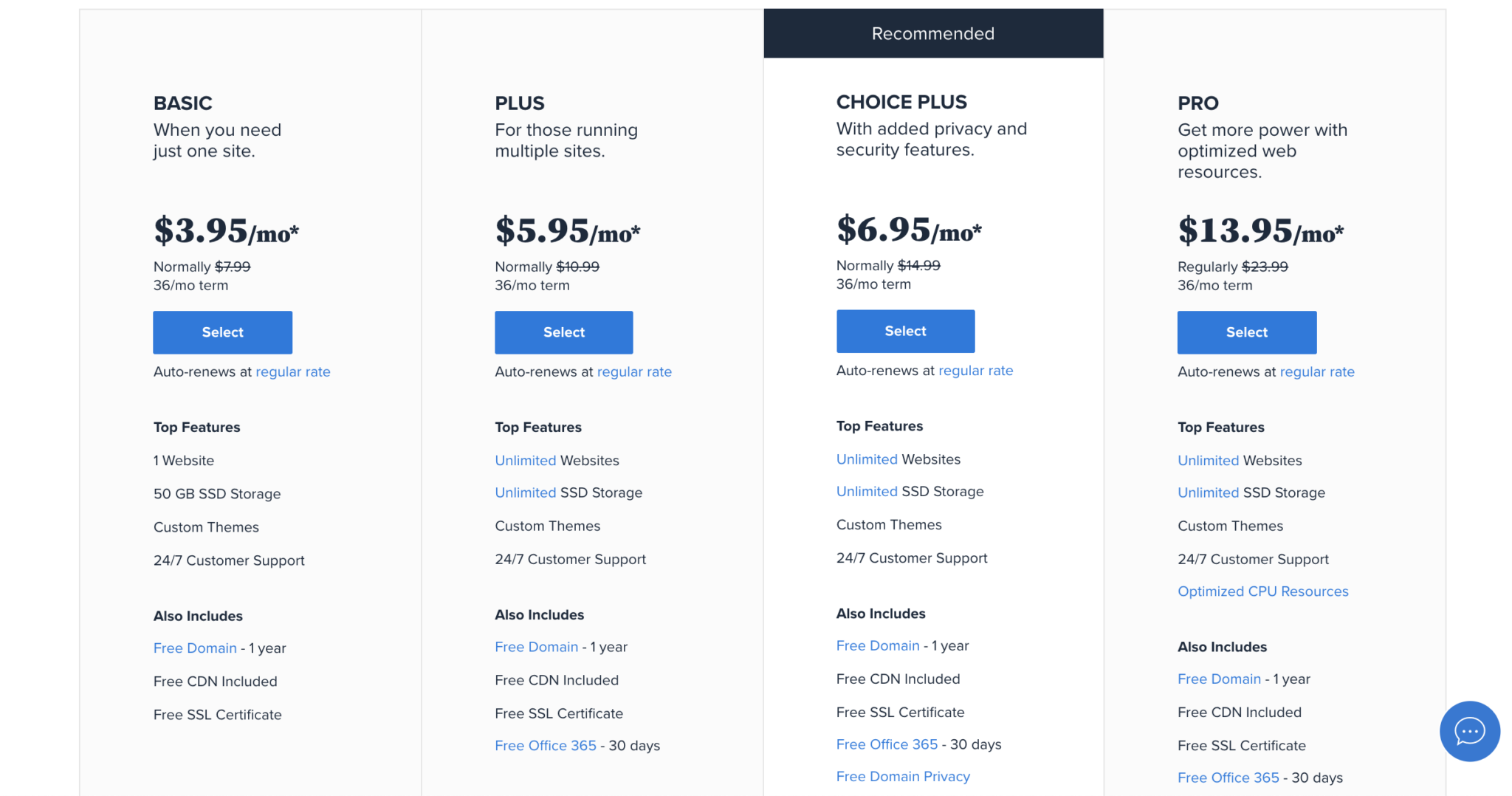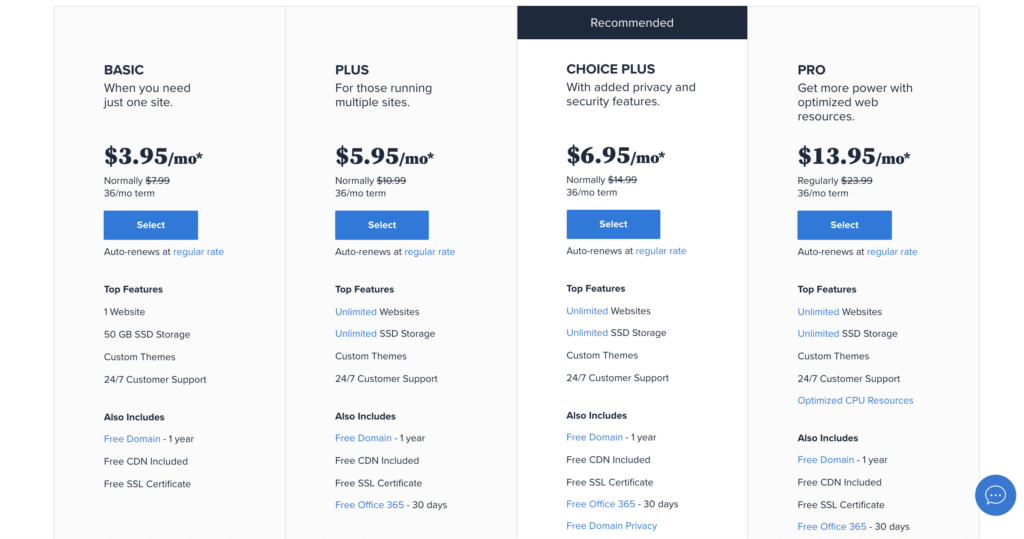 3. Guess what?! Your new domain name is free. Sign up for it. Be sure you're careful to input all your characters correctly. Check your spelling and ensure the social media handles that match this domain are available.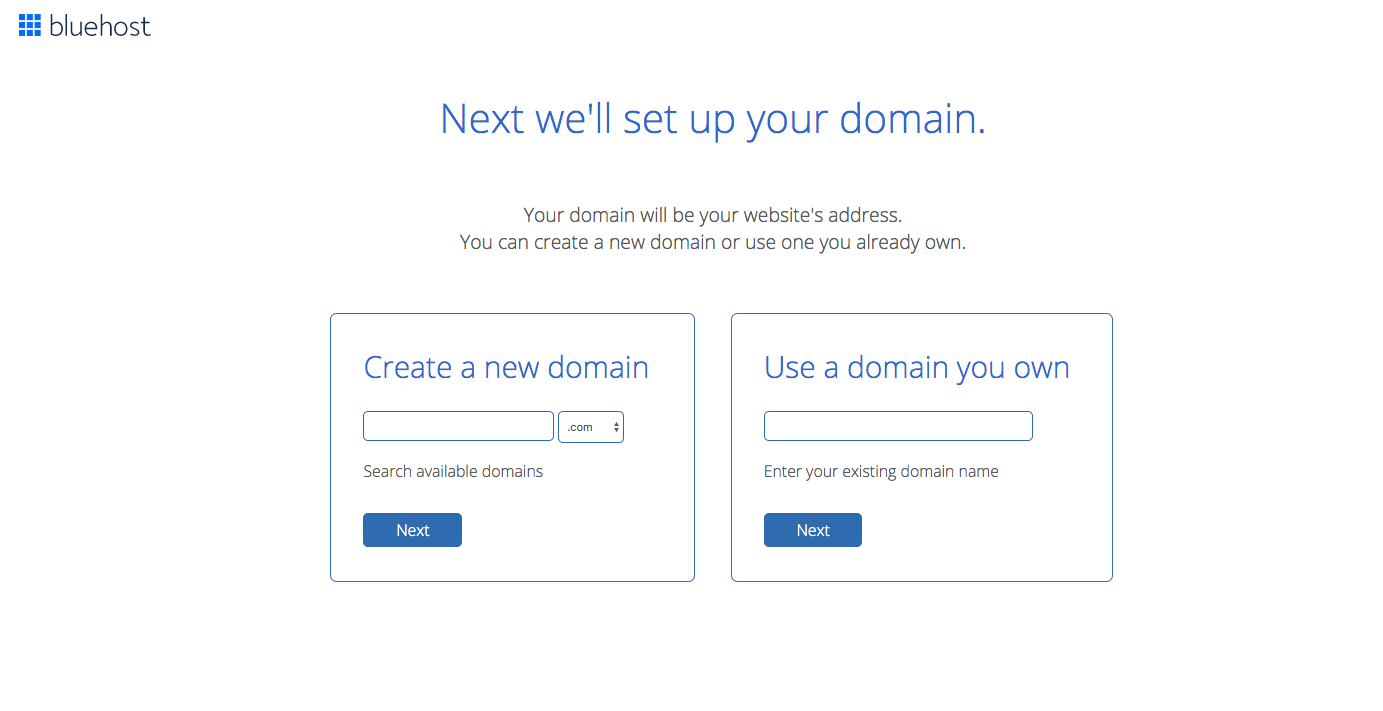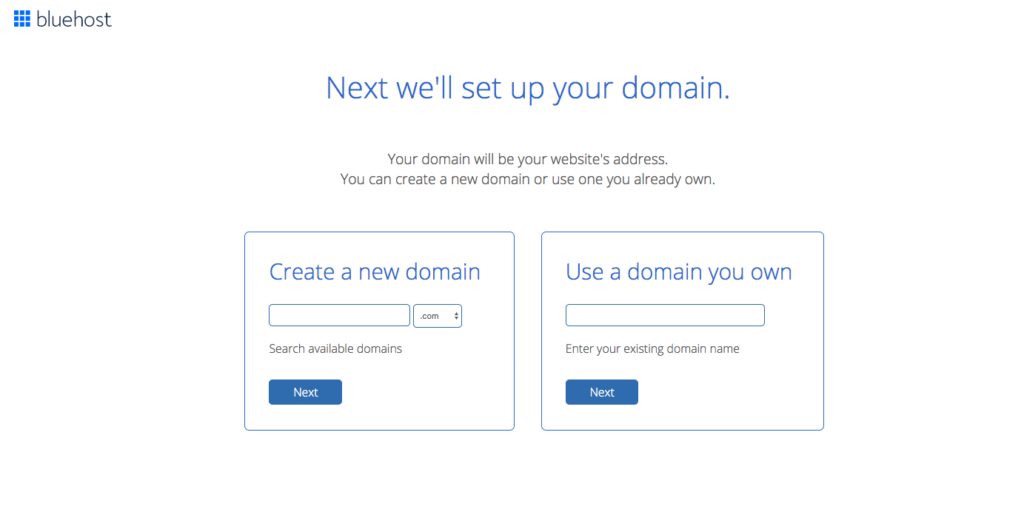 4. Fill in your account information. Simple.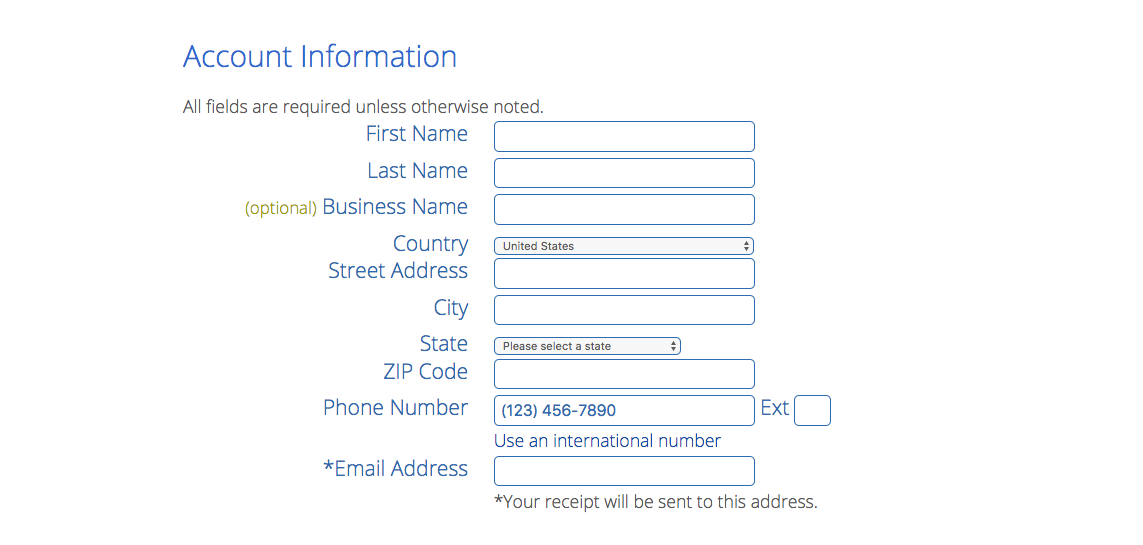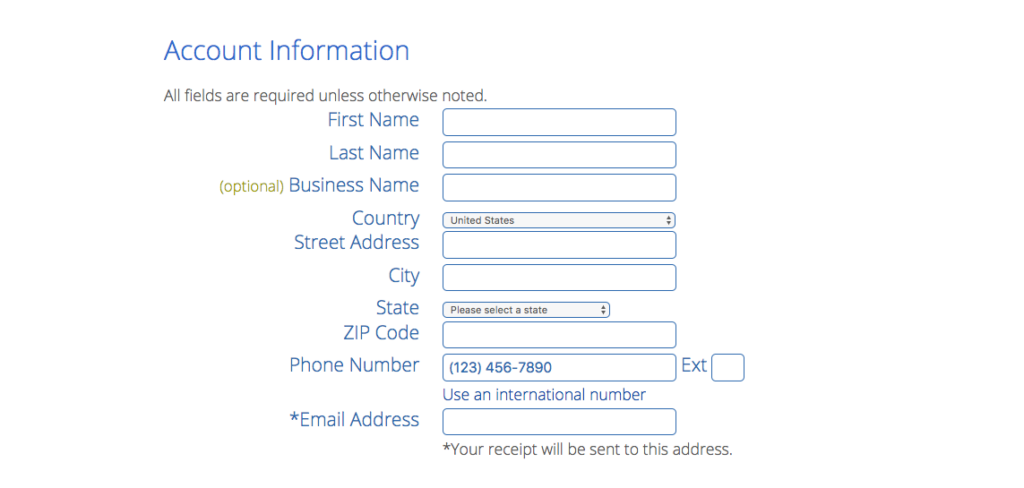 5. Complete your payment information.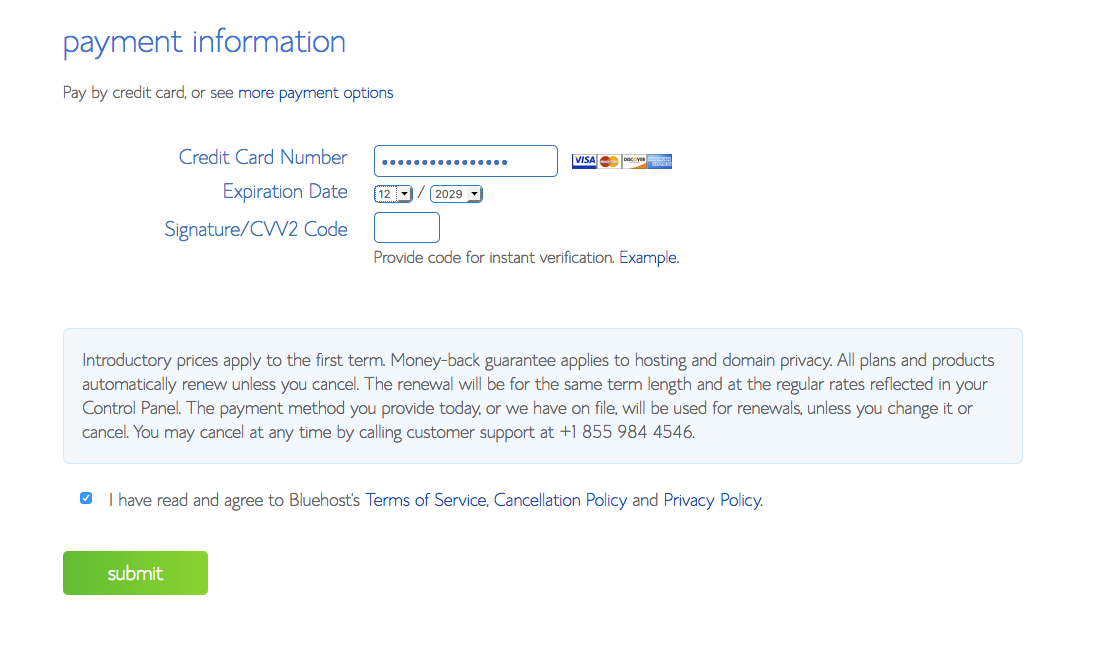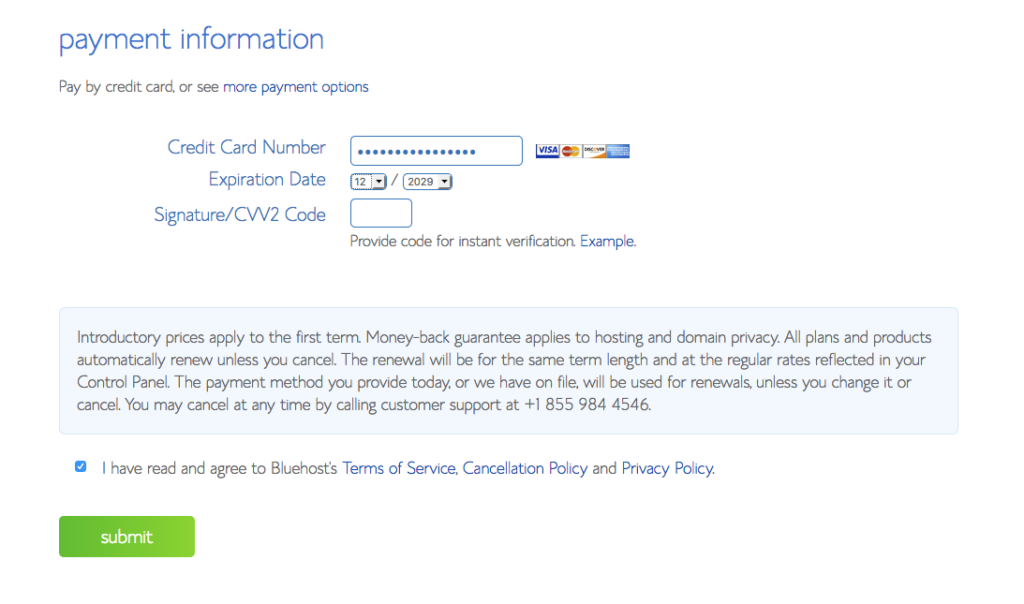 6. Now it's time to choose your package and options. Be sure to look over the information clearly to be sure whether you want the added features that are checked off. If not, simply uncheck them.
Note: Keep in mind that once you purchase a plan, when it expires it will renew at the regular rate. It may be worth while to choose a longer plan at the introductory rate, but this will be up to you to research.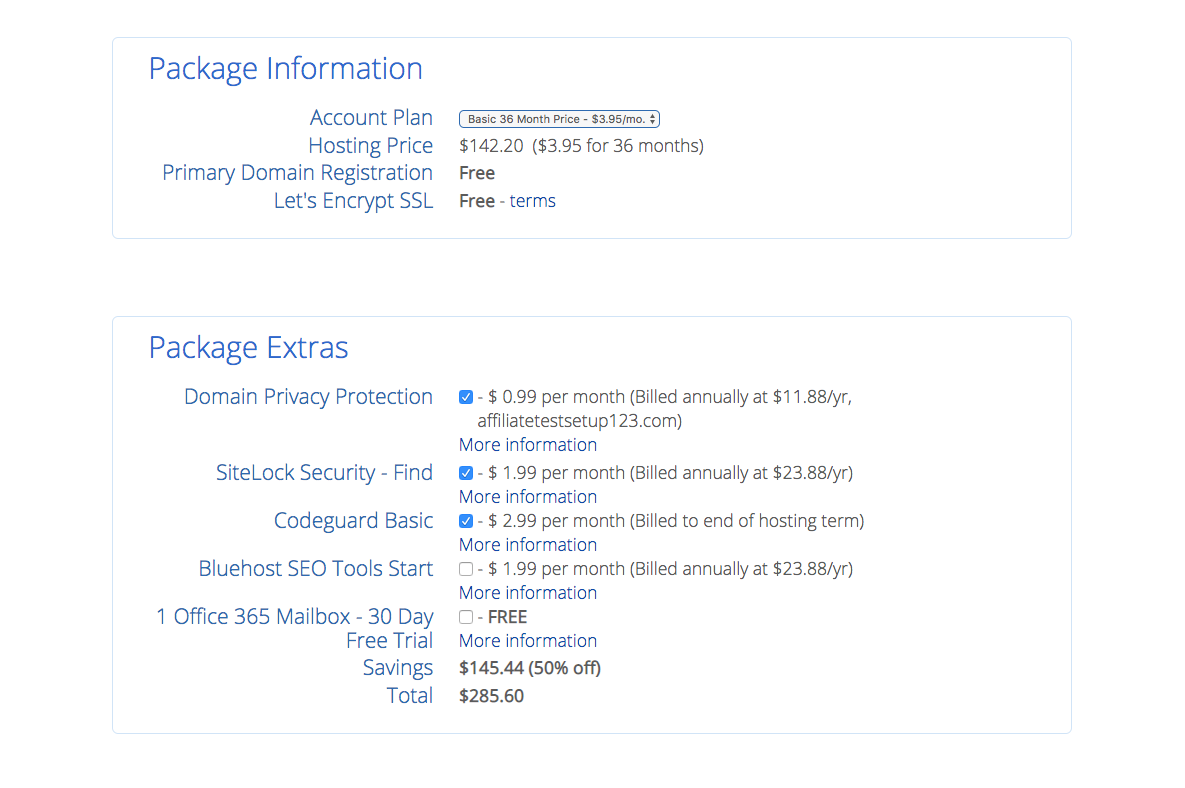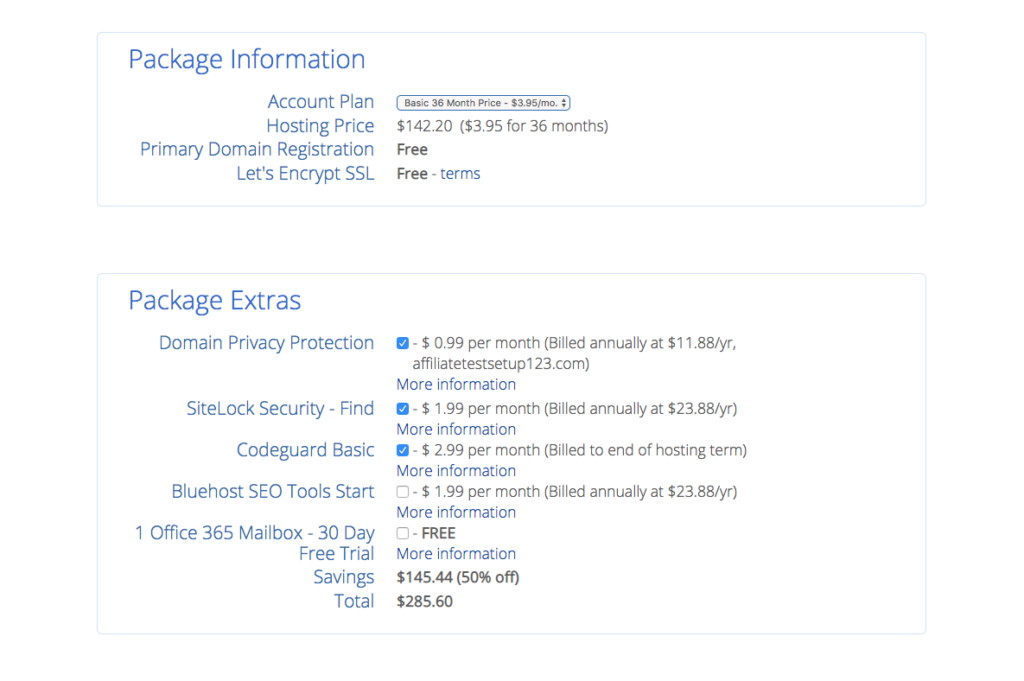 7. Create your password.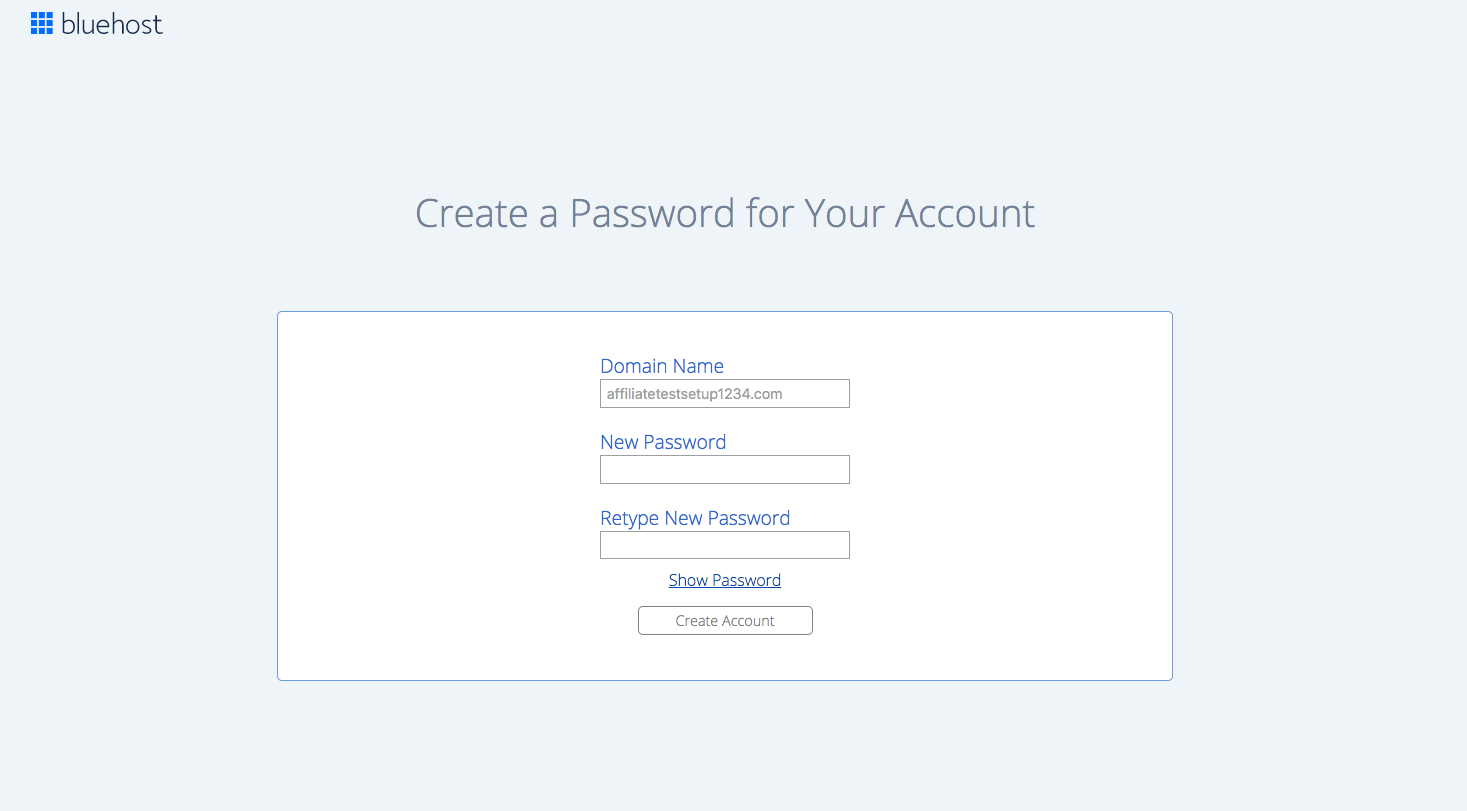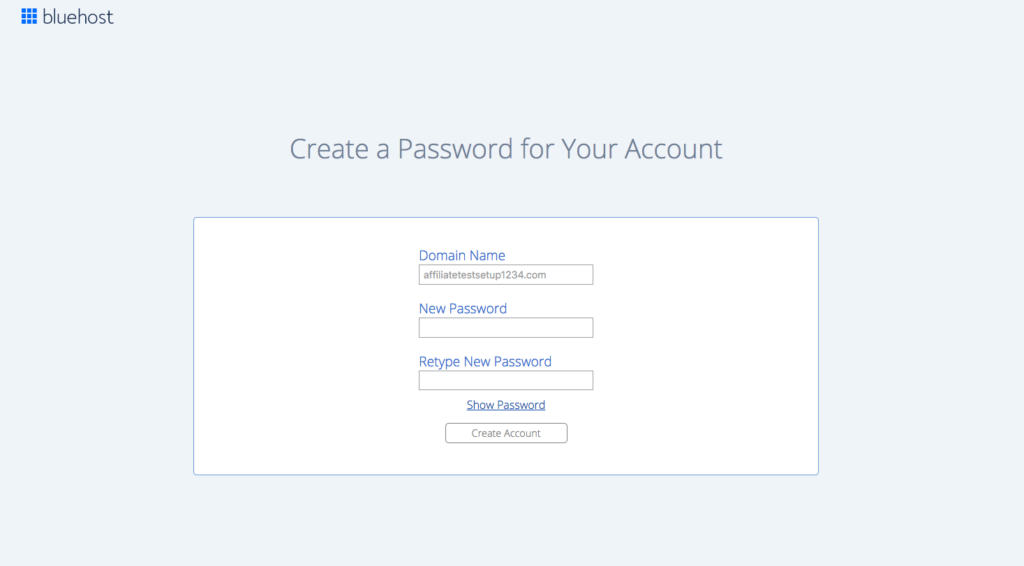 8. Your account is setup, now login.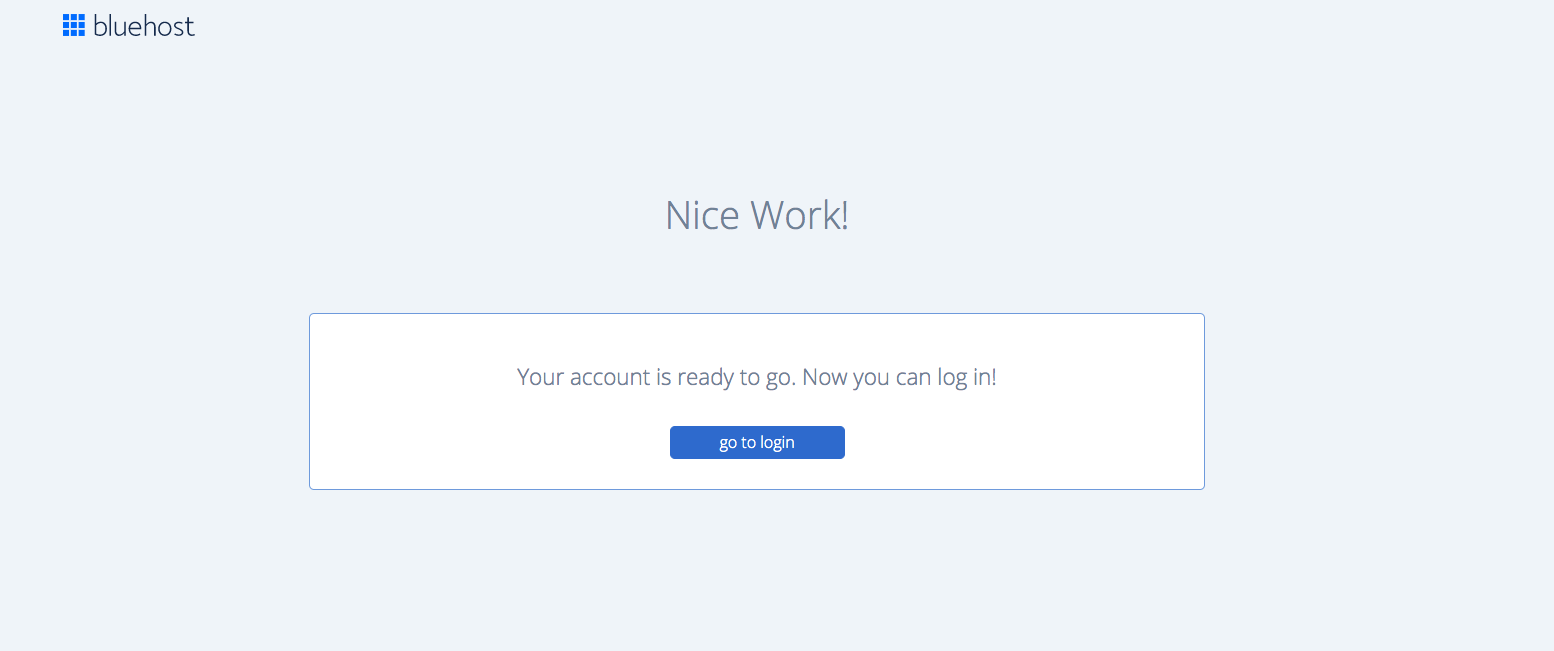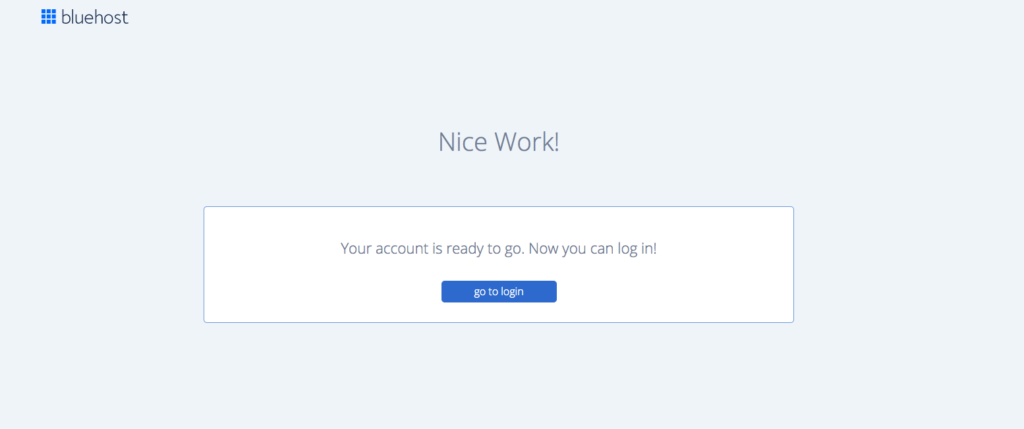 9. Login to your new account with your new password.
10. Now let's name your website.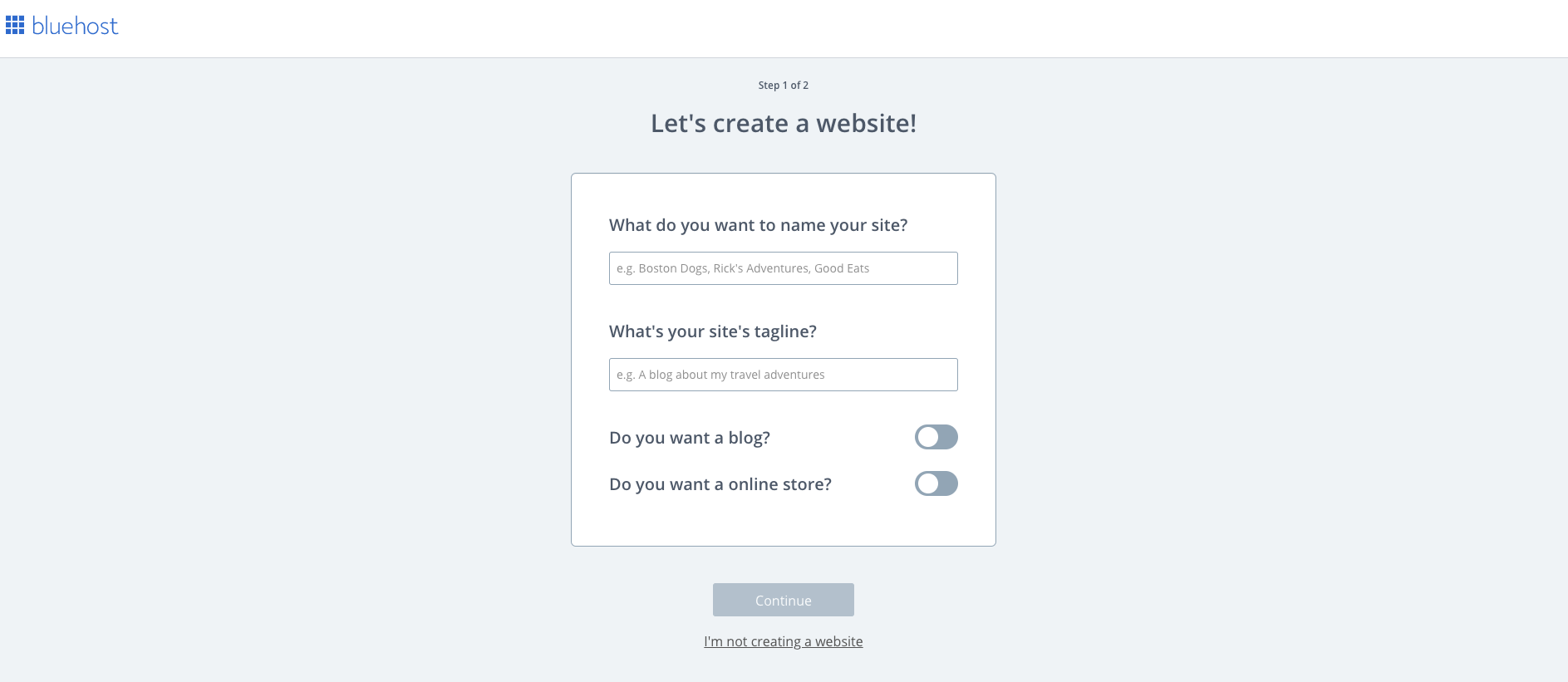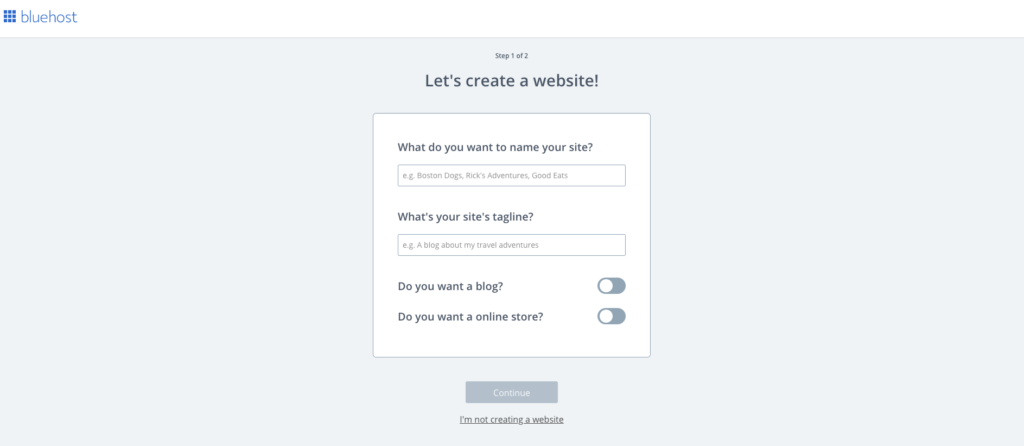 11. Indicate the type of website you will be starting.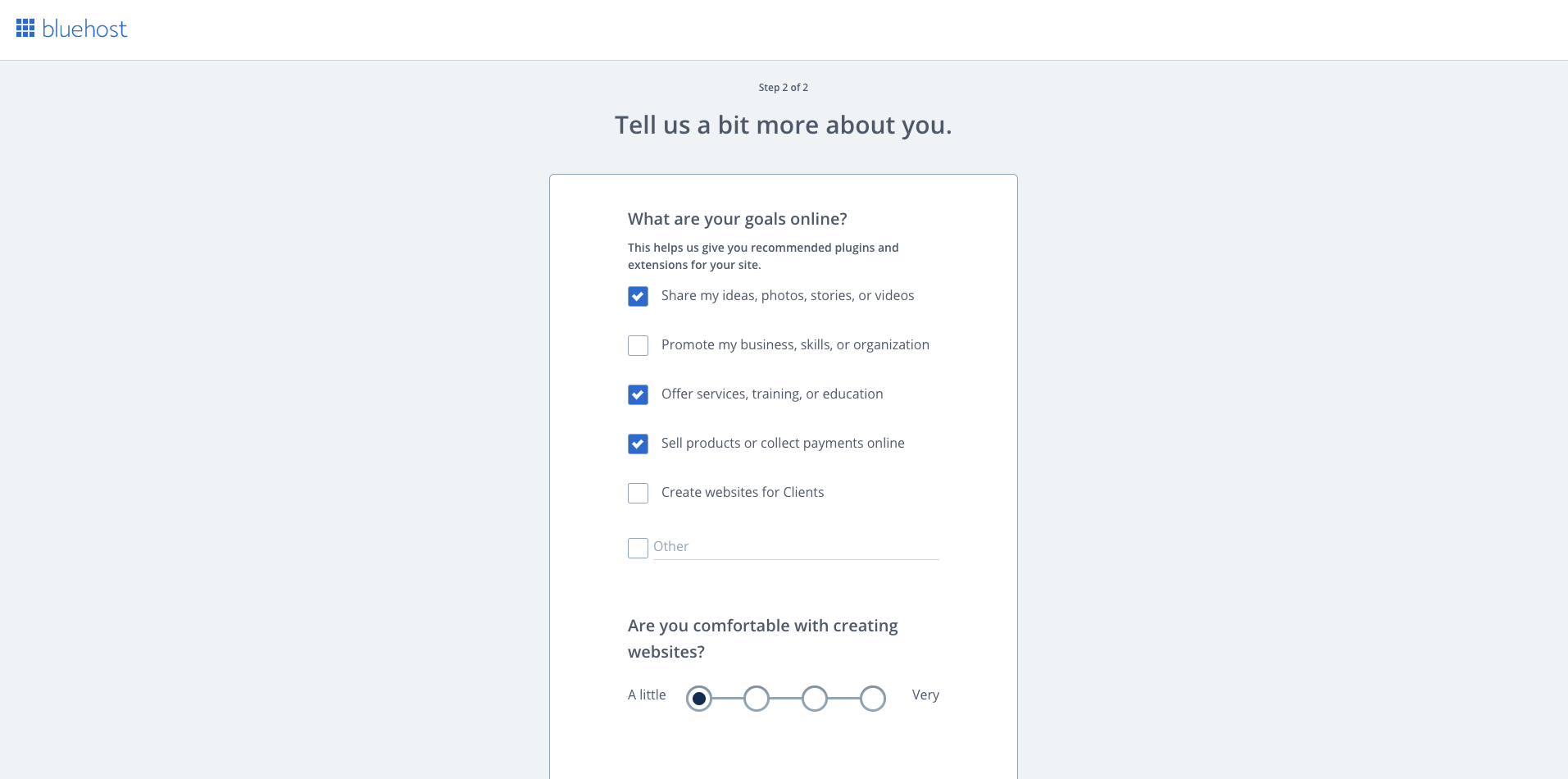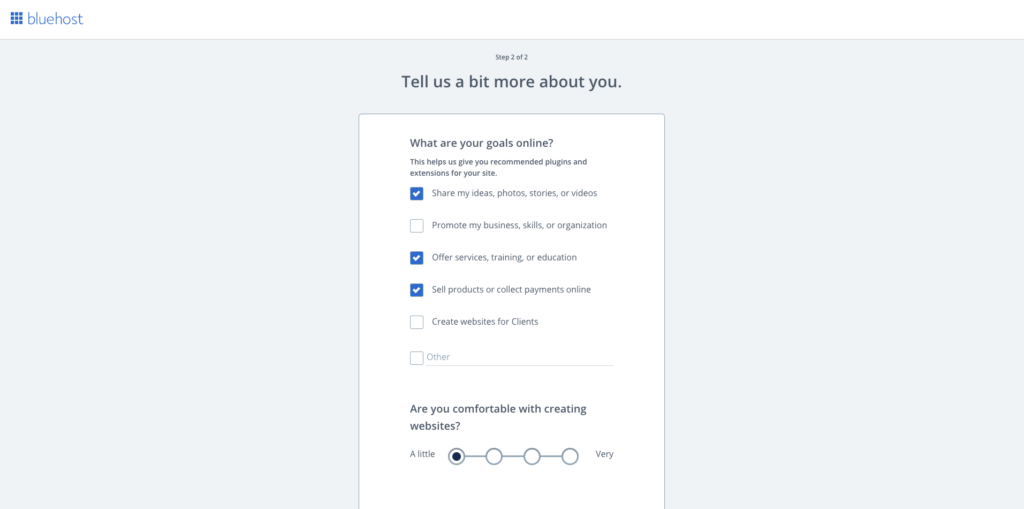 12. Choose your website theme. This will be the template for how you want your website to look.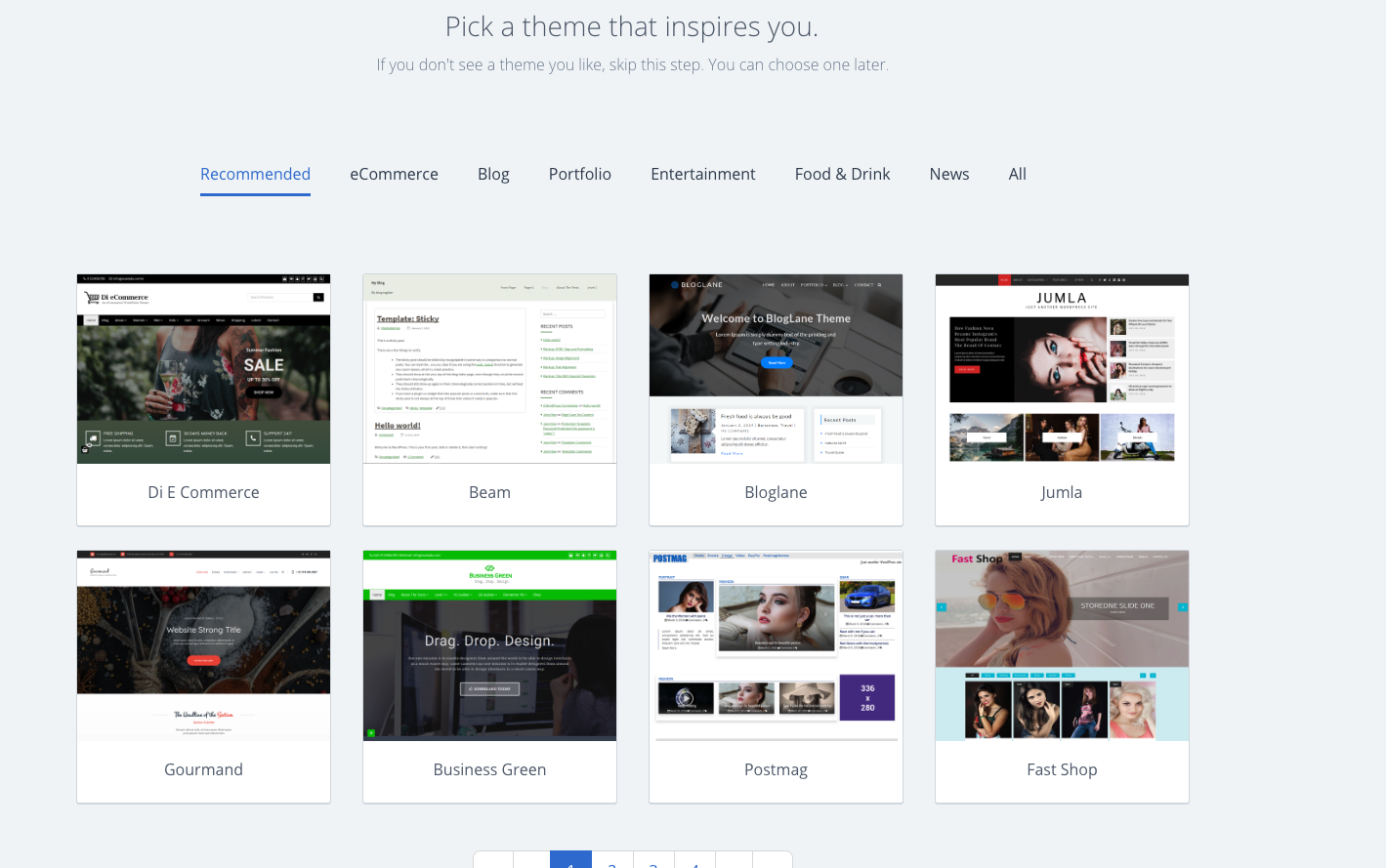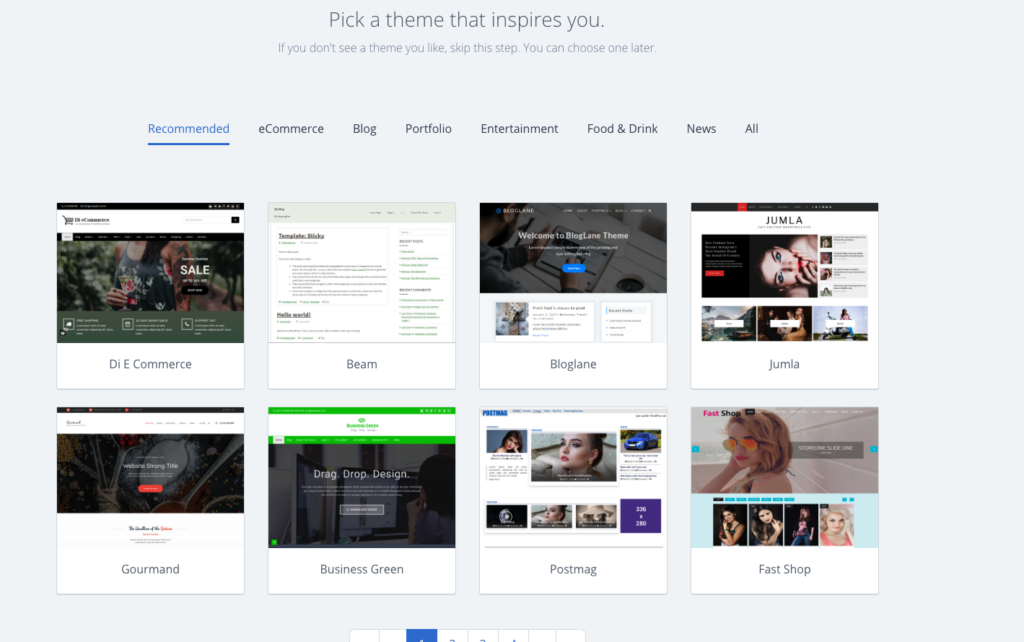 Step 4: Start Your WordPress Install and Setup
As noted above, Bluehost offers significant assistance to get your new blog up and running. The process is fairly straightforward so try your hand at setting it up yourself. There's some bootstrapping that comes with entrepreneurship and blogging is no different. You're likely to encounter things you'll need to research and learn more about, but don't let that get the best of you. Know that Bluehost has your back. You can always contact them for assistance throughout the process.
How to Connect WordPress to Bluehost
You can install WordPress with one easy click with Bluehost. They have made it really simple. Earlier we talked about WordPress.com (the free hosting platform) WordPress.org is what you'll be using for your self-hosted blog on Bluehost.
WordPress.org offers a large selection of templates and plugins for your website. These will help you tailor your blog to your particular tastes and needs. With the self-hosted version of WordPress, you as the user will maintain and have control over the features of your site.
Getting Started With Bluehost One-Click WordPress Installation
Because Bluehost makes it easy with One-click WordPress installation, getting your blog up and running is simple.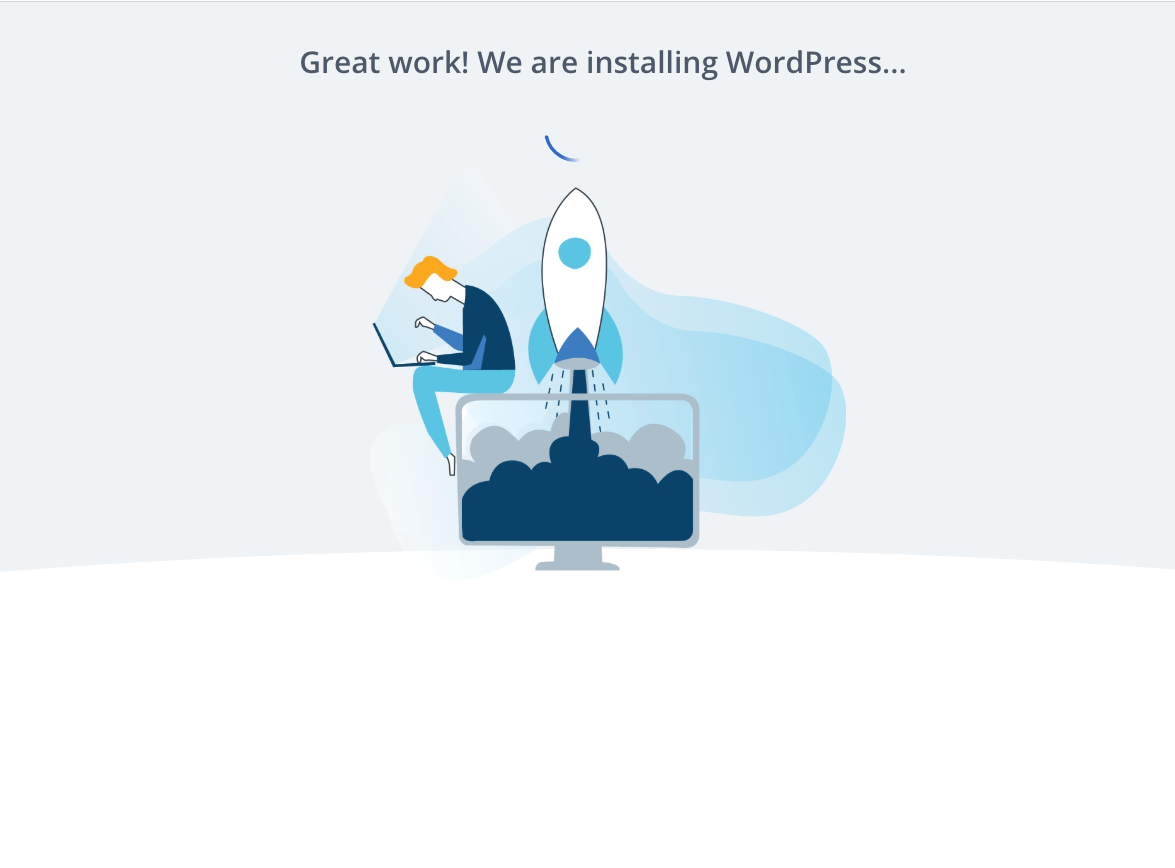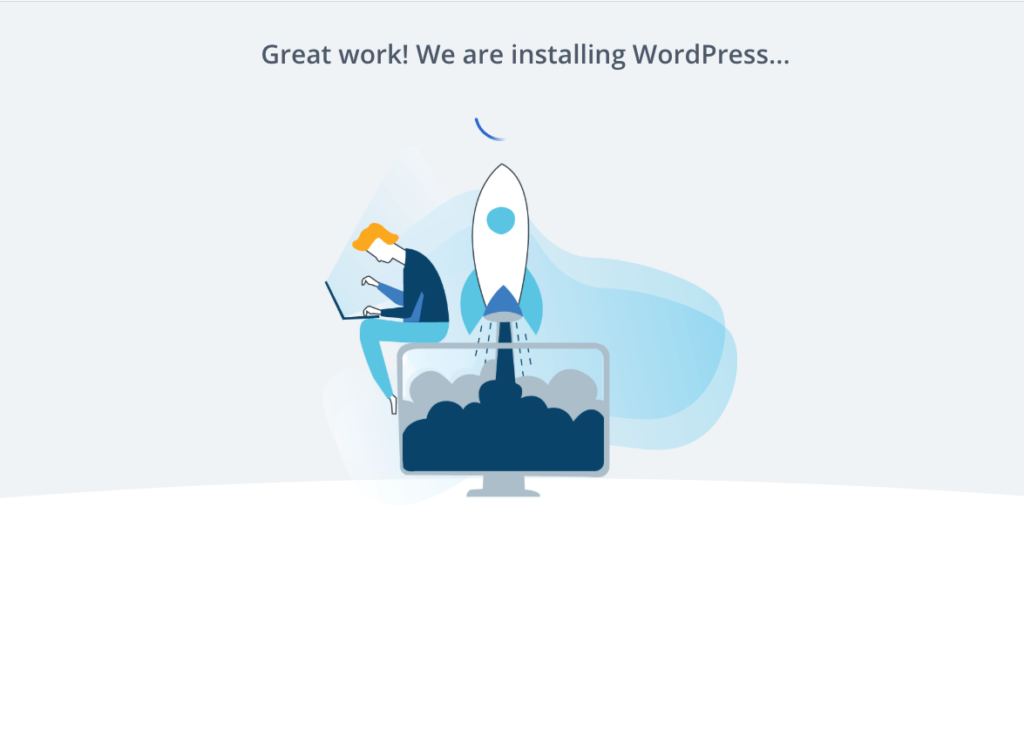 WordPress Installation Basics
After you've installed WordPress, there are a few 'housekeeping' items to take care of. When your website is set up, it populates a fake blog post and comments, you'll want to go in and delete those. On your WordPress Dashboard, click on Posts and delete the introductory "Hello" post and then click on Pages and delete the "Sample" page. Do the same under the Comments tab and delete the default comment. Next, you'll want to go to the Settings tab, and click General to set your timezone.
Helpful WordPress Plugins You Should Install
Smush Pro WP Plugin helps to reduce image file sizes. This is important as it works to improve website speed and performance. Google Analytics is a program that will tell you all you need to know about traffic to your blog. Installing this plugin in WordPress will be very helpful in the future. This, coupled with Search Engine Optimization (SEO) are key tools in learning how to start a money-making blog. We'll cover monetization in Part 2 of this blog series but there are countless ways to learn the ins and outs of SEO.
---
Step 5: Customize Your Blog Design
When you opt to use a free theme within WordPress, it's helpful to note that most are fully customizable. This helps you design your blog to your needs, tastes, and specifications. It often takes a little trial and error and playing around with different themes and variations to find what works. WordPress makes it easy to install new themes and test them before committing to anything.
How to Start Customizing Your Free WordPress Blog Theme
To get started, in your WordPress dashboard, go to Appearance and then Customize. From here you can do several things, you can choose a new theme or customize your current theme. On the customize screen you can change colors, general layouts like columns, your header image and whether you want your frontpage to feature all of your blog posts or a static website page that doesn't change.
Investing in a Premium WordPress Theme on Themeforest
If you're seeking more flexibility with your theme or want to incorporate features to make your blog really stand out from the sea of blogs out there, a premium WordPress theme may be the way to go. Themeforest is a reputable site where creators and bloggers can buy and sell themes. With several price points and options, you're sure to find a theme that fits your style and budget. Not only is Themeforest a great place to purchase a custom theme, but it also includes a helpful community of web designers and developers. As such, finding what you need is easy and the level of support offered is top-notch.
While there are several facets that go into starting a blog for the first time, we've only just barely scratched the surface here on this post. Once you've decided to start a blog highlighting your experiences, or sharing your knowledge and expertise, you may want to take it a step further. There are countless ways to make money with your blog or website and in the second part of the series we'll break down a few options and how to go about getting started.
6. Write
Now that you have your blog setup it's time to add some content. Your content will be the reason people visit your site. Give them a reason to stay and keep coming back. But first you should start with setting up the foundation pages on your site.
About Me – This page should give people some insight into who you are as a person and what your blog is all about. Whatever it is that you want people to know about you and your brand, add it here.
Contact – Here you are giving your audience, customers and clients a place to professionally reach out to you. Often times people will want to send you an email as opposed to chatting with you on social media. Make this an option for them. If you are adding a form, be sure to list your email address separately on the page as well.
Work with Me – How can someone work with you? Are you accepting clients for a service you offer? Do you create sponsored content? Whatever you offer should be included on this page.
Resources – Be certain to give your readers some value. You can offer a free download to those subscribe to your newsletter. You can create a page of helpful links or value packed video lesson of some sort but don't miss this opportunity to give them value!
These will be the pages people look for when they come to your site outside of enjoying your content. Make sure you create these first. After you have done that you can start adding blog posts about your niche topic.
OTHER BLOGGING RELATED POSTS YOU SHOULD READ:
7. Build Your Audience
In order to make this blog successful you will need people to support it. Building a loyal engaged audience online can take some time but it can be done. Be patient when building, stay consistent with your content so that your audience has a reason to keep coming back and trust the process.
8. Start Making Money
After you've done all that, now you're ready to make some money. I created a post with several ways to make money with your blog. Choose one to two ways in the beginning and focus on them. Don't overwhelm yourself or your audience trying to do too many things at one time.
Congratulations on taking the first steps toward creating a blog to share your passions, ideas and experiences with the world. While it may seem daunting at first, the satisfaction of completing a project coupled with seeing your ideas on the world-wide-web is unsurpassed.
Now scroll back up and get started if you haven't already!