It was 8am on a beautiful Friday morning as I walked into the maternity ward ready to give birth to twins alone. There was an eerie peace that overtook me as the nurses began to prep me for surgery. I lay there with my eyes closed focused only on the end result. I thought about what my baby girls would look like, if they would instantly know who I was and how empowered I would feel thereafter. I knew if I could emotionally make it through the next 2 hours I would be just fine. So that's what I focused on.
My mother was holding my baby boy when the nurse came in and told us that my surgery time had been pushed back. So that meant that my 12 o'clock surgery would now happen too late for my mother to be present. She had my baby boy and couldn't go into the surgery room with me. Now she wouldn't even be present when I got out of surgery room because she had to pick up my oldest son from school.
She sat there clearly bothered but still trying to distract me with conversations about current events and things that were on the television. I was just praying they would get to me before my mother had to leave. That didn't happen.
When my mother left I closed my eyes as tears ran down my face and prayed for God to comfort me. I was broken. I couldn't contain my feelings in that moment. I was hurt on so many levels. The idea that nobody found me or my babies important enough to be present for their birth crushed me. Their introduction to this world wasn't enough? I was heartbroken.
The nurse came in and asked if I was ready. My answer "absolutely!". She then asked "Who's going to be coming with you?" I simply said "It's just me and God." She stood there in utter shock. I will never forget that confused look on her face. Suddenly another nurse popped in and said "She'll be fine", as she walked over to help me to the surgery room. We walked arm in arm down a long white corridor. It was the longest walk I'd ever taken. The nurse was talking to me about how it was going to be okay and I was praying for the anesthesiologist and surgeons.
When I reached the surgery room I felt like I was walking onto the set of a medical drama series. It was ice cold, the lights were super bright and there was a sea of blue scrubs. There had to be about 20 people there waiting on me. Waiting to receive the 2 babies that were about to be born. I was assisted onto a table, arched my back over like and cat and received the epidural. In that moment another sense of sadness overcame me. I started to think about the fact that this beautiful journey would not be documented. How I would not have any tangible memories to share with my girls when they get older. "What exactly did I do to deserve this?" I thought.
Finally my doctor walks in and I felt that sadness lift. It was a familiar face. That made me feel so much better. My doctor then asked me who was there with me. I told him I was there alone and he was beyond shocked. Then suddenly a man appears out of the sea of blue scrubs and says "Hi, I'm an anesthesiologist and I'm going to be right here with you." The manner in which he said it, as he came closer to me was comforting. He stayed there right by my side the entire time. He talked me through the entire procedure, he wiped my tears, and he even took pictures with HIS cell phone and texted them to me.
When my first baby girl came out he told me how much hair she had and then he told me how red my second one was. Soon he was bringing each baby girl over to me one by one for that initial moment of nurturing. He was so attentive and everything I needed and more at that time.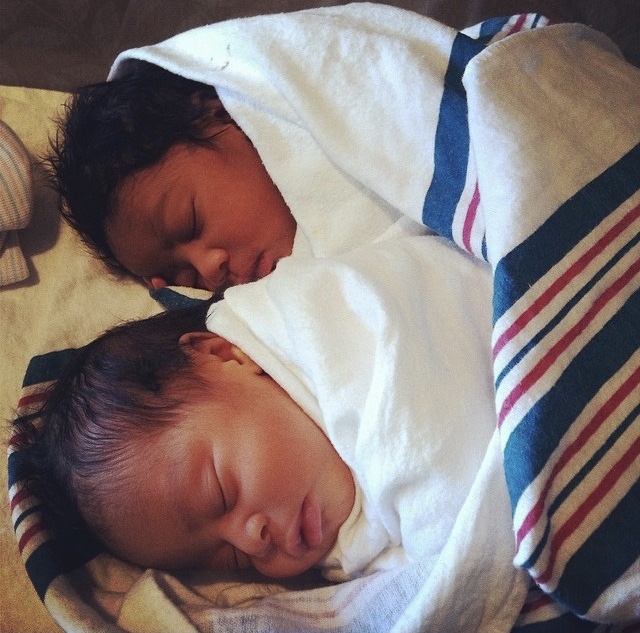 Later the nursing staff brought the babies over to do skin to skin and to nurse. It was truly the most elevated form of love I've ever experienced. Literally, the peace I felt in that moment superseded every emotion I had prior. There I was with 2 babies, tandem nursing, feeling more blessed than ever before.
After enjoying my babies for a while I asked the nurse if I could speak to the guy anesthesiologist that was with me during the surgery. She said "Your anesthesiologist was a woman." I said yes not the lady that gave me the epidural the guy that came to sit with me during the surgery. The 2 nurses began looking through a chart and then turns to me and says there was not a male anesthesiologist on that day. I then asked if there were any male nurses or doctors maybe but I know someone was there. Everyone acted like I was hallucinating or something. But I knew I was not imagining anything.
It was then that I realized that God had answered my prayers for comfort. No matter who the person was physically there with me on that day, I know that God himself came to see about me. I felt more empowered than ever.
The day my daughters were born was the lowest I've ever felt, while being the most love I've ever experienced all at the same time.