It's no secret that Florida has amazingly beautiful beaches, and Siesta Key is one of the best. Siesta Beach also referred to as Siesta Key Beach is located in Sarasota about 50 miles south of Tampa, FL. The beach is situated on an 8-mile stretch of "the world's finest, whitest sand" along the Gulf of Mexico.
I'm a Florida native and have been experiencing the beaches in the sunshine state my entire life. You really can't go wrong with choosing where to go. But, Siesta Key is hands down my favorite beach and one of the best beaches Florida has to offer.
There are several factors to consider when deciding which Florida beach is right for you. Is it a family visit? Are you planning a girls trip? Will you be on a daytime date? All of these things should be considered when deciding. I will say this, if you are looking to enjoy a nice day out with the family, Siesta Key is an amazing beach to visit. The sand is not hot, restroom facilities are clean, there are concession stands on site, multiple pavilions available, and the playground is huge.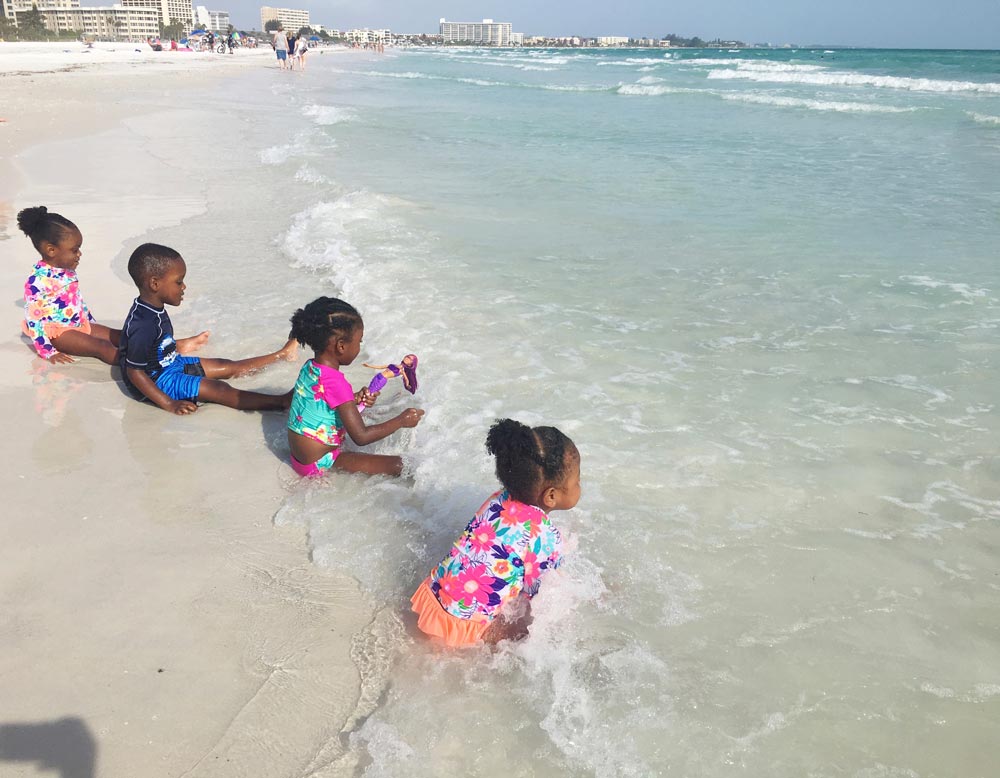 5 Reasons to Visit Siesta Key Beach in Sarasota Florida
Siesta Key Beach Sand is a Dream
One of our favorite things to do in Siesta Keys is build sand castles. The sand on this beach is amazing. It's super soft, powdery and has a silky feeling to it. Perfect for the kids to play in. It's made of 99% pure quartz which keeps it cool and gentle on the feet. Seriously, not once did I have to run to the water from my feet being scorched by the sand. Such a nice convenience. At other beaches I have to carry the kids to the water if they aren't wearing water shoes; not at Siesta Key! They are able to walk through the sand with bare feet without wanting to be picked up because of the heat.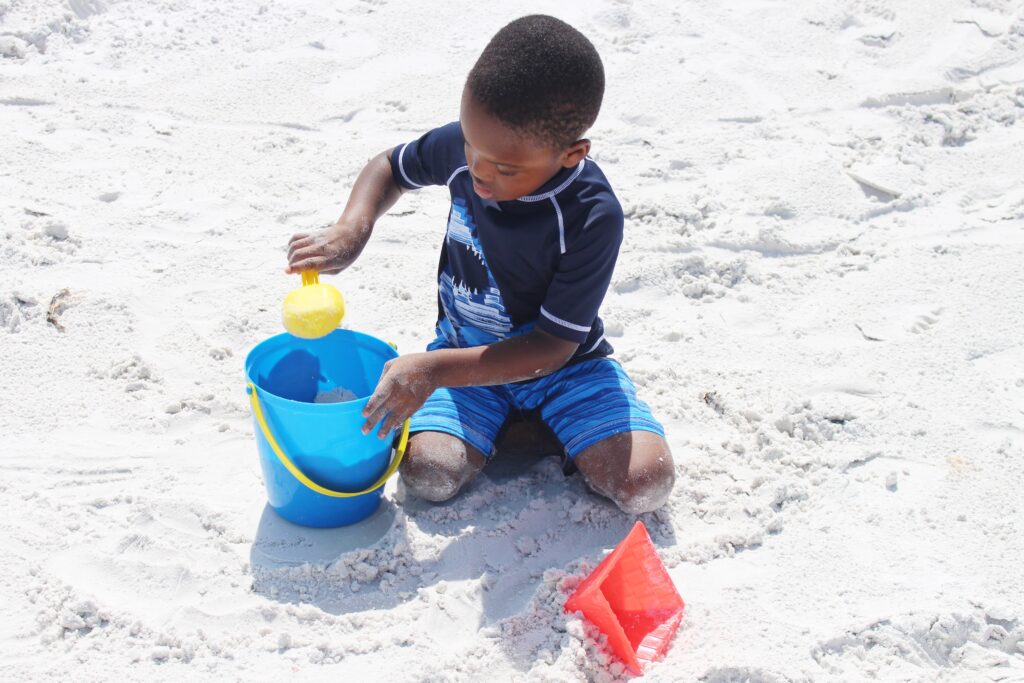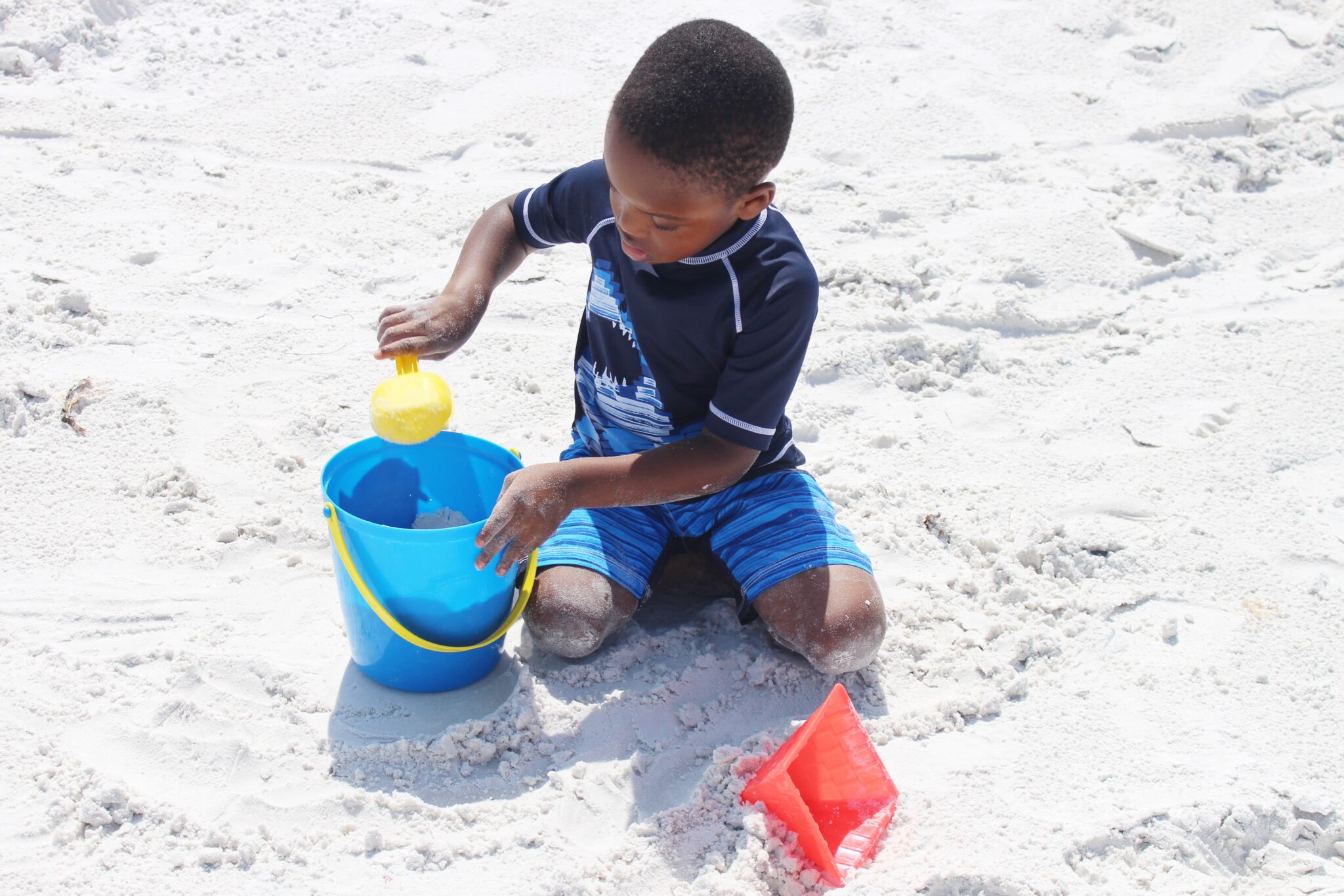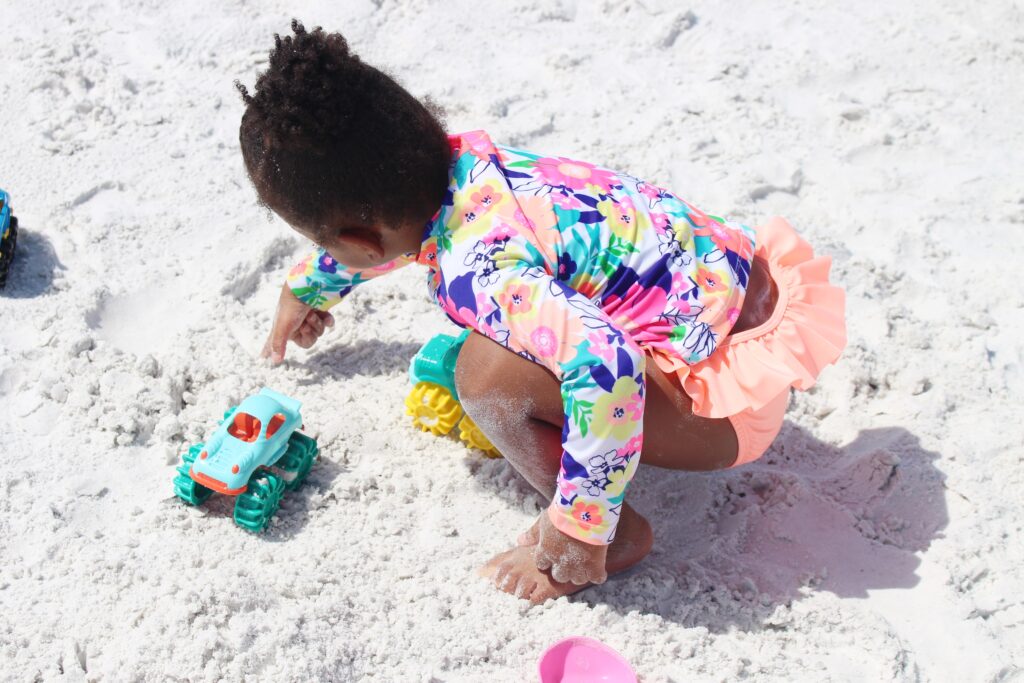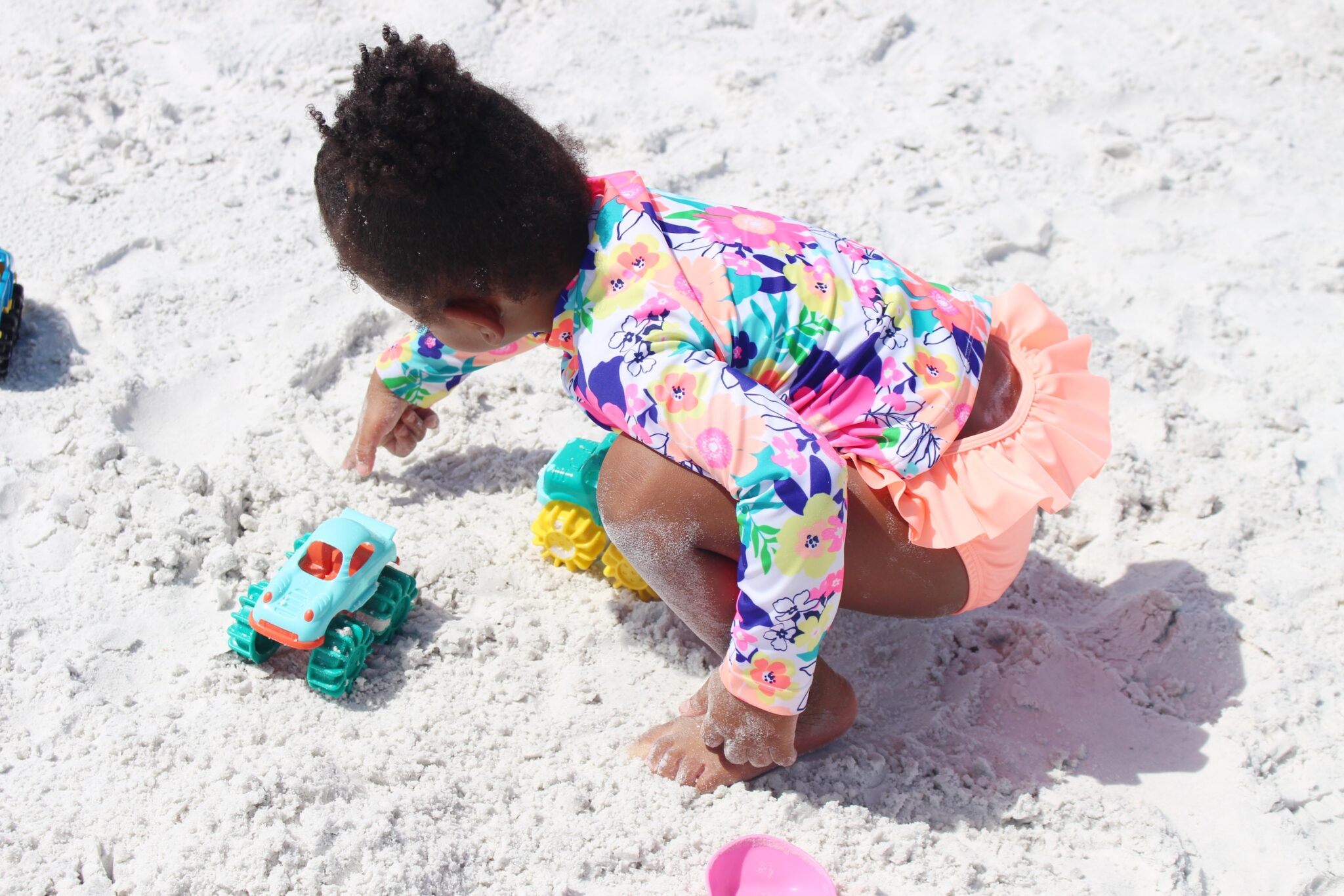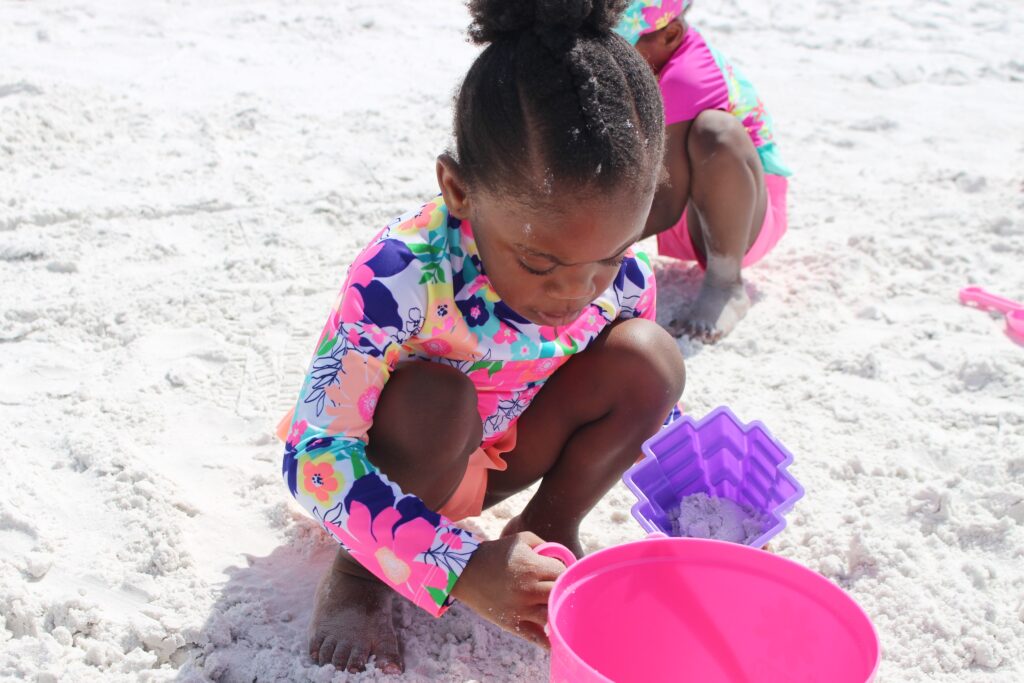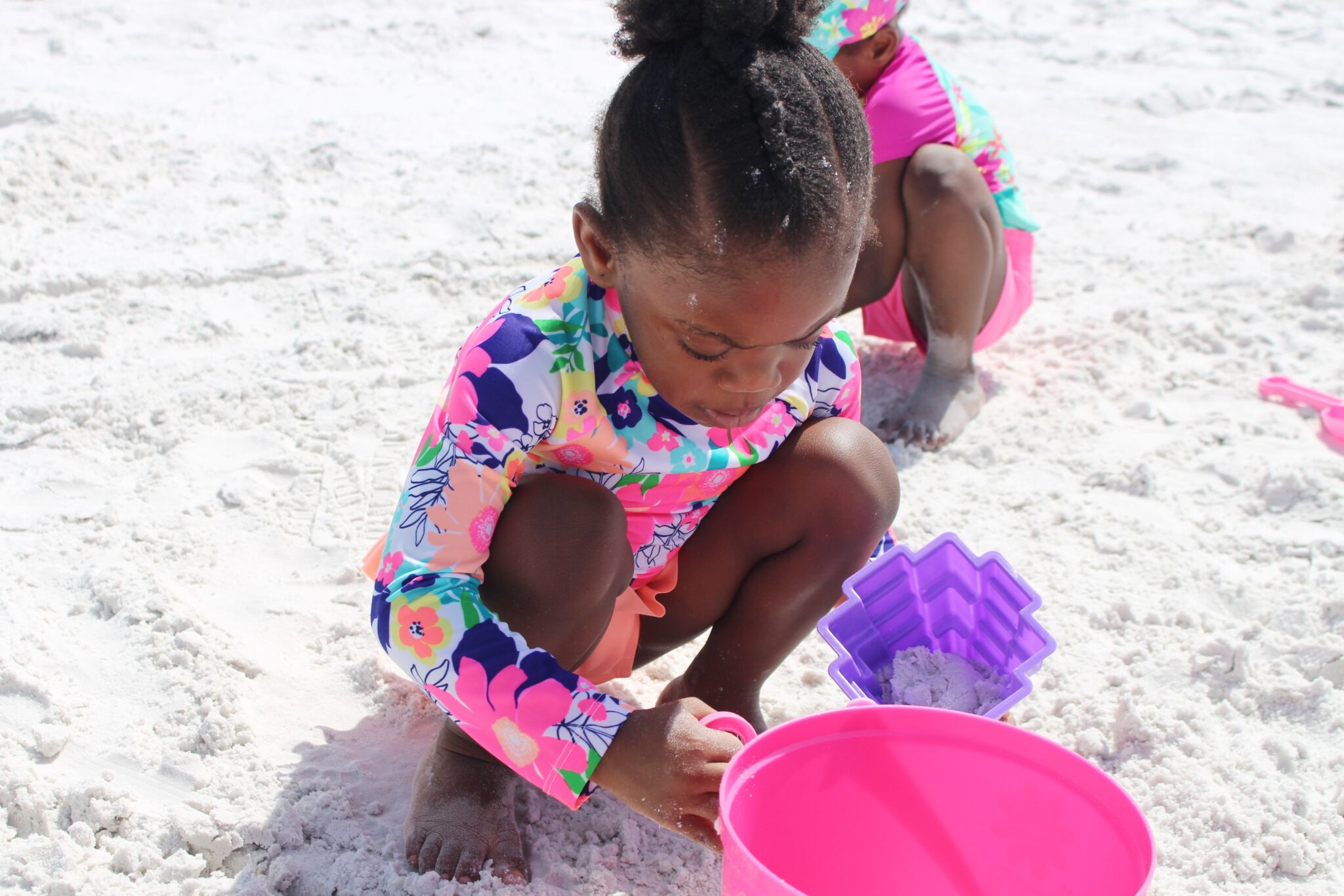 Siesta Key Beach Parking is Free
This is a big deal. Most of the popular beaches in Florida have paid parking and it's hard to get it a reasonable rate.
At Siesta Key the on-site parking is free. Now I have to say, you must have a little patience to get a spot. The lot is usually full during peak hours but getting a space is definitely attainable. When we got there it took about 15 minutes to find a spot because we went at peak time during peak season. But if you just drive around a bit people are always coming out. So have a little tenacity and you wont be disappointed.
If you decide you don't want to wait there is also offsite parking at surrounding businesses that is very affordable. You just have to be willing to walk a little bit to get to the beach. If you go with this option be mindful of the traffic on the little road along the beach when walking with kids. Keep them close.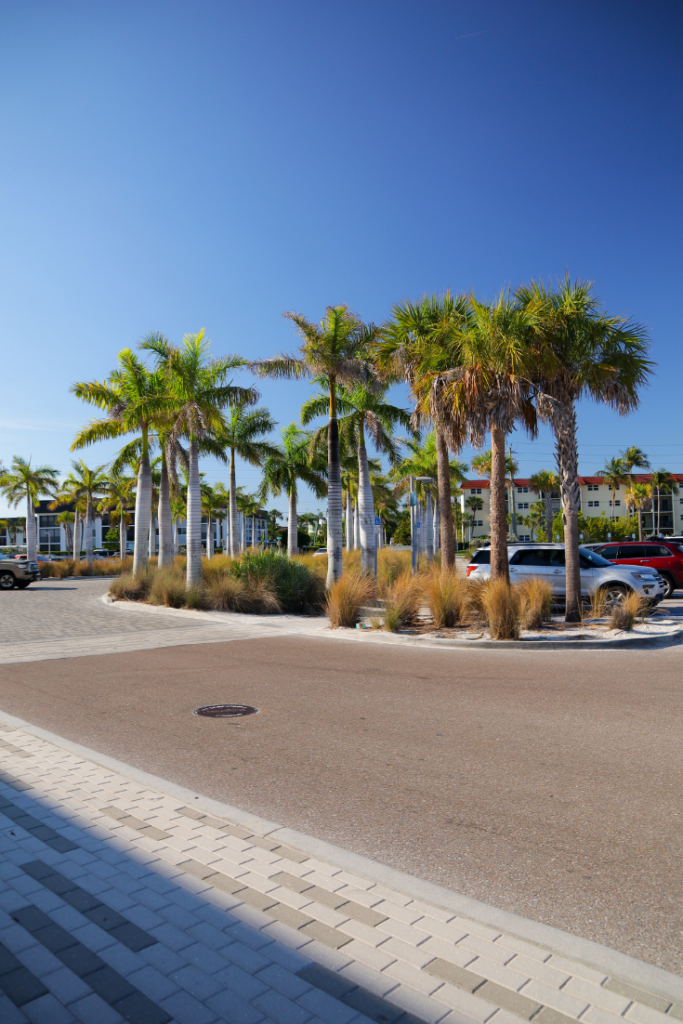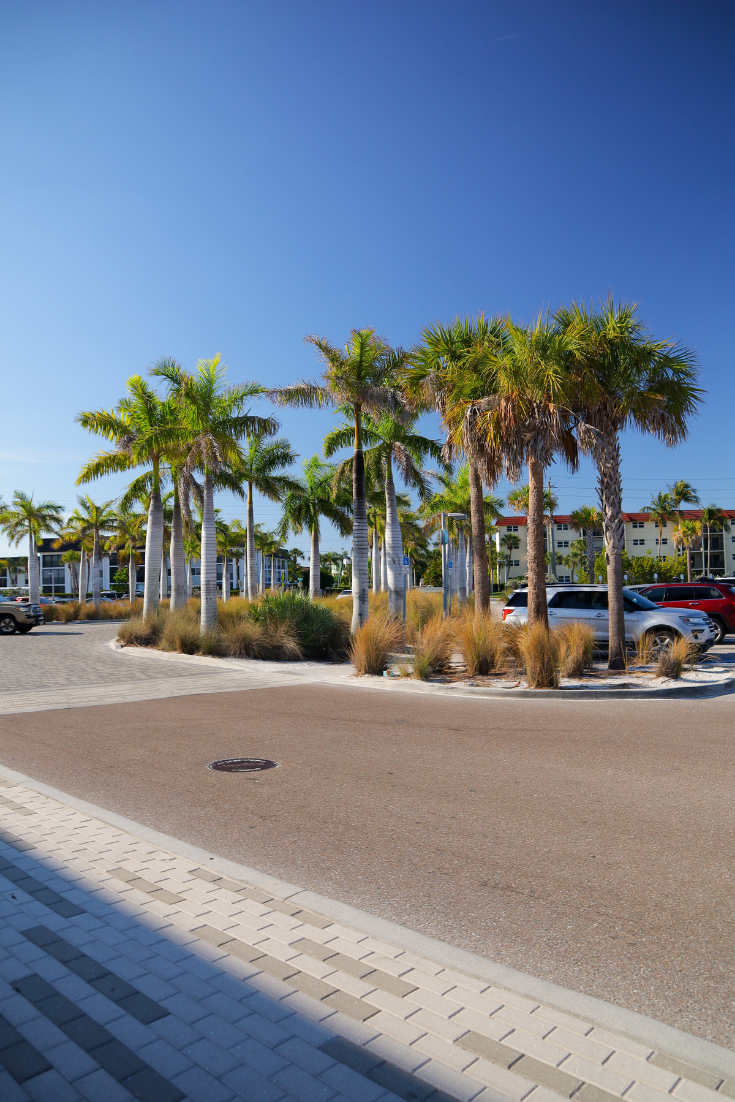 Siesta Key Beach Weather and Beautiful Warm Water
The water is a beautiful, blue and thankfully nice and warm. I'm always able to walk right in without going into shock. I just cannot do the ice cold beaches. My preteen really enjoyed spending the day swimming. He was floating, playing football and just truly taking it all in. In the area we were in there was this built up sand shelf a few feet past shore that you could walk on and sit on. From the shore it literally looks like people are walking on water.
I am always pleasantly surprised at how clean the beach is too. There was very little seaweed floating and no trash at all. Be mindful of red tide though. This is a common occurrence that causes seaweed to wash ashore. Check the Siesta beach website to ensure it's not present when you want to attend.
The beach patrols are are always out making sure that everything is good too. I am always impressed at how present they are.
The water at Siesta Beach is clean, warm, beautiful and blue. The perfect combination for a great beach day.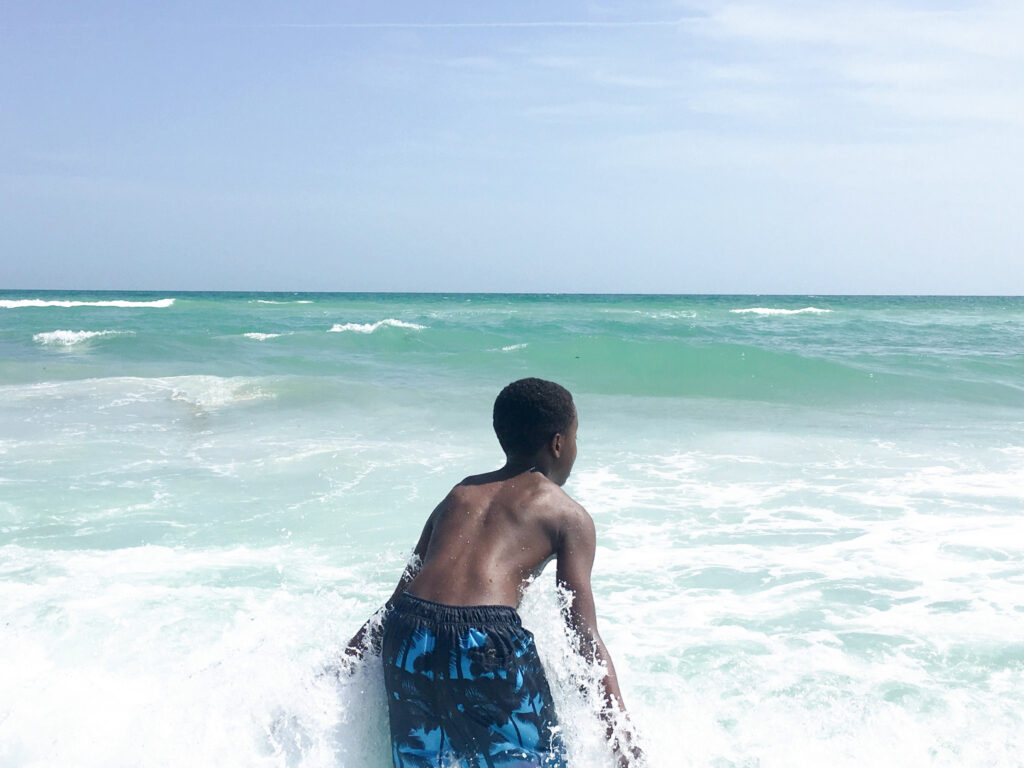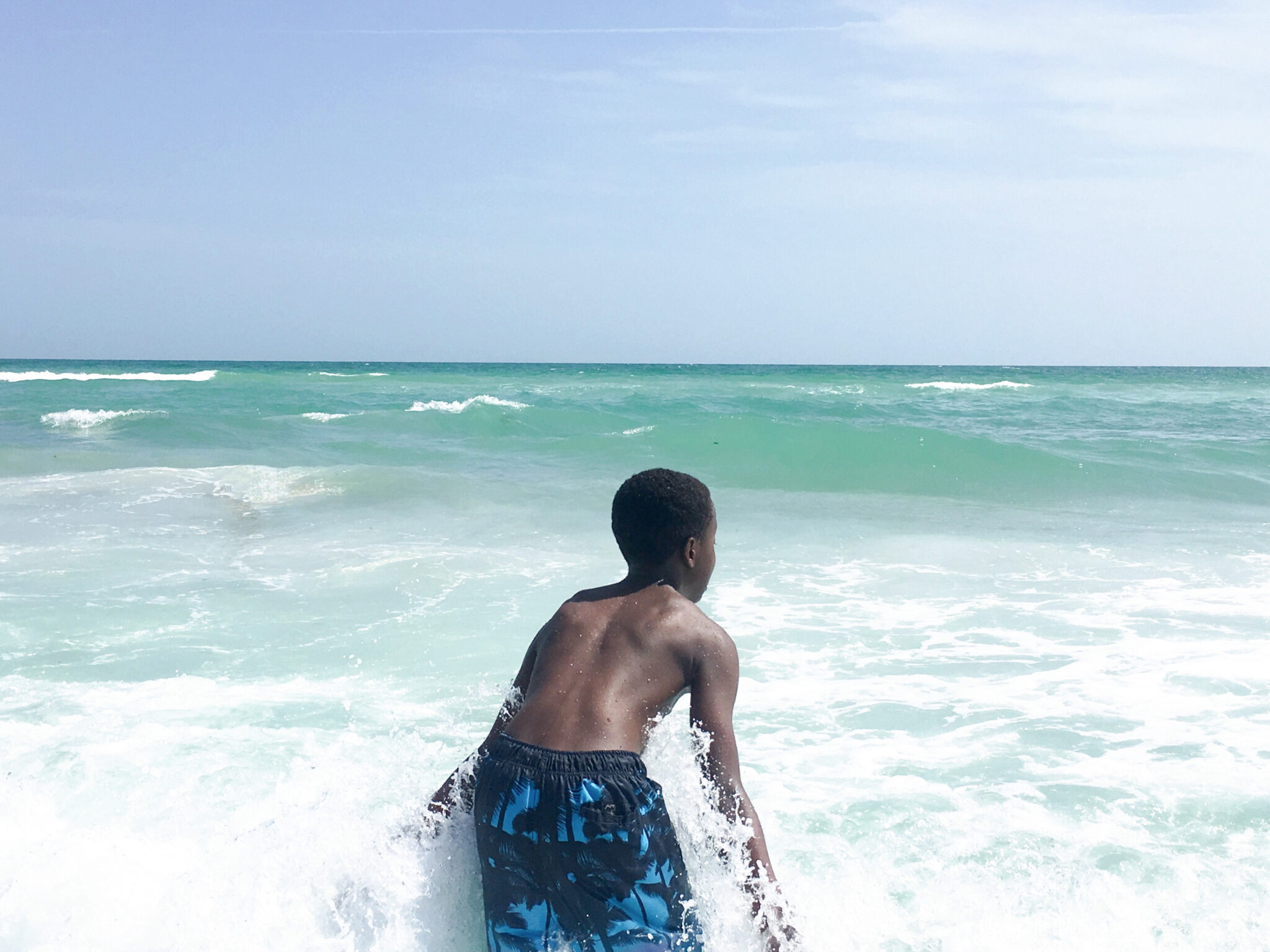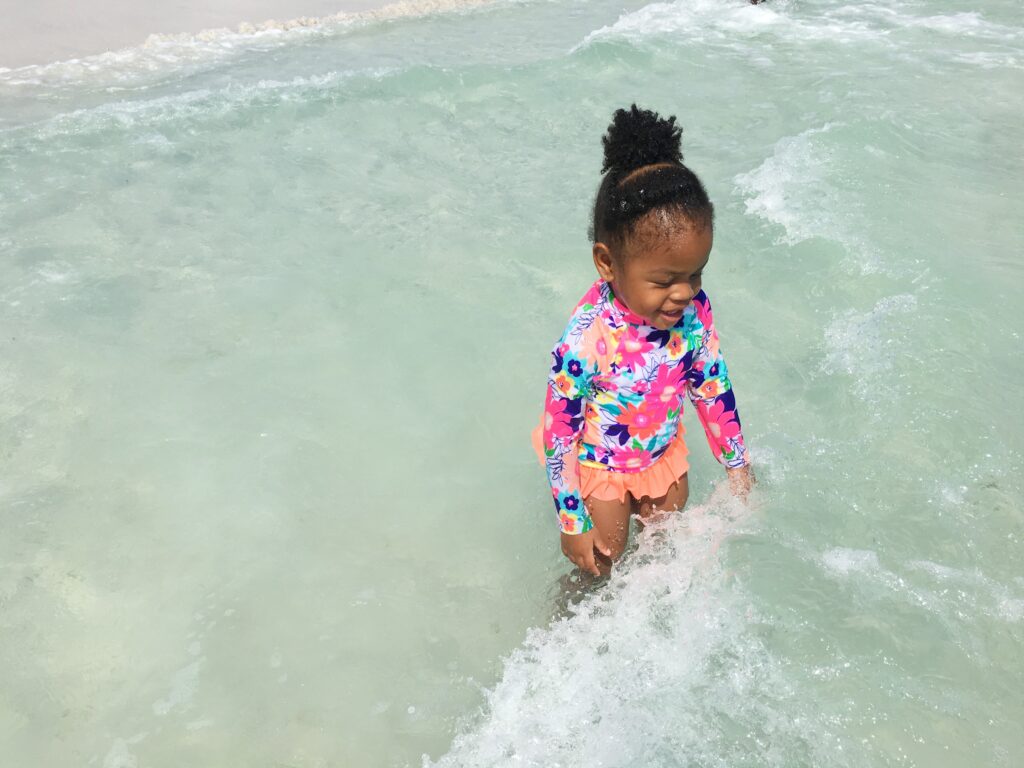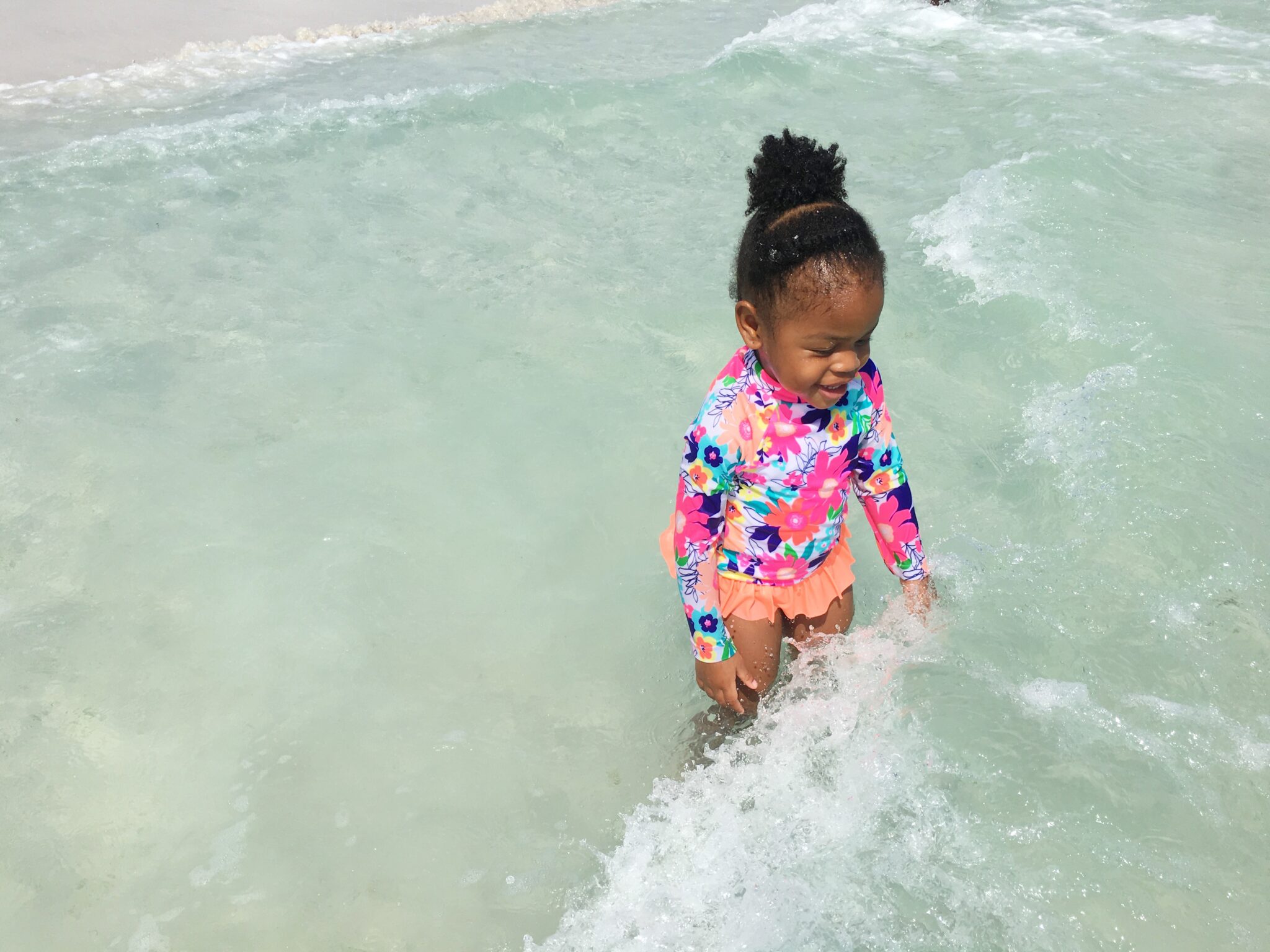 Siesta Key Beach Crowds are Low
One of the great things about Siesta Key is that it is not over crowded. There is a lot of open space for the kids to play and enjoy themselves without worry of interrupting others. It is so chill that we were not too closely setup to the next family. The next tent was quite a ways from us.
I really enjoyed having that freedom for the kids to run and not get lost visually into a crowd of people. There's nothing like losing sight of your child amidst a crowd of floral beachwear. Here I'm able to have a clear line of sight because it's not overly crowded.
Depending on the stretch of the beach you are on, some of the resorts on the beach will have sections roped off specifically for their guest. You are not allowed to set up in these areas, but just beyond their ropes are fine.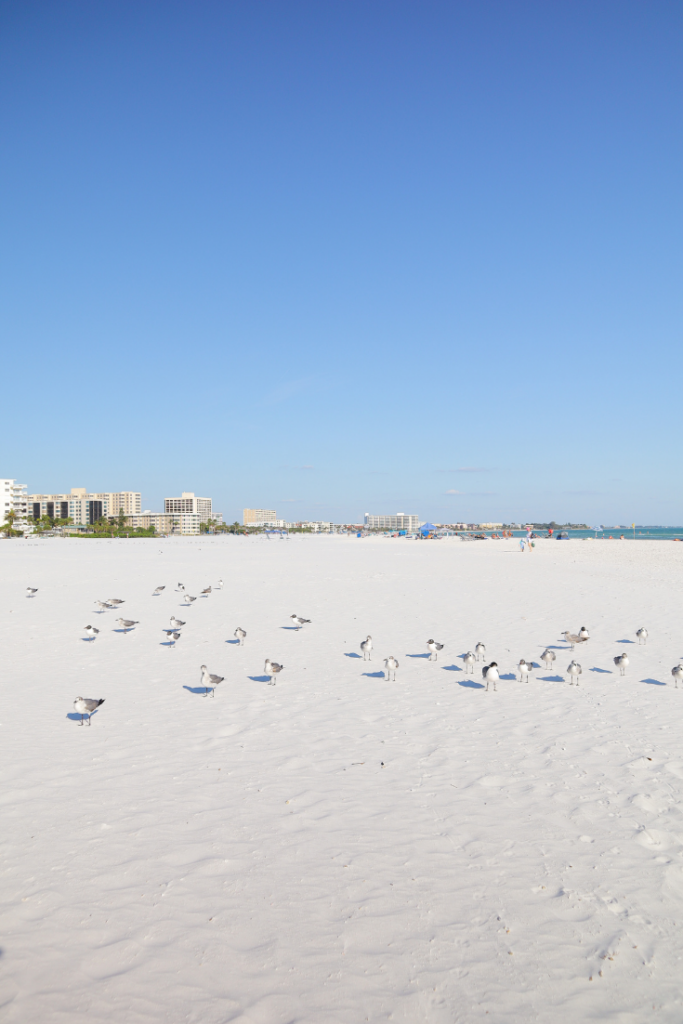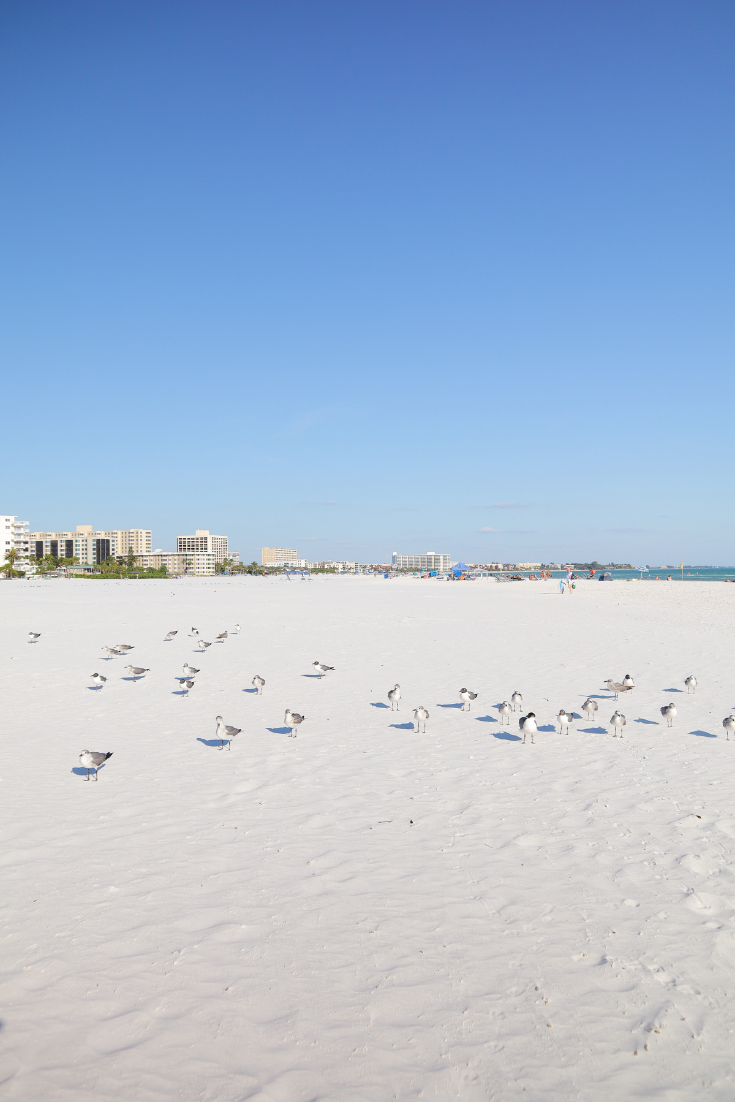 Things to do in Siesta Keys
I love that there are other things to do in Siesta Keys Florida. If you don't want to be on the beach relaxing all day you can enjoy some of the other activities the beach has to offer. They have onsite options as well as nearby options that are available.
Rent a Jet Ski
One of the best things to do in Siesta Key is enjoy the water sports available. You can rent equipment from nearby shops at a reasonable cost. My favorite and one of the most popular ways to enjoy the water is jet skiing. If you enjoy speed or want a thrill this is definitely the ideal choice.
Rent a Kayak
Kayaks are also available at nearby shops with Siesta Paddle Sports being one of the most popular. Kayaking is a great option to do with a partner as dual kayaks are available.
Go Parasailing
Parasailing is a great way to enjoy the breathtaking views of Siesta beach from above. Parasail Siesta offers parasailing over the beautiful crystal clear waters.
Go Snorkeling
Snorkeling at Point of Rocks is said to be one of the best places and activities to do in Siesta Key. The water is clear, shallow and full of marine life. There is also a large amount of shells in this area which makes is great for shell collecting.
Take a Boat Tour
Add a fun boat tour to your vacation. You can gather your family and go out on a sunset, dolphin or private boat tour. The waters of Siesta Key have been known to be filled with families of playful dolphins. What an amazing way to experience nature up close and personal.
Rent a Bike or Scooter and Explore
Outside of the beach, a fun thing to do on land in Siesta Keys is explore the city by bike. Bike and scooter rentals are available throughout the city. Some of them also offer strollers, wheelchairs, and beach chairs and umbrella rentals. Siesta Key Bike & Kayak and Ride & Paddle are great choices.
In addition to a motor ride, you can also explore by foot. The beautiful weather and the beach city vibe makes a perfect combination for strolling. Siesta Key Village is a popular area with lots of restaurants, shops and boutiques.
Watch the Sunset
One of my favorite things to do while visiting Siesta Key is watching the sunset. The sunsets are absolutely amazing and on the beach you get a front row seat to it all. A popular place to watch the sunset is Sunset Point which is on the north end of Siesta Key public beach. Bring your loved one and a chair or towel and take in the beauty.
Other Siesta Beach Amenities
Large sundeck with view
Public restroom facilities
Outdoor showers
First aid center
On duty lifeguards year round
Snack bar
Gift shop
Picnic areas
Pavilions and gazebos
Tennis courts
Volleyball courts on the beach
Playground
Fitness trail
Siesta Key Beach Picnic Areas and Grills
On the beach there are multiple picnic areas available to setup for gatherings. I have seen people have birthday parties, cookouts, and family reunions. There is a large pavilion available to be reserved for larger gatherings too.
There are amazing picnic areas complete with barbeque grills, water fountains, and trash bins. The grills are available for use, however grills are not permitted on Sarasota County Beaches. Feel free to bring your coolers and food to the beach to enjoy with your family. You can bring alcoholic beverages however glass containers are not permitted. Plastic or aluminum only.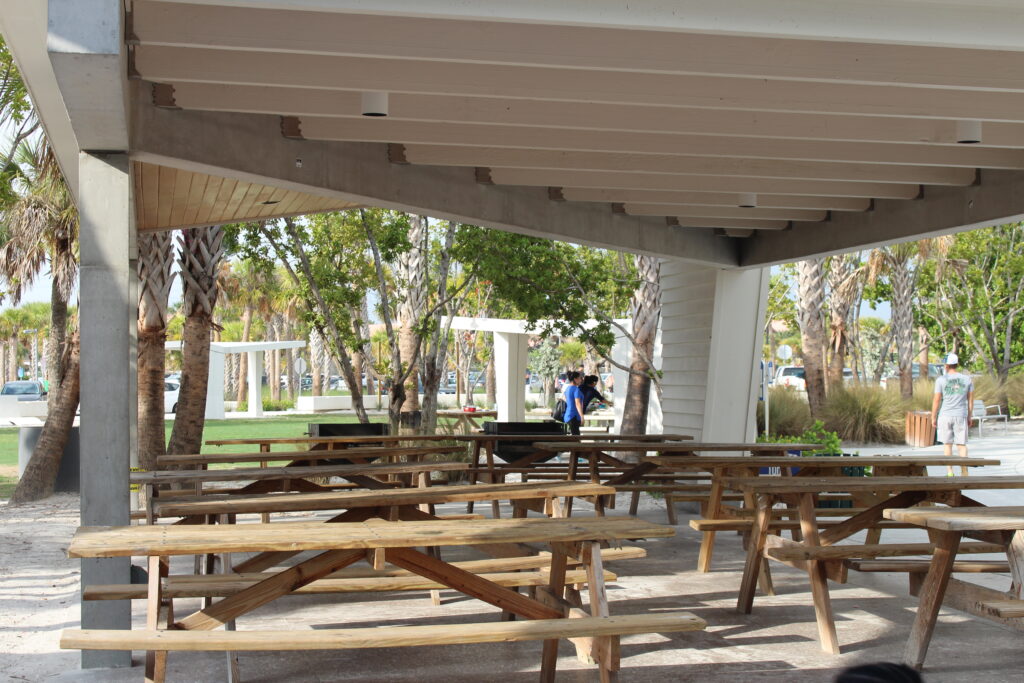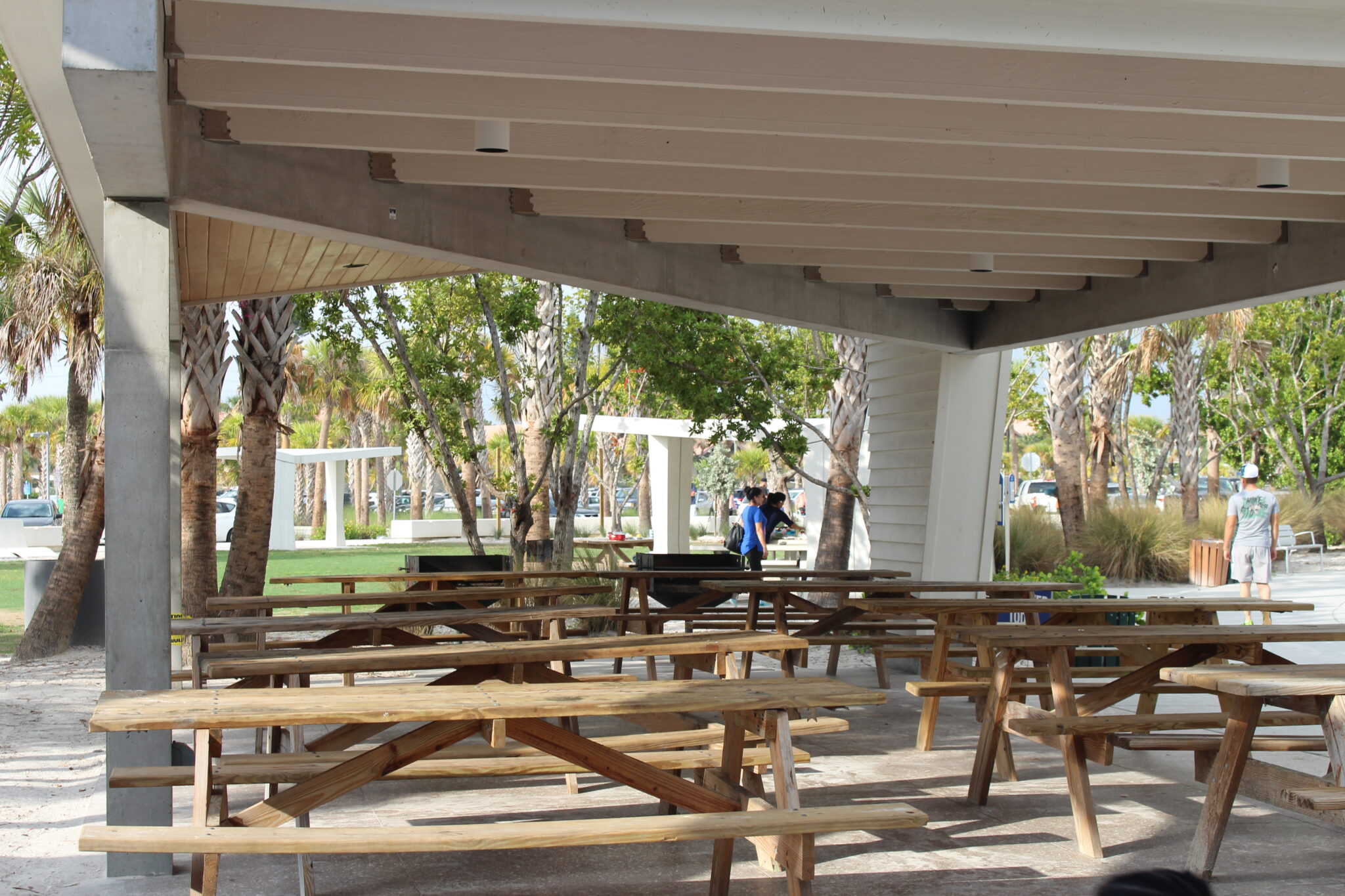 Siesta Key Beach Rentals
There are nearby places that will rent a variety of beach equipment for your day at the beach. Chair rentals, coolers, umbrellas, bikes, kayaks, boogie boards and so much more.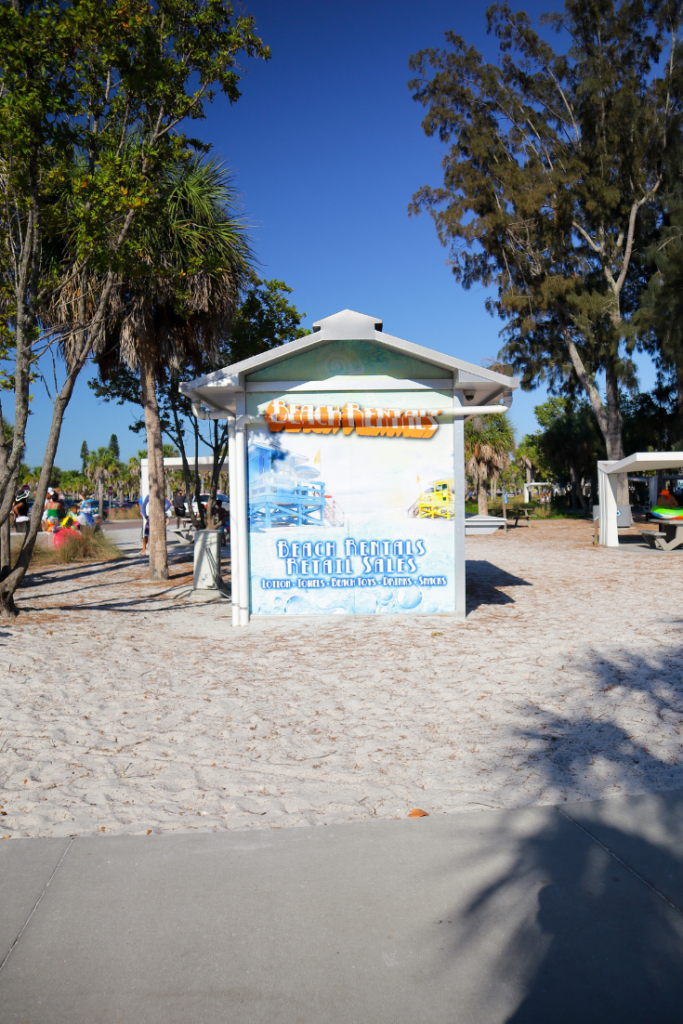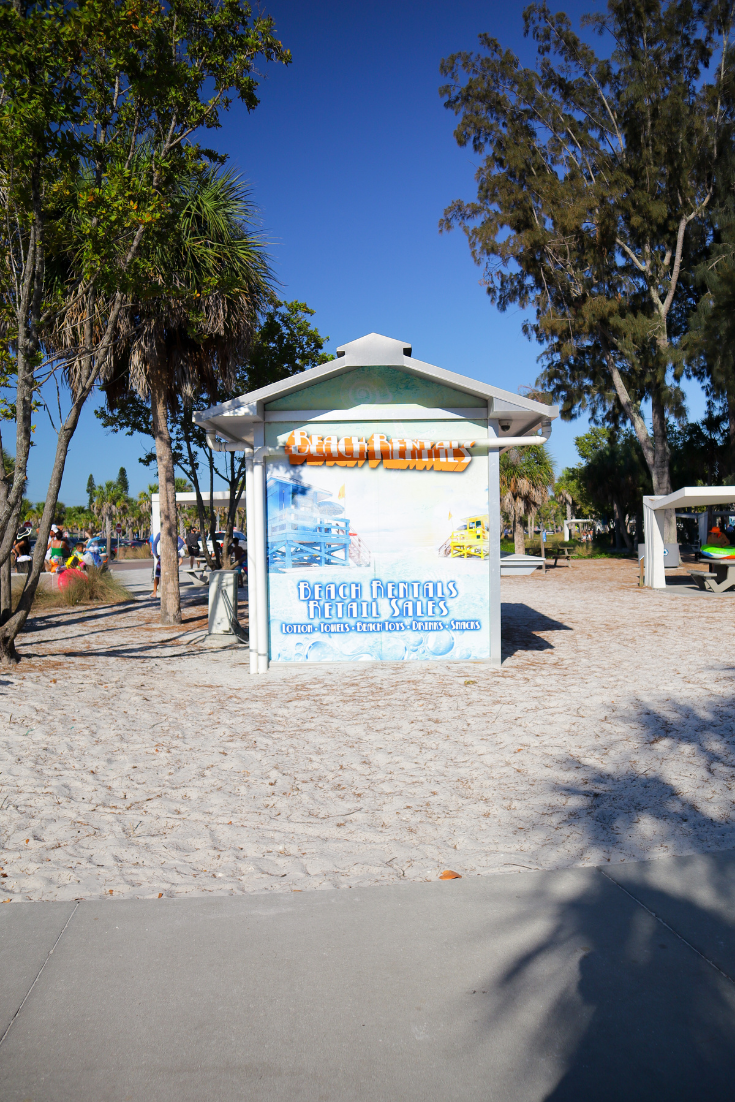 Things to do in Siesta Key with Kids
Siesta Key Beach Kids Play Area
The kids loved this playground. They literally didn't want to leave. There are multiple slides, swings, places to climb, a crossing bridge and so much more. They even have a separate playground for bigger kids.
All of the facilities at Siesta Key are amazing. The restrooms are directly across from the playground and are kept clean. There is a large grassy area where the kids to play too. You could bring a bubble machine, balls, or whatever else they like to keep them occupied.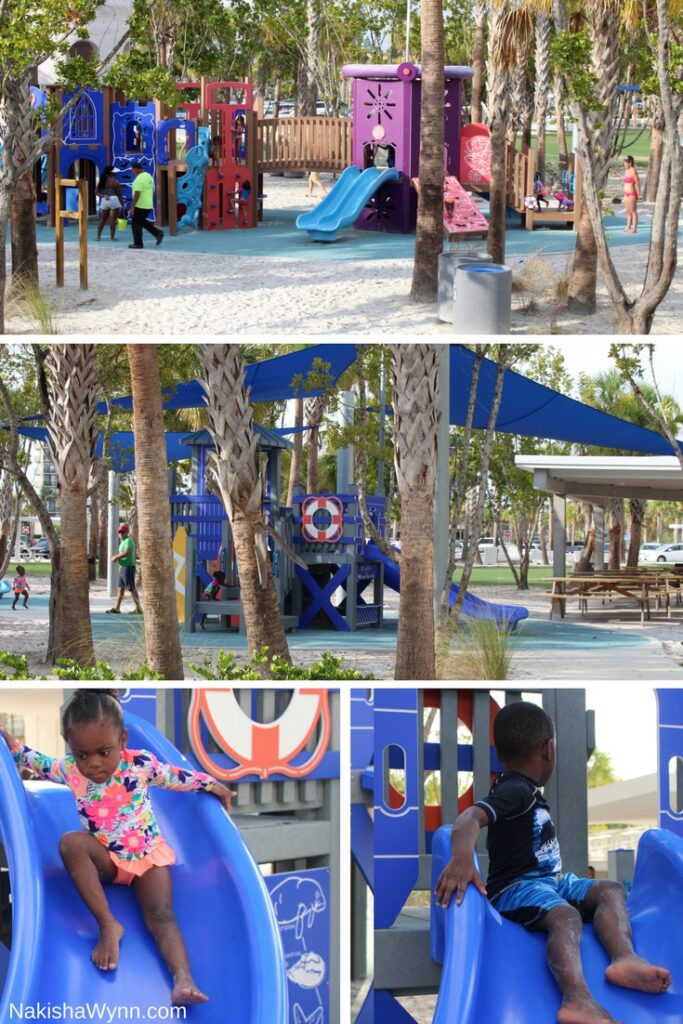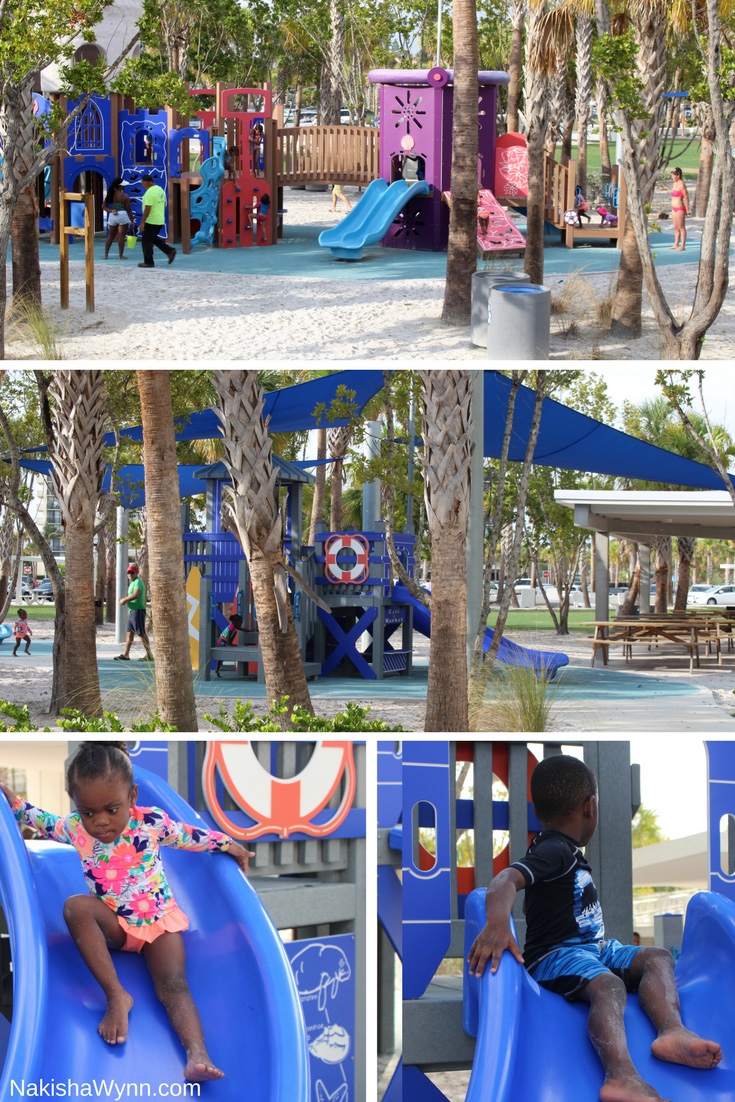 Other Hidden Gems for Kids in Sarasota
Outside of the beach there are other things to do in Siesta Key with kids worth exploring. Sarasota has an array of fun activities the entire family can enjoy.
Siesta Key Beach Cam
Another cool feature the kids may enjoy watching before even getting to the beach is the Siesta Key Beach cam. This is a real time live stream of what's happening on the beach right now. Kids get so excited when they can see what is going to happen beforehand. Spend a few minutes each day letting them watch to get them excited about beach day.
Another great idea is to watch the cam to see what the crowds are like, how the weather is and if red tide is clear during the time of year you will be visiting.
So if you are looking for a beautiful beach to spend a day with your family, I definitely recommend Siesta Key. It has free parking nice, clean facilities and luxurious sand to enjoy. You will not be disappointed. Of all the Florida beaches this one is definitely one of my favorites.
OTHER FLORIDA TRAVEL POSTS TO CHECK OUT:
A Weekend Getaway at the Hilton Fort Lauderdale Beach Resort
Sunday Funday at Daytona Beach Florida
Road Trip Essential when Traveling with Small Kids
Ways to Save Money and Visit Orlando on a Budget
Plan a Trip to Disney World on a Budget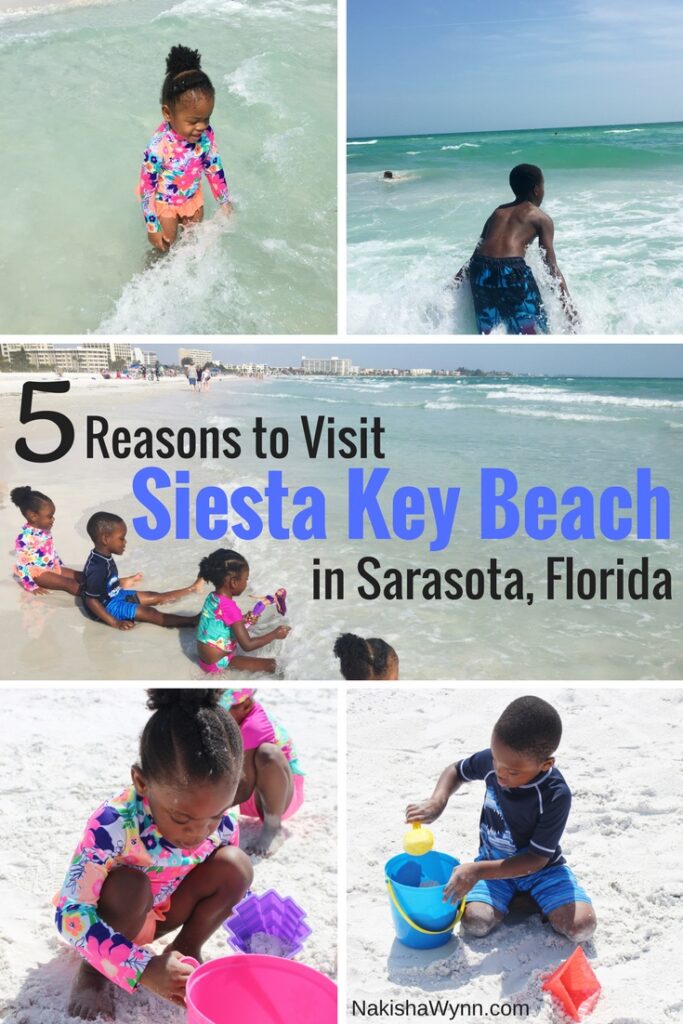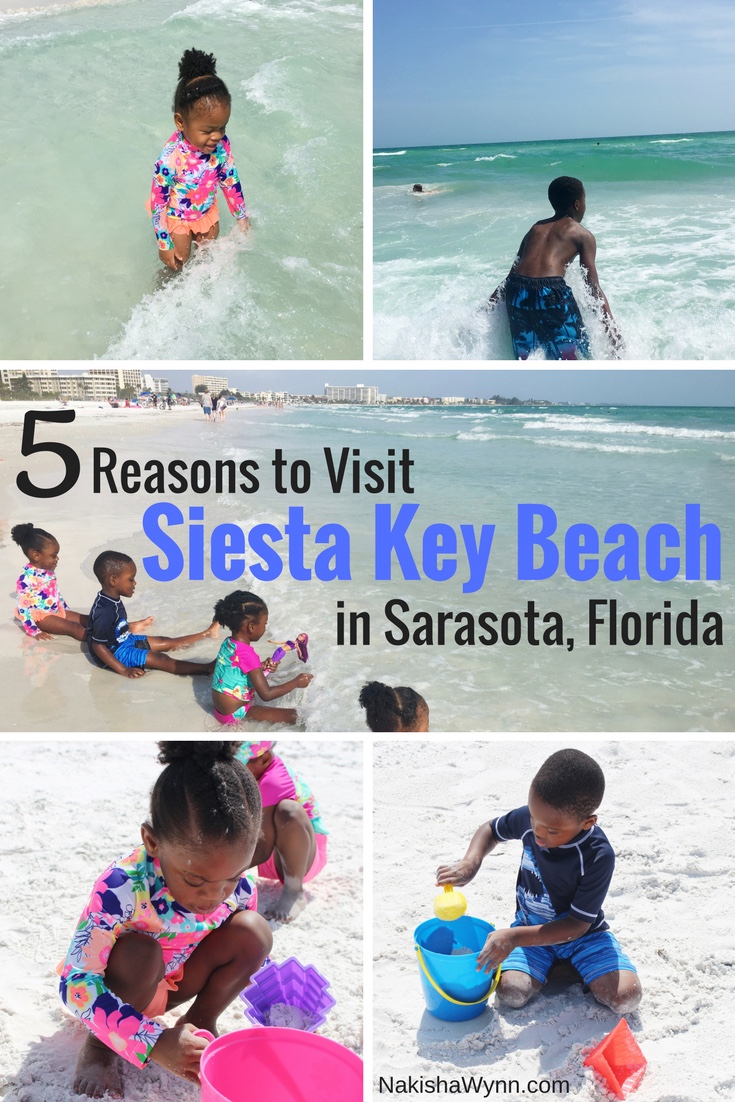 Things to do in Siesta Key Florida