Christmas is the most wonderful time of the year for pretty much everyone, but it's extra special when you're a kid. That's why festive Christmas traditions are so special! My family is crazy about this time of the year and we go all out celebrating.
Disclosure: This post may contain affiliate links. I could make a small commission (at no additional cost to you) on your purchases or signups through my links. Read full disclosure here
Thankfully, becoming a parent means getting to re-live all the joys of Christmas as a kid. Making all the preparations to make sure that your kids have just as much fun as you did as a child is so fulfilling. It's one of the best parts of motherhood!
If you're looking for ideas for family traditions to create that your kids will remember forever, here are a few of my favorite family activities that the whole family will love!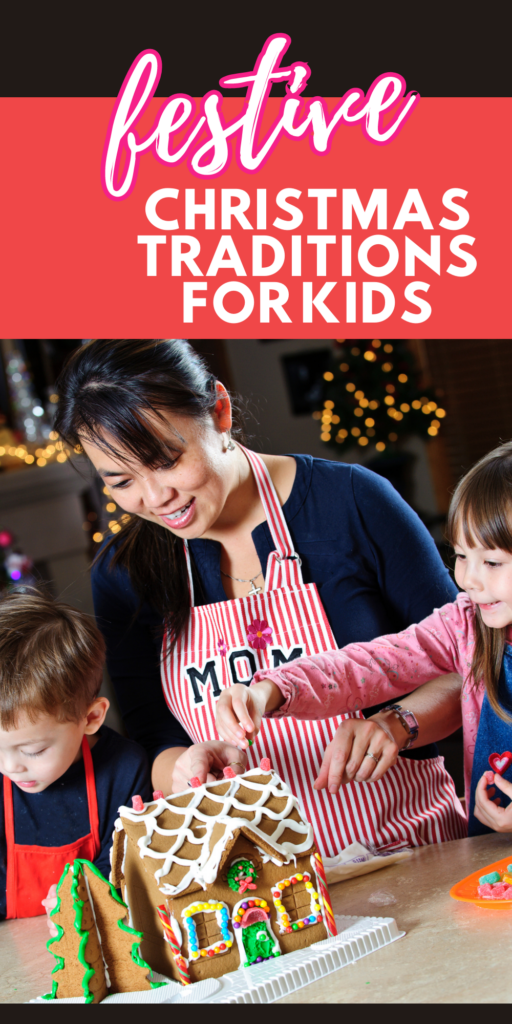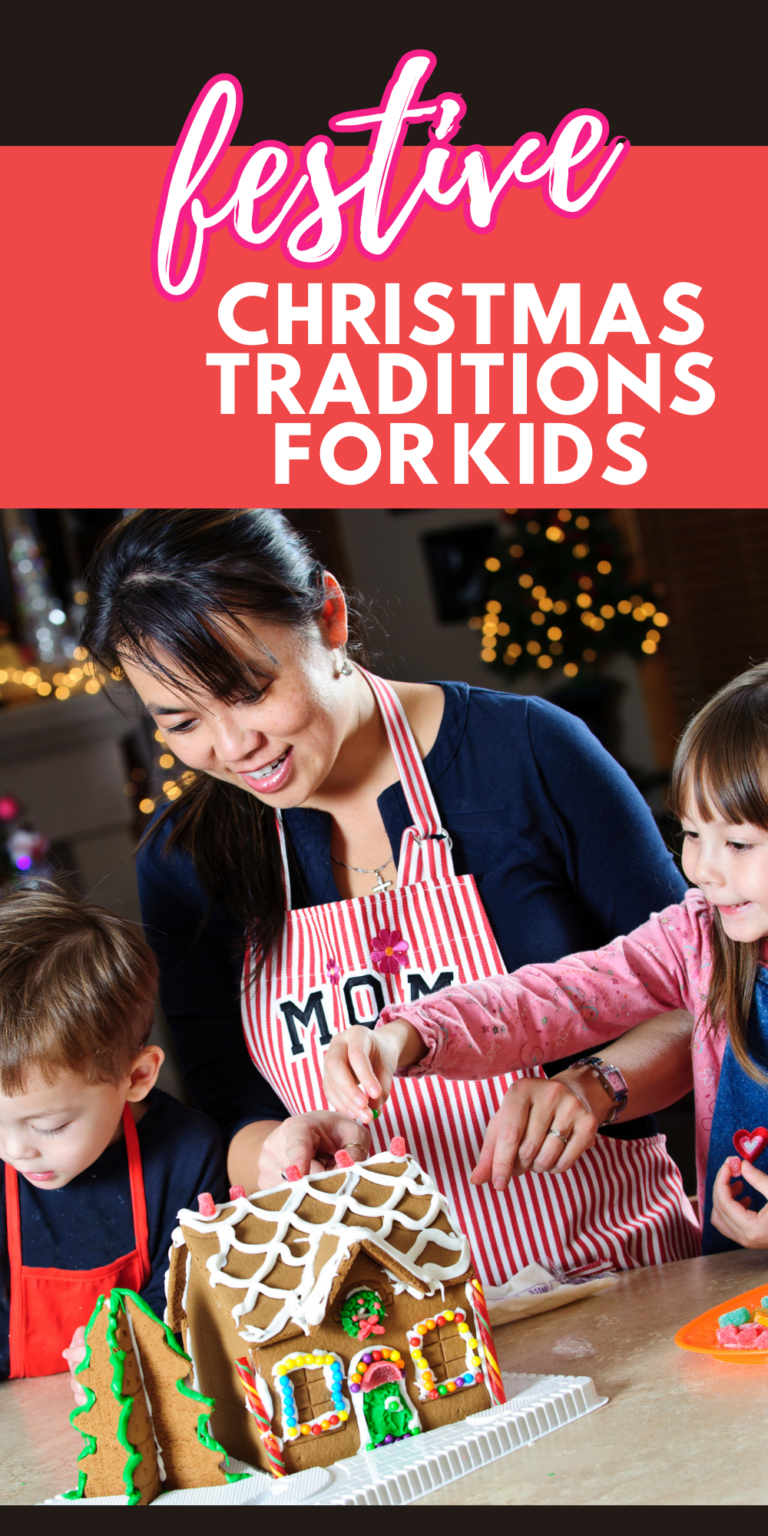 Festive Christmas Traditions Your Kids Will Love
These are just a few of our festive Christmas traditions that everyone will love!
Create a Christmas Countdown Calendar
A calendar is the best way to count down the days until Christmas. It's a special day for kids and they love counting down the days. How about making those days leading up to the big day mean something. Make it a mission to use the Christmas countdown calendar to make memories instead of making it about gifts.
Make a Christmas Activities List
As soon as December comes, get everyone together to discuss a list of fun activities to do before Christmas Eve. This is a great way to make sure everyone gets to do what they want and make it fun for the entire family.
Christmas Lights Drive
Nothing says Christmas like seeing houses light up. Get the kids in the car, drive around the neighborhood and find the coolest Christmas lights in the area. You can even make a fun game out of it and get your kids to rate each house's light display.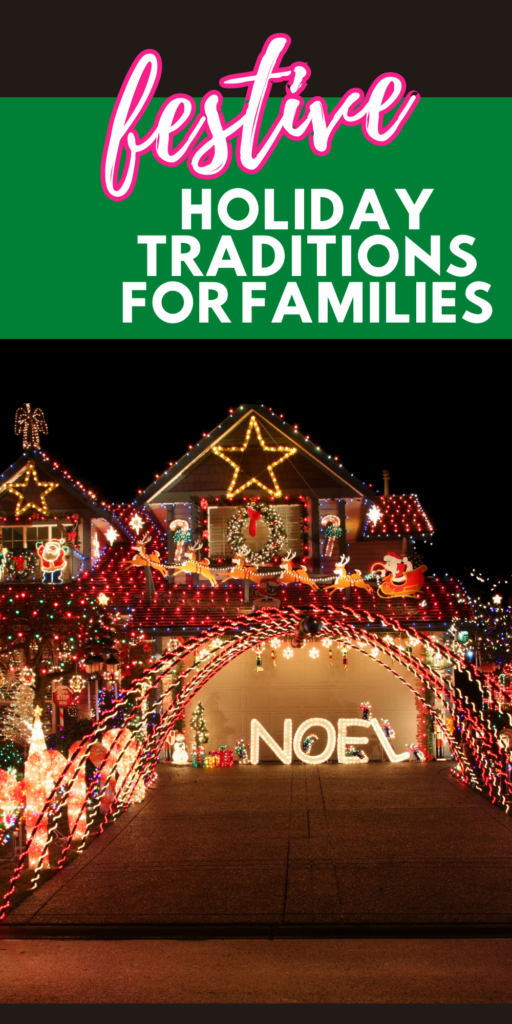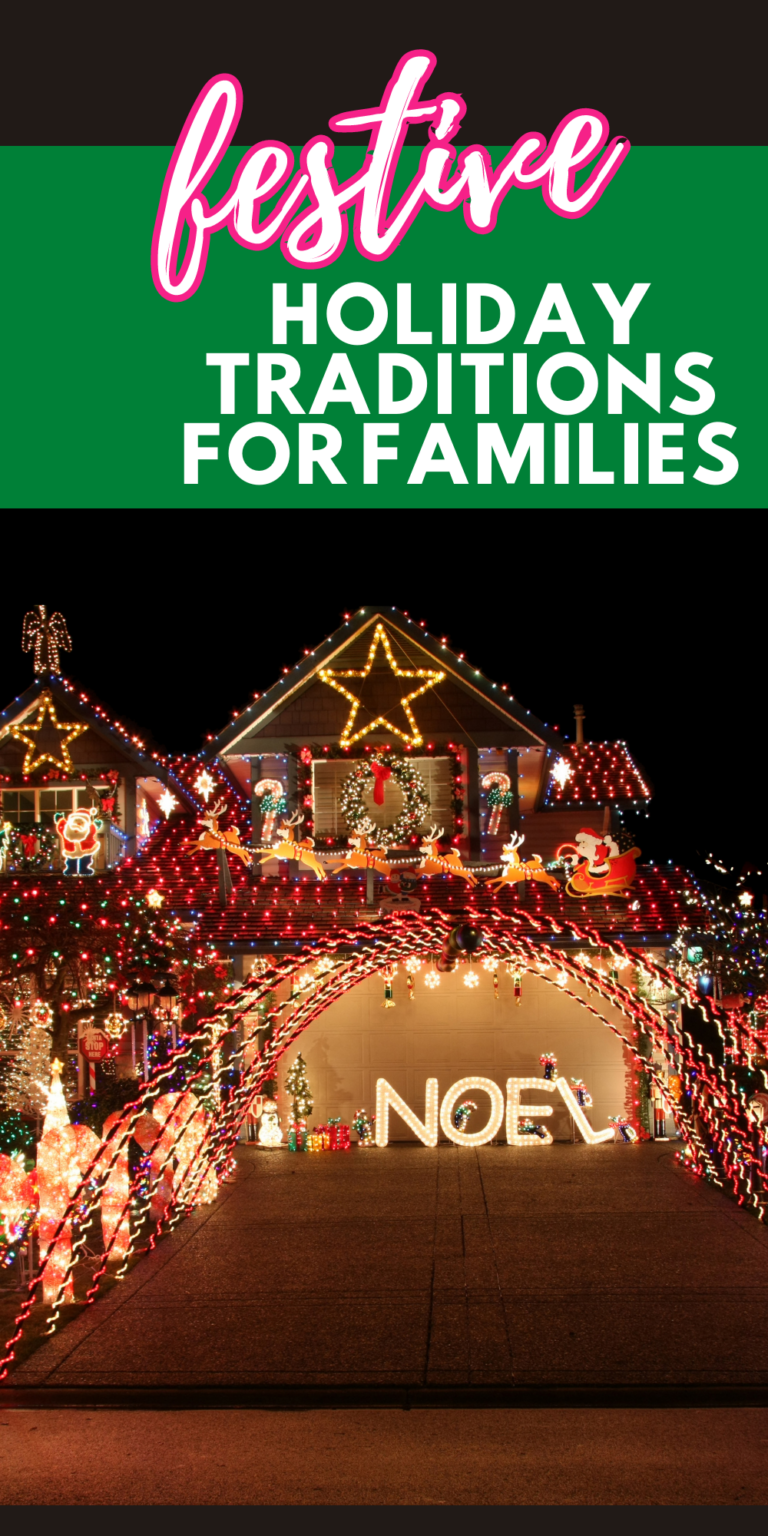 Decorate the House
One of my favorite things to do as a child was to decorate every inch of our family house with my family. The entire family would come on Thanksgiving evening and decorate the Christmas tree and put up lights on the house. It is our family tradition. I'm happy to share it with you. Decorate your home with the little ones. They will love to decorate their assigned window, bush or area of the lawn and have memories that last a lifetime.
Candy Cane Hunt
A great way to get the kids into the Holiday spirit is with a candy cane hunt. You can use real candy canes or plastic ones. Hide the candy canes in your back yard or just around the house and let the kids have a good time looking for the canes.
Read Christmas Books by the fire
This is a super fun way to get your kids to read and spend quality time with the family in a relaxing way. You can let the kids choose a book from your local library, purchase their favorite Christmas book from Amazon, or on Kindle. Then you can allow each child to read their book to the family or you can just read them. Another great ideas is to order the books on audible and just let the play while the fire is going and everyone is sipping their hot cocoa.
Christmas Movie Night
Christmas movies are fun to watch year-round, but there's something extra special about watching them in December all cozied up by the fire with family. Get everyone to pick their favorite Christmas movie (and add a few no one has seen yet to the mix), and spend an evening every weekend prior to Christmas watching movies. Amazon Prime Video has a large selection of Christmas movies and usually has some amazing Amazon original recommendations.
DIY Ugly Christmas Sweater
DIY is always fun, and allowing your kids to get their creativity flowing is always a fun way to discover if there's an artist in the family.
Buy an inexpensive plain sweatshirt or use one that you have laying around. Buy some felt sheets, pom poms, tinsel rolls, pipe cleaners, or anything you like. Then allow the kids to use the items to decorate their sweatshirts. Just like that, they have their own Christmas sweaters.
Make a Gingerbread House
Gingerbread houses have been around for centuries, but getting everyone together to make your own is always a fun way to spend an afternoon. Seriously, they're SO much fun to decorate and you can start them from scratch or buy a kit to make things easier if you're not super crafty. Either way, your kids will have tons of fun getting to get creative with their food!
Family Christmas Photo
The holiday season is the perfect time to get dressed up. Pick out the perfect holiday outfits and invite a photographer to your home to take the family pictures. While you're at it grab some holiday matching family pajamas and do it for the gram, because it's the cool thing to do right?!
Even more awesome festive Christmas traditions!
We couldn't forget to add these to our list!
Santa's Foot Prints
Leaving food out for Santa is something every family does (and also one of kids' favorite things about Christmas just after getting to open the presents Santa left for them, of course!).
If you want to add an extra special touch to their favorite day of the year, leave behind a set of footprints as proof that Santa was *actually* there. Oh, and don't forget the reindeer were there, too!
Memory Night
The best part about Christmas isn't the presents or the food, but what does actually stay with us forever are the memories we get to make with those we love. Set up a date to gather around the fireplace and get everyone in the family to share their favorite Christmas story, or to talk about the Christmas traditions they love the most.
Bake From Scratch
Baking is always fun, but there's something extra special about getting to eat something you made from scratch. Dust off that old recipe book (or head over to Pinterest if you don't have one), and bake some traditional Christmas desserts with the kids! Christmas cookies are one of our faves. It's super simple and fun for the kids to decorate.
Don't forget to write down the recipes in a book and make copies of it for when your kids are all grown up so they can get all the feels and continue with the tradition with their families.
And there's a list of fun (and super simple) Christmas traditions to try! Do your kids have any favorite Christmas traditions that weren't on the list? I'd love to get more ideas for fun Christmas traditions to try, so let me know in the comments section below what your kids' favorite activity is!
See how much fun it can be to have family fun activities during the holiday? This list of Christmas traditions is fun for all!
Which of these festive Christmas traditions are you going to do first?
More Holiday Posts
How to host a Fun Christmas Cookie Decorating Party for Kids
Frugal Mom's Guide to Christmas Shopping for Kids
The Ultimate Game Plan for Holiday Shopping on Budget
Visit Disney at Christmas for Magical Memories that Last a Lifetime
Lightning McQueen Gifts for Boys who Love Cars