One thing that I believe has helped me continue to grow is investing in myself year after year. I make it a priority to continue learning about this online space.
As a content creator it's important to learn fast and be able to adapt so that you can keep getting better. That education can come in many different ways whether that's classroom, coaching or online learning.
But books are the most attainable way to increase your knowledge in this online space, and they are what helped me get better. They're cost effective and provide great information. When I was first starting my journey as a content creator books were my go to for learning the basics of business.
If I wanted to learn more about marketing I bought a marketing book!
Today I'm sharing with you some books I've read that helped me grow my creator business. Some I read once, others I've read multiple times over. But nonetheless, these books have been the source of continued growth for me.
Typically I buy audiobooks so I have the flexibility of listening to them while I do other things. In the car during school pickup, on road trips, while cooking dinner, while working during the day.
Audiobooks are perfect if you lead a full life like me. You can get one book every month when you sign up for Audible. I've had an Audible membership for 3 years now and it's been great! I love the flexibility of it because I'm always on the move. You can find almost every title available on Audible in addition to your favorite podcasts, which makes it that much better. Here's a peek at my Audible library.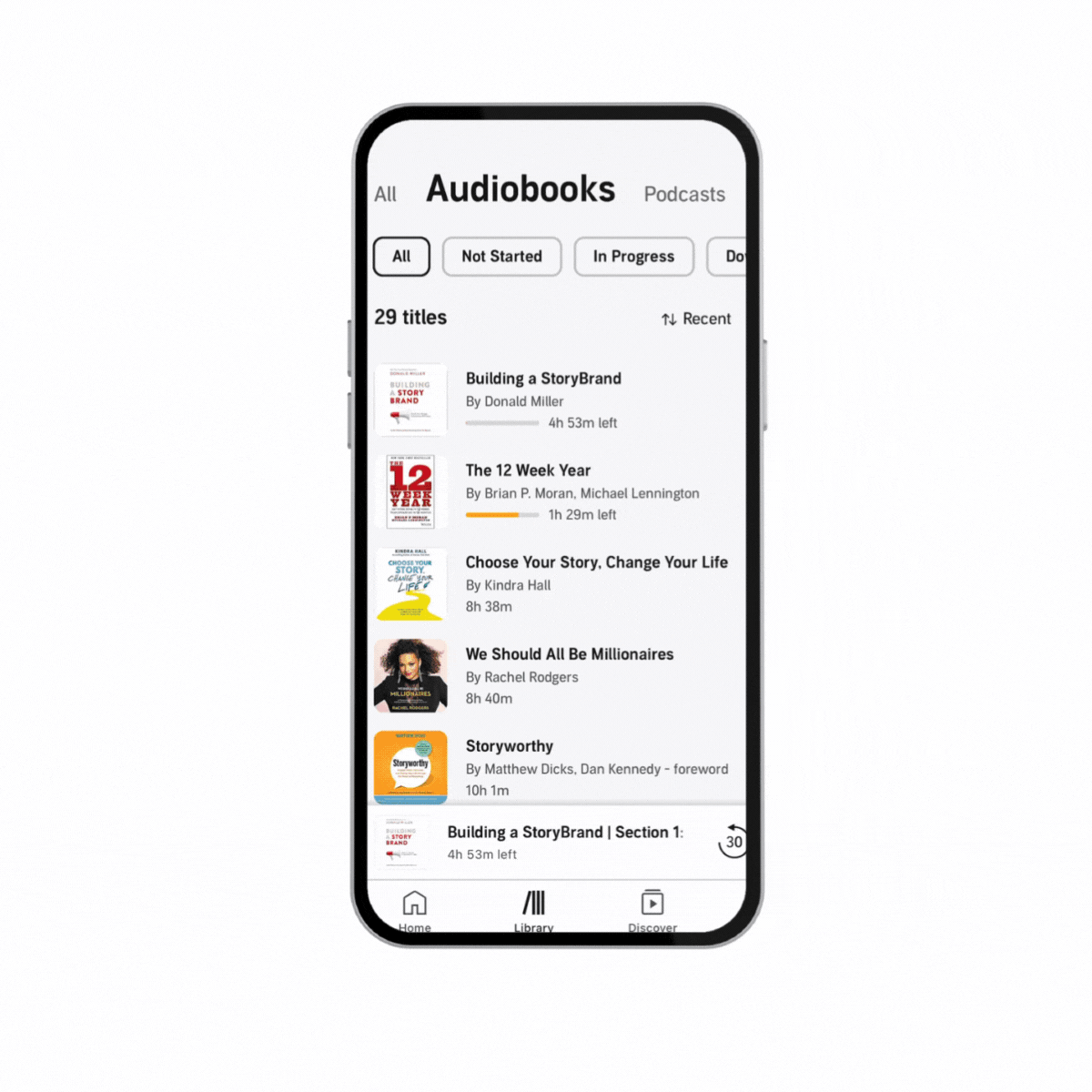 BOOKS FOR CONTENT CREATORS
Here are the books for content creators I recommend
Building a Story Brand
This was the book that helped me learn how to talk about my business. It's a great guide for learning how to tell your story in a way that engages the listener and draws in the right people for your brand.
This truly helped me think through my competitive advantage in the marketplace and learn how to distinguish myself from others so that I could standout online.
Atomic Habits
If you are anything like me and have struggled with discipline and consistency, this is the book for. you. Atomic Habit got me right together.
This book helped me master managing my time and behaviors so that I could get the things done that would move my business and my life for that matter, along.
This book is great for learning how to get over yourself and do what needs to be done even when you don't feel like it.
Influencer
Okay, Influencer is everything! Especially if you are new in the online space. This is a well put together guide on how to manage the business of content creation.
There are great examples of how to market yourself in a crowded online space inside and that was gold for me when I first started.
This book is the best investment I made in myself at the beginning of my journey.
Listen to this book for FREE with Audible!
Miracle Mornings
My grandma used to always say "the early bird gets the worm" as she was dragging me out of bed at 6am on a Saturday to be one of the first in her favorite thrift store across town. I didn't get it then but I do now.
This book drove the lesson home. Mornings are pivotal for successful people and having a strategy for how you approach them is important. This is what helped me get my morning routine in order.
If you want to get more done in a day and go to bed at night feeling accomplished, check this book out.
Superfans
This was the book the helped me embrace my entrepreneur journey at every stage especially in the beginning.
Social media can be so much about the numbers and we forget about the actual people that are supporting us with their real time and money.
Acknowledging and actually caring about those supporters is what will help us get to where we want to be faster. It's about community and relationship.
This book helped me understand that more.
Create Something Awesome
This is a super practical guide on how to get started as a content creator. I had been watching Roberto on Youtube for some time and decided to pick up his book.
The advice given in this book is not cooker cutter and I love that. The regular working person is considered and solid advice is given on how to make it work even when you lead a full life.
Listen to this book for FREE with Audible!
Crushing It
Another book I read at the beginning of my journey. Crushing It was pivotal for me. This inspirational guide was a blueprint on how to start from 0.
With insight from so many different creators I was able to truly see myself where I am today from this book.
If you are looking for the inspiration to finally get started and show up in your greatness, try this one.
How to Win Friends and Influence People
As a creator understanding how to work with people is essential. The entire thing is social and this book was a great insight to that.
This book was a lesson on leadership and how to show up as your best self in order to lead a group of people.
I found this to be a great addition to my knowledge as an online marketer essentially. People look to us to lead and this will help in doing that better.
The Big Leap
Of all the books mentioned, this is probably the one that impacted me hardest, especially for where I am right now in my journey.
The Big Leap challenged my perspective on myself and had me thinking about the ways I have essentially sabotaged my own success.
Reading this book helped me break out of the limited perspective I had of business and taught me how to truly stand in my greatness and share the gifts I have been given.
I love this book and recommend it to EVERY entrepreneur.
Listen to this book for FREE with Audible!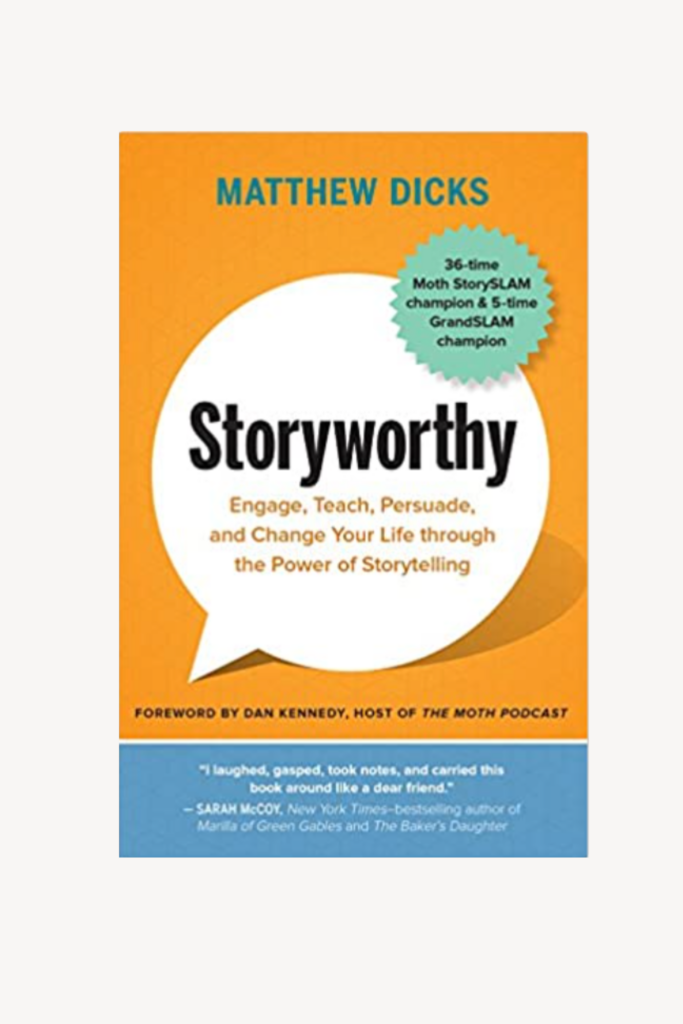 Storyworthy
I'm just getting into this one and I'm loving it so far. I love books that help me with branding and messaging and that's what this has been.
It seems to be the start of a book that shares tips and techniques of how to tell the story of your brand and hold the attention of those willing to listen.
A much needed online business skill. Final thoughts coming soon.
Traction
This is a new addition to my Audible library and I am looking forward to digging in. I'm hoping this book will help me with the operations side of business.
There is so much to learn and to manage on the back side of being a content creator and I was recommended this book by an entrepreneur friend to help me gain more insight.
I'll update you after reading it.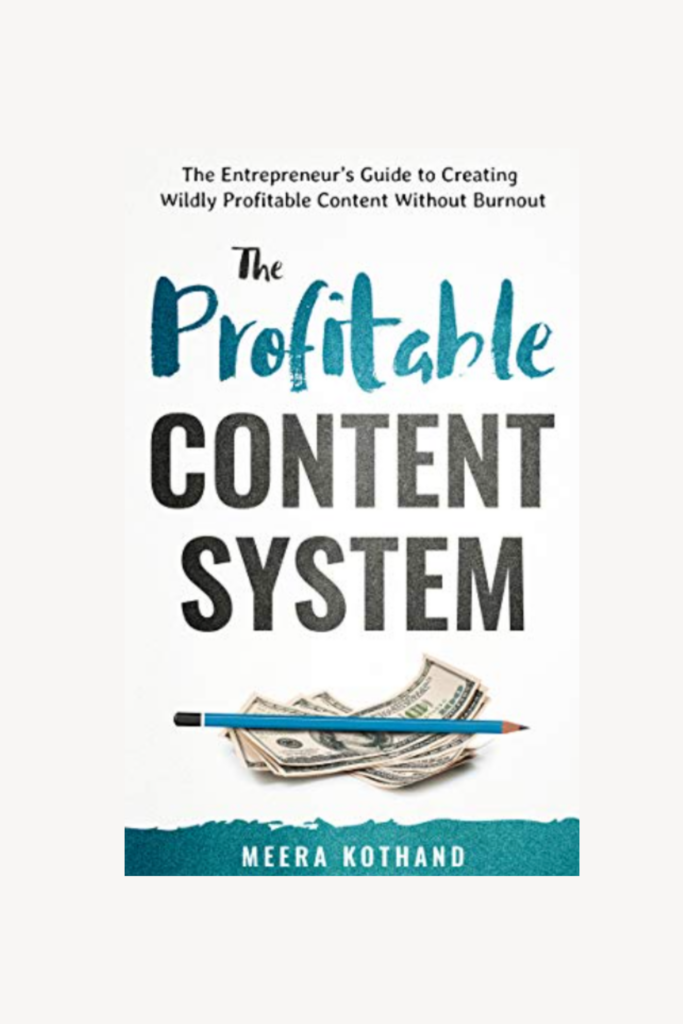 The Profitable Content System
This was an impulse buy lol. Yea I was researching books about content creation and this one had great reviews.
Look the online space is getting crowded and to stay relevant you have to be putting out content constantly. This caught my attention because streamlining the way we create content has become more and more important as creator burnout become more prevalent.
I'll get into these books for content creators soon and tell you what I think. You should read it with me.
Listen to this book for FREE with Audible!
OTHER POSTS YOU'LL LOVE:
Ultimately reading is an important part of being a better writer. It's like a gym for the mind; you're exercising your brain to enhance your writing skills. If you're serious about becoming a better content creator, you have to understand the importance of using "engaging words". There's captions, website copy, newsletters and so much more. To be a better writer, reading is a must.
Reading helps to expand your vocabulary and knowledge of language. Especially sales language if you're focused on that. When you read, you're exposed to different writing styles, which allows you to learn from more experienced writers and apply the techniques to your own writing.
Reading also encourages creativity, which is essential in creating good content. By reading books for content creators you're exposed to new ideas and perspectives. This helps to expand your mind and encourages you to think outside the box.
Content requires so much of that. Thinking of new ways to convey your message, sell your products and attract new customers to your business. I have found that the more I immerse myself into doing new things, reading new things and thinking beyond my current state it allow me to come up with fresh ideas that ultimately reach new people.
It's important to make reading a part of your self improvement routine and I recommend it to everyone. Choose one book for content creators a month and apply the knowledge you learn and you will see yourself get a little bit better every month.
Pin this to your Pinterest Boards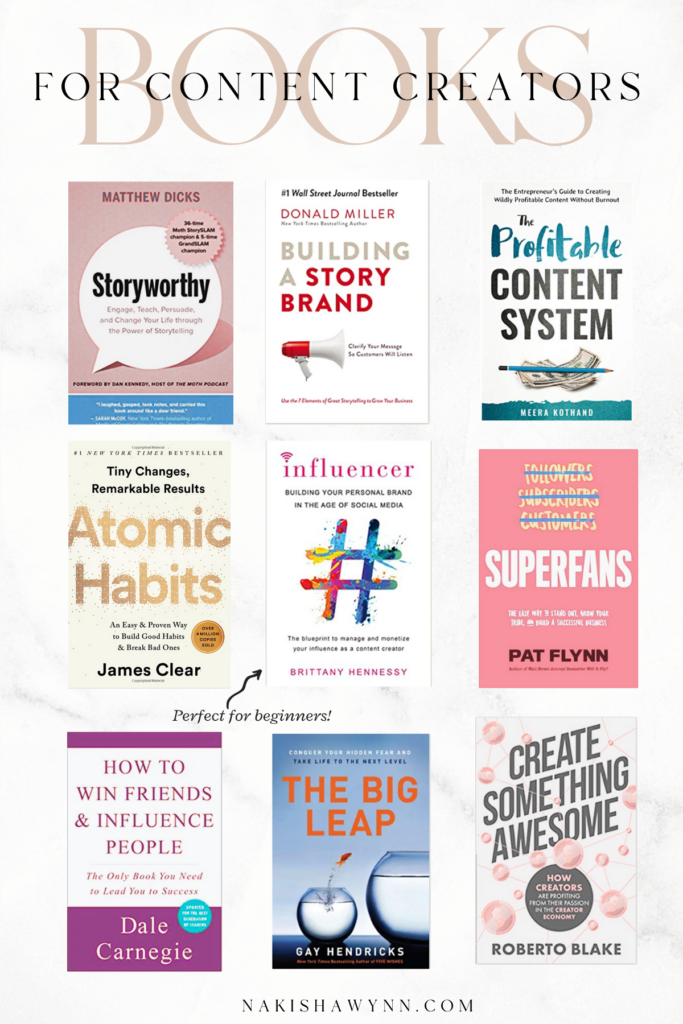 12 Best Books for Content Creators