This post was written in partnership with Goldfish Swim School, all thoughts and opinions are my own. So I've had swimming lessons for the kids going for the last few months now and it has been amazing. I had been wanting to put them in for some time and finally decided to do it. Swimming is an essential life skill especially living here in Florida.
We are always at the beach or going to the pool and I just felt like it was time for me to relieve some of the stress I feel while we're there. I would be so on edge the entire time knowing they couldn't swim. It was time for me to do something about that. I'm not the best swimmer myself (that's another story lol) so it was important to me that they know how to swim well.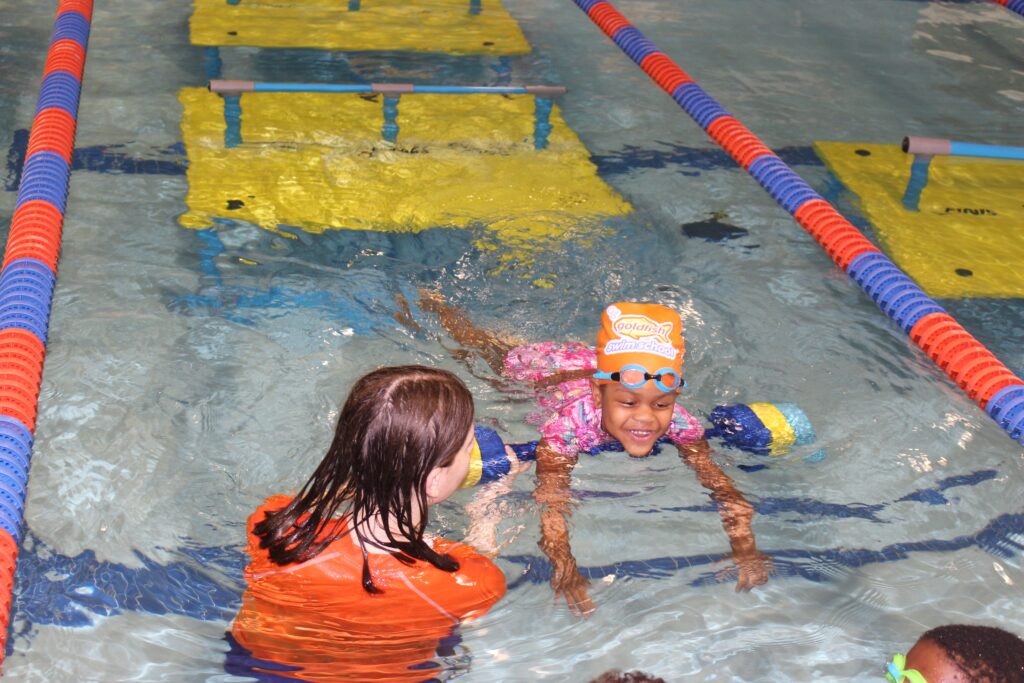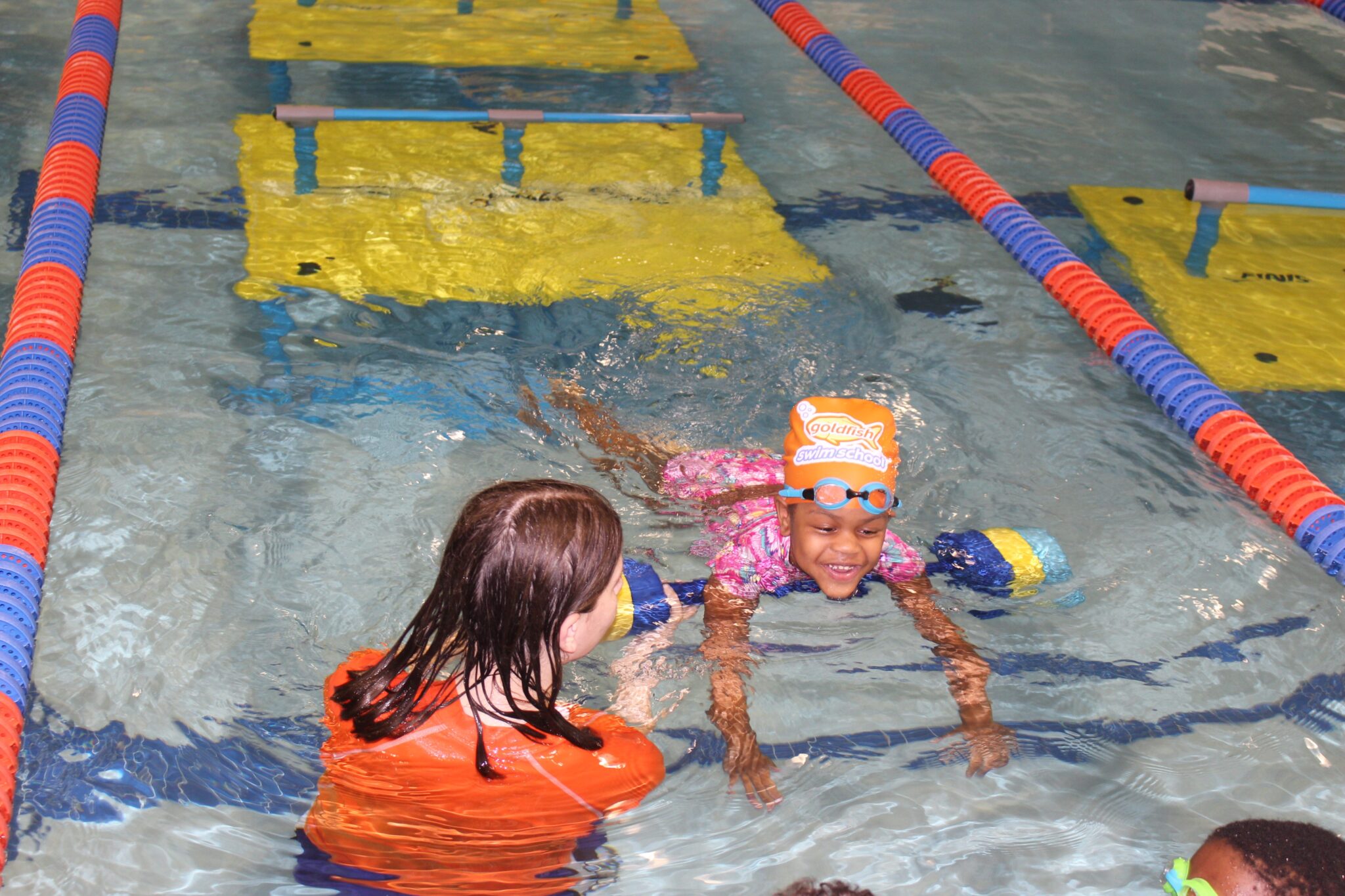 Swimming Lessons for Kids
So I started looking for places to learn how to swim for them and found Goldfish Swim School Winter Park. They have been in lessons for a few weeks now and I am pleased with their progress. When they first start they they all were very reluctant. But when we got there and they saw how welcoming the atmosphere was that made them feel much better.
My son and I share a passion for marine life and the first thing he yelled out was "Mommy look an orca!" There was a large mural painted on the wall that featured a huge orca whale. He was so excited. My daughters immediately rushed to the fish tank that housed cute little goldfish. To this day they stop by the tank every time we visit.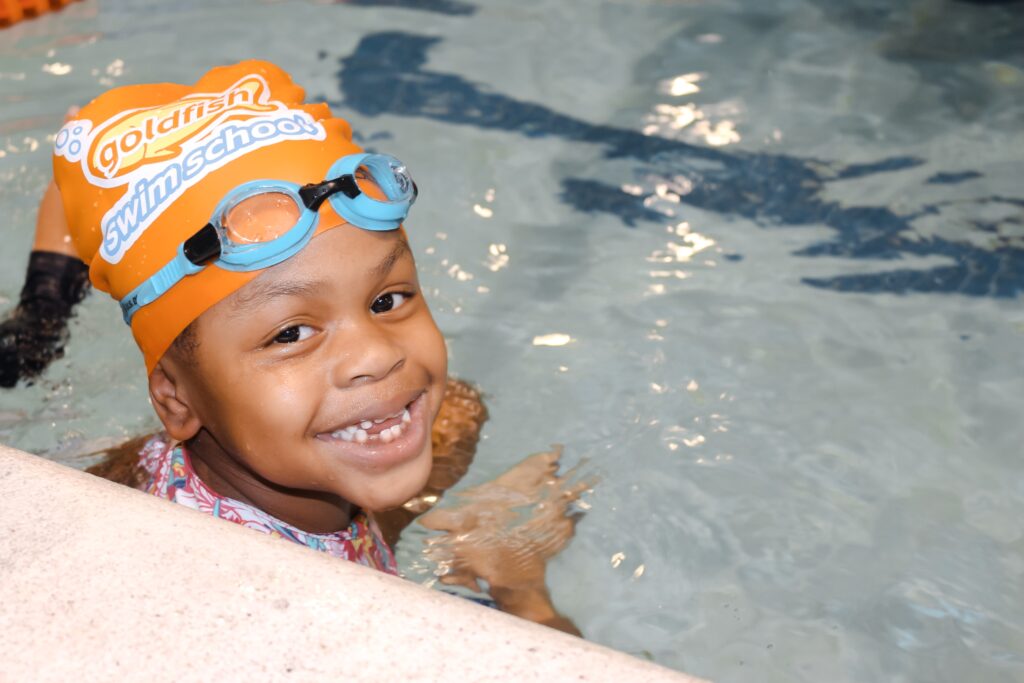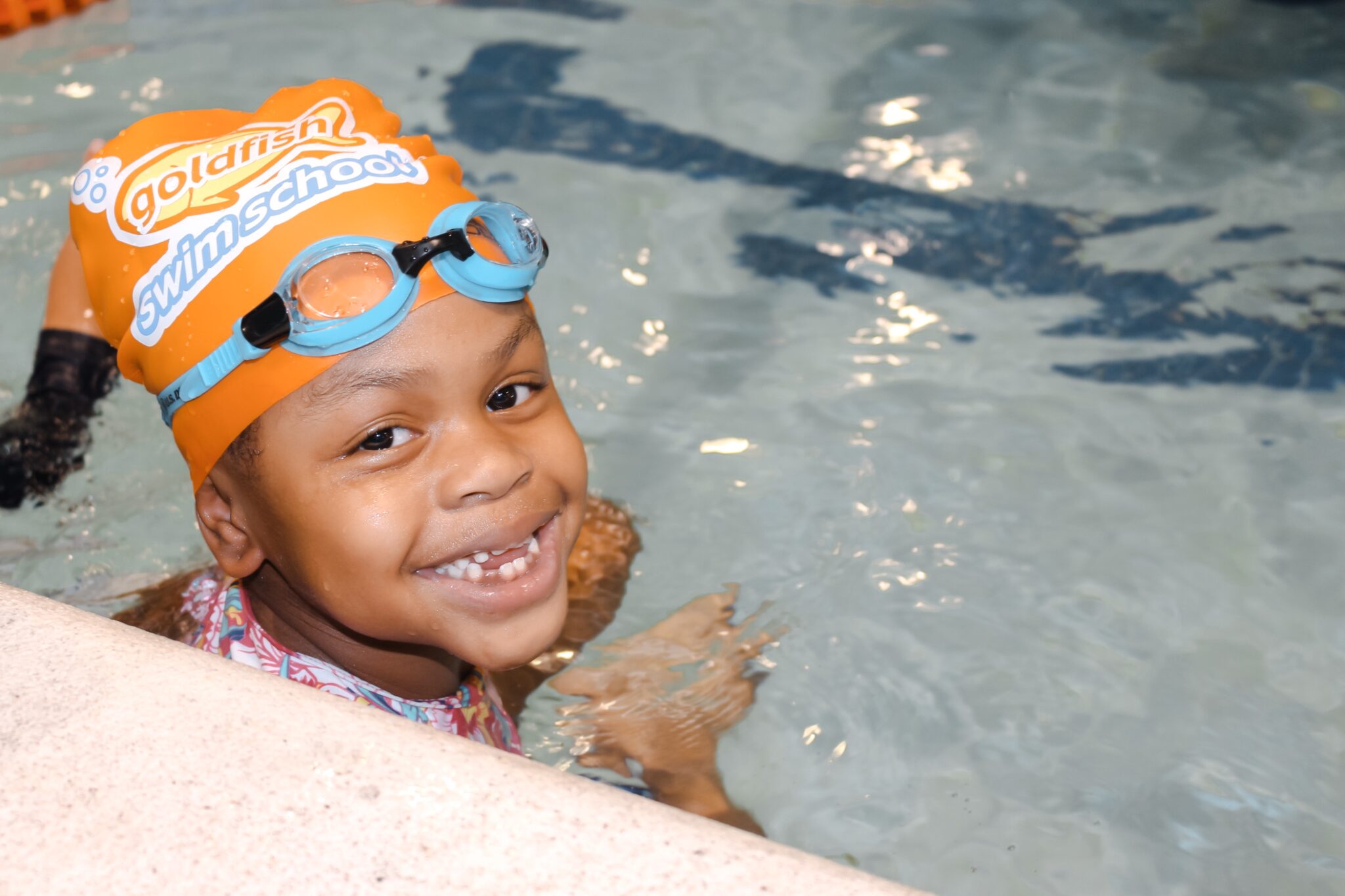 Goldfish Swim School
They absolutely love the atmosphere of Goldfish Swim School. The decor is so fun, bright and colorful. The staff is so friendly and patient. And the facility is always immaculate. Honestly, that was a draw for me. I cannot stand using public restrooms, it's just too much for me. But I feel comfortable using the changing rooms and the restrooms here. I've never seen them not in tact. There are also beauty stations with mirrors and blow dryers for your convenience.
YOU MAY ALSO LIKE:
Swimming Pool Safety Tips for Kids
Teach your Toddler to be More Independent
Goldfish Swim School lessons are designed to make learning fun through guided play and cater to children ages 4 months to 12 years old. Lessons are offered year round and done in a 90 degree heated indoor pool. In my kids lessons the ratio is 4 kids to 1 teacher. However there have been a few times a second teacher has been brought in to help. I really liked that because it's another set of eyes watching my little busy bodies. Thankfully the instructors are really patient and trained to do what they do.
For the most part my kids are really attentive and pay attention well though. I really do believe the attention of the instructors is what has made my girls so much more confident in the water. When they first started they wouldn't put their face in the water at all but now they do it with no problems. They are actually working on holding their breath going underwater. I'm impressed.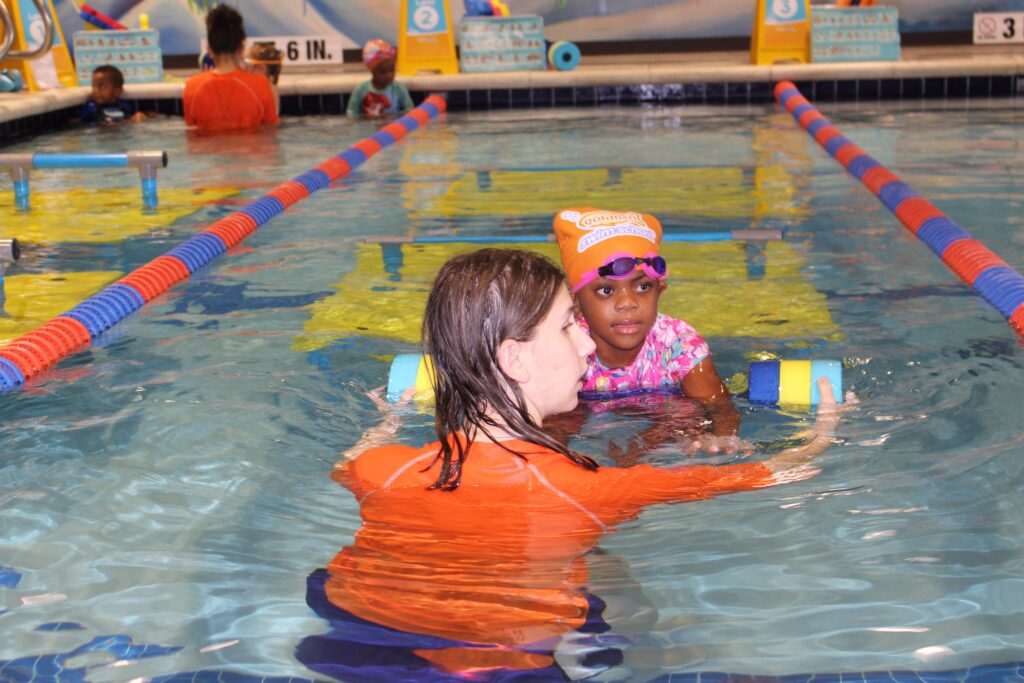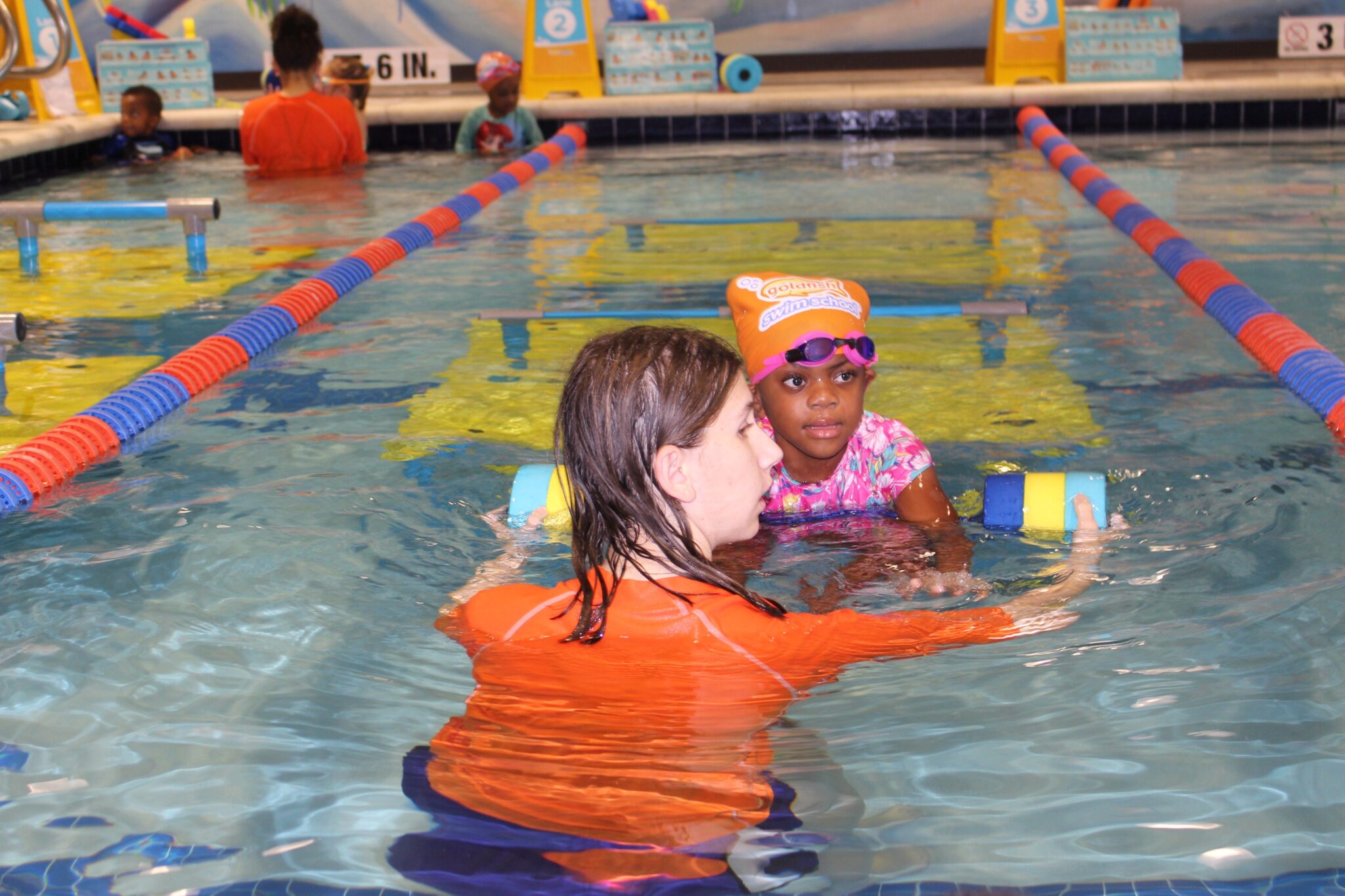 Private Swimming Lessons
Goldfish offers a variety of options and time when it comes to swim lessons. Members swim for free on weekday afternoons during Family Swim times. Family Swim is open to the public and is $5 per swimmer with $15 family maximum. You can sign up for the Jumpstart Clinics if you need your child to learn how to swim fast. For instance maybe you are going on vacation and want to make sure they have survival skills.
Private 30-minute individualized lessons with a 1:1 student-to-teacher ratio are also available. This is great if you feel your child needs that personalized support or is overly nervous about being in the water. Having the instructor focus on them only could help them gain more confidence sooner. My kids do the 30 minute group lessons which allows them to be together during their lessons. This lets them cheer each other on and eel more confident having that support.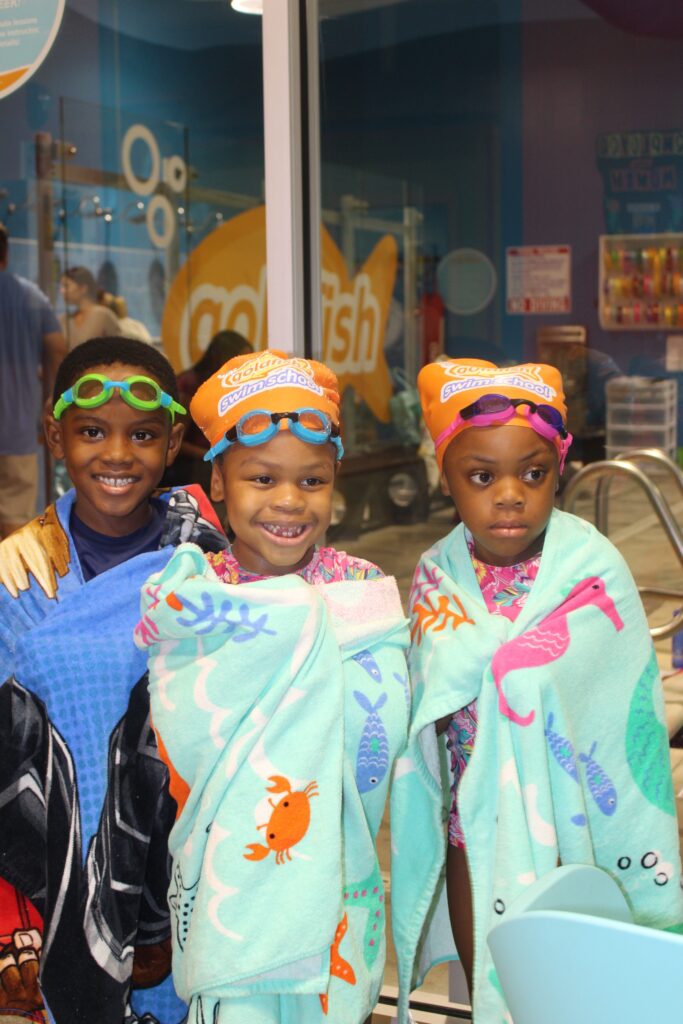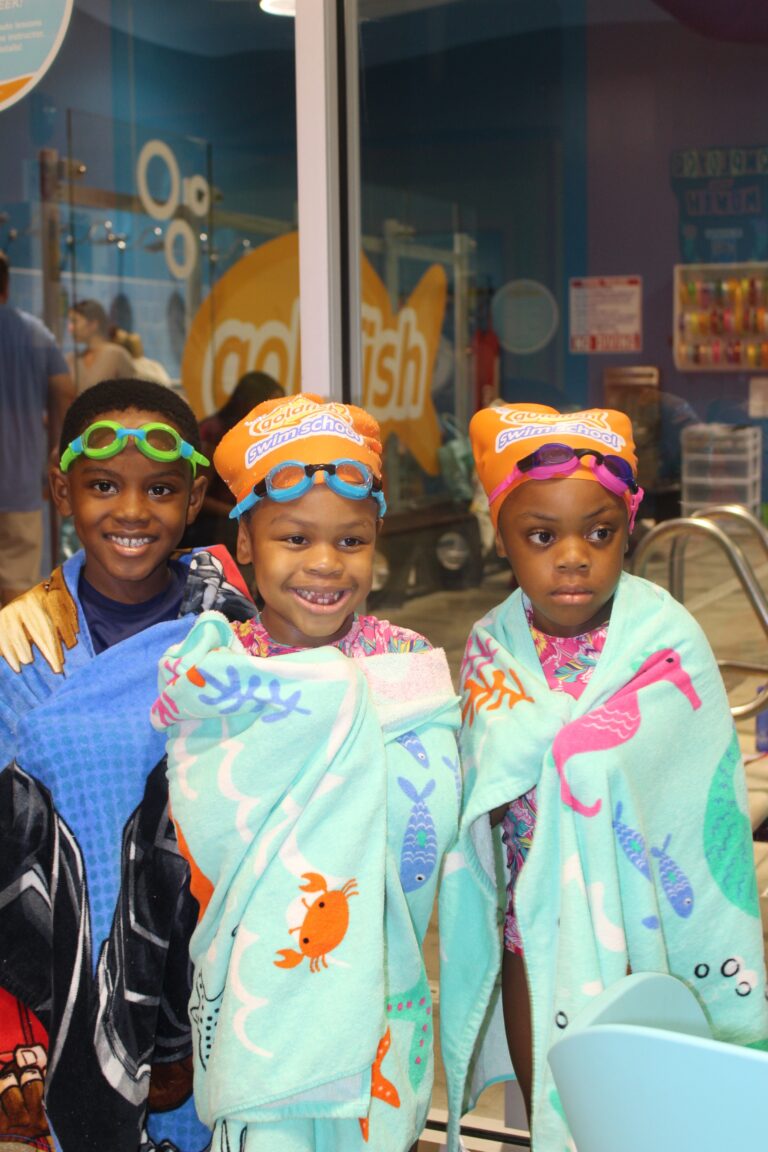 Ultimately my kids are loving their swimming lessons and I see them staying with it until they become proficient swimmers. I will continue to update you all with their progress and how it's going.